Billions lost by unabated official mismanagement of public finances
By Chandani Kirinde
COPE Report on 15 Govt. institutions
View(s):
The Parliamentary Committee on Public Enterprises (COPE) in its latest report tabled in Parliament this week found, after scrutiny of 15 Govt institutions, that serious lapses continue to take place on the part of officials who handle public finances, resulting in losses running into billions of rupees.
The Report tabled by COPE Chairman JVP MP Sunil Handunnetti dealt with the 15 State institutions that were summoned before the COPE during the period Sept.1, 2016-Feb.28, 2017.
The COPE investigations were undertaken based on the findings of the Auditor General, of financial losses incurred due to mismanagement of public funds. MP Handunnetti said, after presenting the Report on Thursday, the Govt must take action against those who caused losses, as well as against politicians who approved and backed swindling of public funds, to prevent recurrence of such losses.
Speaker Karu Jayasuriya said he has instructed Finance Ministry officials to institute follow up actions based on the COPE recommendations.
Following are some of the highlights from the Report.
National Transport Commission (NTC):
The NTC had spent Rs 1,705,343 to print stickers of destination boards and details of emergency telephone numbers on three occasions in 2015, without following proper procurement procedures. The NTC has spent Rs 37 million to renovate a part of a building to regulate provincial buses using GPS technology, but it has not been utilized. Of the 1,307 GPS equipment fixed in buses, spending Rs 79 million, the equipment in buses are not functioning. The NTC has spent Rs 8,009,310 for a festival it organised, and Rs 1,891,000 for a TV documentary, without approval. In 2013, the NTC fixed seven electronic boards at a cost of Rs 62 million in Bastian Mawatha- Colombo, Anuradhapura, Kurunegala, Nuwara Eliya, Kataragama, Ranna, and Puttalam to display the inter provincial and provincial running timetables, but currently, those boards do not function. A vehicle had been purchased for a former Chairman of the NTC, at a cost of Rs 9.2 million, exceeding the approved amount of Rs 8 million. The NTC has spent Rs 2,669,500 and Rs 1,327,500 to distribute school bags on two occasions in 2014, without proper approval.
Tourism Development Authority of Sri Lanka (TDASL).
The TDASL had paid Rs 7,382,305 as a part of the interest on a loan of Rs 100 million issued to a private hotel by the Bank of Ceylon in 2014, the Report notes. The COPE has found that a sum of Rs 11,089,228, out of Rs 29,195,802 allocated to renovate 30 rooms of a holiday bungalow belonging to the Authority, had been drawn without any work done. A sum of Rs 10,196,000 had been paid to a supplier of stones without approval. A sum of Rs 3,226,950 had been paid to suppliers by authority, without adhering to regulations. Even though the Kalpitiya integrated tourism project commenced in 2008, on an estimated cost of Rs 5,521 million, to construct holiday resorts with 4,000 rooms and infrastructure facilities, and the work to be completed in five years, not a single room had been constructed, despite an expenditure of Rs 88,797,590, as at Dec.31, 2014.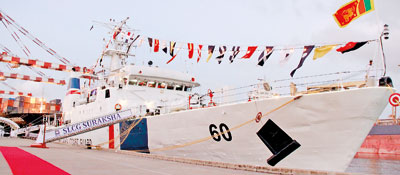 Cooperative Wholesale Establishment (CWE) and Lanka Sathosa (Sathosa):
The CWE had incurred a loss of Rs 39 million in 2014, by purchasing 14,000 Carrom boards and 11,000 Draughts boards. The CWE received only Rs 257,667,217 of the Rs 870,963,097 given to the Sathosa.
People's Bank:
An overdraft facility of Rs 245 million and a long term loan facility of Rs 150 million had been granted to a customer on Jan.30, 2009 and Jan.27, 2009 respectively, for a construction named Kandy City Center (KCC). However these loans have been classified as non-performing loans, after three months, by April 2009. Though the customer agreed to repay the loan in installments of Rs 1 million per month, it was decided to offset the loan against the monthly rent to be paid on behalf the People's Bank branch housed at the KCC. However even if the customer repaid the loan in monthly installments of Rs 1 million, it would take 62 years to recover the outstanding amount in full.
The COPE Chairman noted that several such unsystematic transactions had been effected, and recommended the Bank adopt a more systematic legal process to grant loans, and disciplinary action be instituted against the officials who dealt with this loan facility.
The Bank had written off Rs 260 million in loans (34 loan facilities of Rs 213 million and a temporary overdraft of Rs 47 million by a customer) in 2011. The amount so written off is 51% of the total amount of loans written off by the Bank that year.
Ceylon Petroleum Corporation (CPC) – (Ministry of Petroleum Resources Development) :
COPE inquired from the CPC authorities of the current status of the investigations conducted on the Hedging deal, and found that, the loss of Rs 10.2 billion caused by the deal, as at Jan. 2016, had increased to Rs 14.06 billion as at Dec.31, 2016, says the Report.
The institutions probed by the COPE included the NTC, CPC, Airport & Aviation (Sri Lanka) Ltd., CWE, Central Environmental Authority, Peoples Bank, Sri Lanka Ayurvedic Drugs Corporation, National Lotteries Board, Lanka Mineral Sands Ltd., Geological Survey and Mines Bureau, Hingurana Sugar Co. Ltd., Ceylon Fisheries Corporation, Independent Television Network and the University Grants Commission.