A House divided by hairpin-bends on Highways
View(s):

An adjournment debate was held in Parliament on Thursday (19) on the ongoing Highway projects and the problems associated with them. The motion was moved by the JVP. Members from both the Govt and the Opposition participated.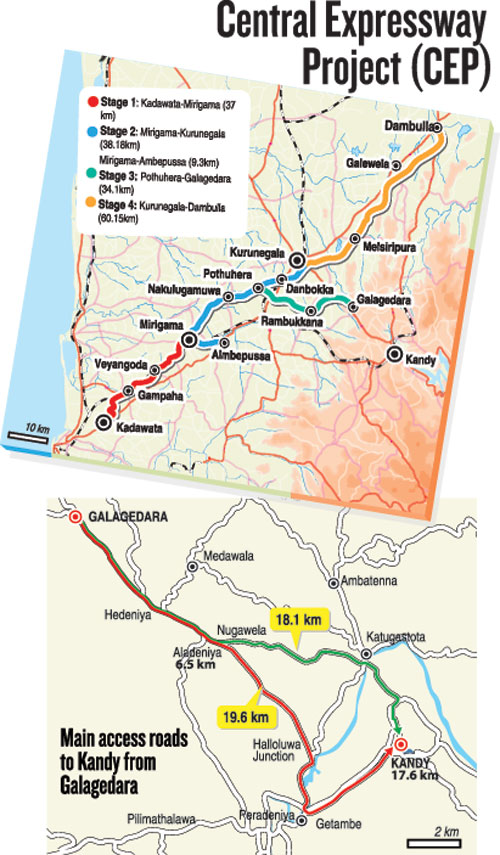 Following are extracts of some of the views expressed.
Special Assignments Minister Sarath Amunugama:
Both sides agree that development of roads and highways is a necessity. We can see in other countries, not only road links but railways links too have reached high levels. The development of expressways in our country has made road travel much easier for people. The Central Expressway is a must. It was a project planned by the previous Govt and, it was decided then, to construct it in three phases.
We cannot be stingy when spending on road construction projects. The tenders are awarded in a manner that benefits local contractors. We are aware that some of our companies which started off as sub-contractors to foreign companies, are now competent enough to bid on their own for major projects. We must be proud of this.
Megapolis and Western Development Minister Champika Ranawaka:
The Govt has to assess the economic viability of big investments of this nature. Allocation of funds for expressways and highways means suspending other development projects. With this money, we can do a great deal to uplift the social status, particularly in urban areas. We can provide proper sanitation facilities, clean the waterways, build thousands of housing units for low income dwellers, as well as for homeless people in rural areas, and improve facilities at govt hospitals. There is the need for a second runway at Bandaranaike International Airport by 2020.
This expenditure on expressways is equivalent to the cost spent on the East and the West terminal in the Port of Colombo, and both these need more dredging to accommodate bulky cargo ships in the future. The need for updating the national grid to meet the future demand for electricity is pending. By 2020, the Megapolis will eventually face a potable water crisis with plans laid for improvements that need funding. If we plan on sustainable development as a policy, we have to identify priorities to facilitate basic essentials to the public, and set aside sundries like expressways.
Kandy District UPFA MP Mahindananda Aluthgamage:
The JVP, which worked hard to bring this Govt to power, has brought this motion to Parliament. This shows that the Govt is falling foul of those who supported it on an anti-corruption platform. I have documents to show that the Minister of Highways Lakshman Kiriella has intervened to get contracts for his loyalists. When the former President was building Highways, we were asked if the roads were being paved with gold, due to the high costs. Given the high estimates at present, I want to ask if the roads are being paved with diamonds now.
Disaster Management Minister Anura Priyadharshana Yapa:
After the end of the war, there was a need to develop the road network. This work was undertaken by former President Mahinda Rajapaksa. The Central Expressway is an important project. It is good that the expenditure on these are being scrutinised and criticised. This is democracy. If there are any irregularities, we must look into them too.
Highways and Higher Education Minister Lakshman Kiriella:
All the contracts awarded for Highways have been made after evaluation by Cabinet-appointed committees, as well as 120 ministerial level committees appointed in the past three years. The 'yahapalanaya' Govt is committed to awarding contracts based on competitive bidding, and we have managed to reduce costs by around 22% on Highways, by eliminating the large scale corruption that took place under the previous regime.
This Govt is also committed to paying speedy compensation to people whose lands have been acquired for road development. More than 22,000 blocks of land were acquired for the development of the Central Expressway and the extension of the Southern Highway. Steps have been taken to pay all the land owners. We have already paid 9,000 land owners who were affected. Roads and highways are essential for the country's development activities and my ministry and the Govt are committed to maintaining transparency and accountability on all these projects.