Treasuring moments with a handmade touch
By Tarini Pilapitiya
Young entrepreneur Shalini Wijewardana – the mind and inspiration behind the greeting card venture 'Paperella' shares her journey with the Mirror Magazine
View(s):
"Paperella" -brainchild of Shalini Wijewardana is the latest venture to enter the market for handmade greeting cards.
Stemming from Shalini's passion for creating "exquisite, unique and interactive handmade cards and crafts" the young entrepreneur is on a mission to bring back the forgotten card/ note exchange culture which she believes is fading while recalling times "when getting a card was a big deal".
A sentimental hoarder Shalini confesses that she still keeps the cards she received from loved ones in shoe boxes – cards like one she received from her best friend in grade six – still keep her smiling when she unearths them. "I want to relate that with my client base," she affirms to "make moments special… remembered"
Handmade greeting cards are made for every occasion in order to "share love and spread happiness." The apt tag line of the business "Say what you need to say with Paperella" encourages people to "write notes and appreciate each other," Shalini adds, and "go an extra mile to share a smile and spread kindness".
Obsessed with the Anne Hathaway movie 'Ella Enchanted' from her childhood it was a no-brainer for Shalini to add something meaningful into the name of her artisan venture. Through accidental searches on Google the name Paperella kept popping up ( "Paperella" meaning "Little Duck" in Italian). Asking a friend to design a suitable logo of a charming duck "it all just synced in" Shalini said.
Being a past Rotaractor from the University of Colombo Faculty of Management and Finance (FMF) and the current secretary of the Rotaract Club of Colombo North played a pivotal role in the origin of 'Paperella.' It all started in February 2016 when the Rotaract District of 3220 Sri Lanka and Maldives hosted one of the largest international conferences for Rotaractors in Asia – "Rotasia", allowing, the Rotaractors of FMF to host a small stall at Trace Expert City to raise funds for a community service project.
Shalini recalls having a huge pile of cards that she had made throughout the years which she displayed for the first time. Overwhelmed by the positive response she received and selling nearly all her cards within a day was her Eureka! Moment – "I realized people are interested in and are willing to pay money for what I make," with a fruitful year behind her Shalini adds "I have never looked back from that day onwards."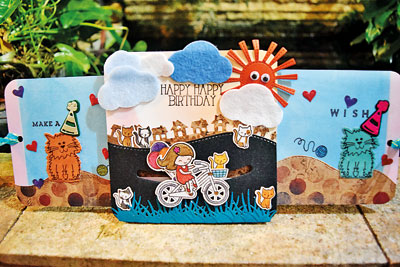 With over 10,000 followers on Facebook, over 700 followers on Instagram, Shalini's future ambitions for Paperella are to expand the business. Her products range beyond stereotypical cards. She enjoys creating customized cards and crafts like her memory/explosion boxes, card in a box, slider cards, spinner cards, shaker cards and waterfall cards etc.
A customer on sharing an image with her pushed her out of her comfort zone "I had never made something like that before!" she says. From the positive responses of her clients and the overall look of the final product, 'card in a box' has become one of Shalini's favourites.
Most of her work is her own having gained inspiration from techniques via YouTube videos like her accidental stumble upon channel 'Jennifer McGuire Ink' where she acquired the basics in crafting cards gradually allowing her to put her "own twist" to her creations.
"When a customer places an order I always ask first for their requirement and the budget" Shalini shares, although customers may see a standard size card, what they don't see is the gruelling hours and process that go into making the final product. "There are no boundaries in terms of creating what the client wants," she adds.
Most of her clients are returning customers, whose support Shalini shares "is what keeps me going". Throughout the process of creating the cards she undergoes a process of trial and error as she always shares the design prior to sending out the final product.
"Pricing is one of my weak points" she gushes "I fall in love with everything I create and it's very difficult for me to put a price on it." However, Paperella's cards are typically priced at Rs. 300 upwards (this price is excluding transport costs and varies depending on the card making process). Usually customers place orders through Paperella's social media accounts and Shalini delivers cards either via registered post, courier or through a collection point in Kollupitiya.
Usually taking around 2 to 3 days (depending on detail) to finish a card, customers are advised to give in orders with advance notice. Her largest order to date was in December 2016 when she made 300 detailed oriented Christmas cards for a corporate customer.
Although she admires simplicity in her creations Shalini believes "in going an extra mile to create a unique experience in every little way I can," giving every card her "200 percent" she affirms "Every card is important."
She covers a range of cards for occasions from babies, anniversaries, weddings, birthdays etc.
Shalini has broadened into more international clientele with the assistance of the EPFS community fair which took place lrecently. The fair whose client base is largely made up of expatriates allowed Shalini to showcase her talents to those out of the local market. Having had a few Italian customers walking into her stall and identifying with the business name leaves Shalini feeling glorious, "it's quite a nice feeling to be able to relate to customers on different levels."
With a lot of communication presently done on virtual platforms Paperella is giving customers something tangibly sentimental to look back on. "No one is going to remember a text message sent two to three years later," Shalini says, but with a handmade card one's sentiments will be treasured for years.