5 Samath soon to be in cinemas
View(s):

'5 Samath', a family movie highlighting the social and practical effects of the highly competitive grade five scholarship examination is soon to be released in theatres in Sri Lanka.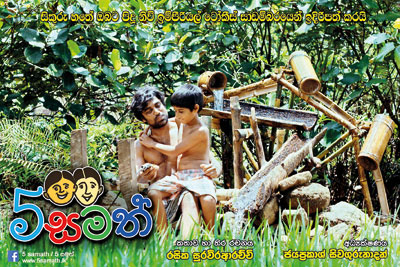 Directed by Jayaprakash Sivagurunathan, the cast of '5 Samath' comprised of both veteran stars and children. The cast includes Dilhani Ashokamala, Semini Iddamalgoda, Giriraj Kaushalya, Dayadewa Edirisinghe and a number of children who play lead roles.
In the film, the social pressure placed on children to face the highly competitive exams is emphasised aptly. We see how the protagonist named Samath and his family live in a humble abode in a rural area in Sri Lanka. As a result of their rural setting, they are unaware of the significance and allure associated with the said exam.
Due to his close relationship with nature and animals, Samath is able to grasp what's in his text books quite well. This is evident when he is ranked No.1 in the island.
Samath's humble and patient demeanour is also highlighted in the movie and contrasts vehemently with the sense of entitlement we see in children educated in major cities. His innate desire to ensure that his village receives electricity and find a practical method of supplying water to his parents' paddy field are what motivate him.
The practical knowledge he gained from the aforesaid ventures is what led to him being ranked first among those who sat for the grade five scholarship exam. This ultimately proves that knowledge you gain from books alone isn't adequate and there are lessons to be learned from nature.
The story and screenplay written by Rasika Surawirarachchi, '5 Samath' is the second production by New Imperial cinemas.