Discrepancy in teacher-allocation: Southern PC Education Minister
View(s):

Southern Province (SP) Education Minister Chandima Rasaputra declared there was discrepancy in the distribution of teachers within the SP.
"In some places it is a teacher-starved Education Zone (EZ) while in other areas it is teacher-dominated EZs, " he said at a ceremony held recently at the Matara Wilpita MV to felicitate the O/L students .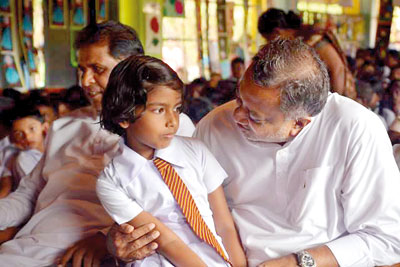 Speaking further as the chief guest at the ceremony, he said that, "However, according to the O/L results all 11 EZs in the SP achieved 1st place at National level.
"When we divide the geographical map into zones and substitute teachers, we find there is an excess of teachers in some EZs, while others are teacher-starved."
"It is against such a background these 11 EZs in the SP kept a record percentage of students passing the O/L Exam. 76% at Provincial level and 69.94% at National level."
"We are always much concerned on how we could retainu those who fail the O/L Exam. A close look shows that it is abject poverty and other difficulties that compel them to leave school early," he said.
"Some children are deprived of parents' love and protection, but under cover of their grandparents, they get educated. We need to identify those children, accommodate them at hostels and give them a better education. They should be sent home only during the vacation. But we do not see such a society today. Only the 'fortunate' children are kept at hostels and given education. In developed countries, poverty-stricken children are sent to hostels and given education," he said.
"This is a topic that should be discussed at national level. Then, we would be able to help children become good, useful citizens in the future. I am always trying to get the best results and keep them in a higher position." "When I became the Provincial Minister of Education, I didn't expect to get the best results the following year, but we gradually got Grade 5 Scholarships within 3 years and good O/L results in 5 years," he noted.
"Only the 11 EZs in the SP reached the National Level. Now there is a need to improve computer literacy of children using the Computer Labs in our schools, and get them involved in good professions later in their lives."
By Janath de Silva