The 43 Group and others; all under one roof
View(s):

On October 21 and 22, Colombo art lovers would have the opportunity of viewing as well as purchasing, some of the work of the 43 Group, as well as other artists, some of whom exhibited with the 43 Group. The 43 Group was led by photographer Lionel Wendt and its members included Harold Pieris, Aubrey Collette, Richard Gabriel, George Keyt, Justin Daraniyagala, Ivan Peiris, George Beling, L. T. P Manjusri and George Claessen.

Writers have described this Group as the first modernist, creative painters with free expression. They were inspired by their surroundings, some by their religious beliefs, though each painted in different styles. Some exhibited overseas, a few earning international recognition for their work.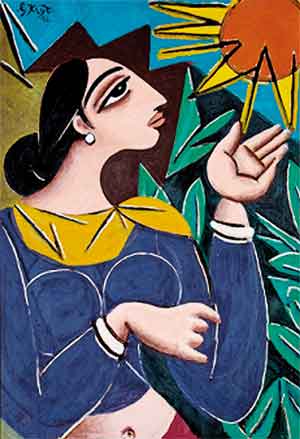 The other artists featured at this exhibition include some who have exhibited with the 43 Group, as well as local and foreign artists namely, Neville Weereratne, Laki Senanayake, Stanley Kirinde, Nalini Jayasuriya, G.S. Fernando,  Cora De Lang, Ramsay Ong, Ranjith Fernando, Donald Friend, Tissa Ranasinghe, S. Doraisamy, W.S. and N.L De Mel, Dorothy Fernando, Donald Ramanayake etc.
The exhibition will be held over two days at the Nelung Art Centre from 9 a.m to 7 p.m. The collection belongs to Mr. and Mrs. Shamil Peiris of Kandy who are no strangers to the local art world. The work exhibited is under "The Taprobane Collection" which has been built over a period of 40 years and consists of both figurative, and modern works, line drawings, wood cuts, and mixed medium work including sculpture.
Some of the works of the Taprobane Collection have been featured at a number of exhibitions in Sri Lanka and abroad as well as being documented in a number of books. The more recent exhibitions of the Taprobane Collection have been on the work of the late Richard Gabriel (in 2014 at The Alliance Française de Kandy) and H. A. Karunaratne known as The Father of Sri Lankan Abstract Art also at the same venue.
Coincidentally the Nelung Art Centre complex is the brainchild of Niloufer Pieris, the niece of the late Harry Pieris, an artist himself, who played a leading role in fostering the 43 Group. A few paintings by Harry Pieris will also be on view.
This is the first time the Taprobane Collection would be exhibiting a large body of work in Colombo, giving art lovers and students of art an opportunity of viewing some of the wide and varied work of the artists featured. Hopefully this would become an annual event in Colombo.
A small selection of rare antiquarian maps and prints on Ceylon and "impossible to find" rare books on Art and History including the famous book on George Keyt by Martin Russell (1950), Ceylon by Lionel Wendt, the landmark Numbered First Edition book on Art and Craft by Ananda Coomaraswamy (1908) and the first ever book in English on Ceylon by Robert Knox (1681) and some other rare books will also be presented.