Tharanga stars in SOSL's Celebrating 60 concert
View(s):

Critically acclaimed soprano Tharanga Goonetilleke whose performances have been praised by the Washington Times as 'magical', will be the Guest Soloist at the Symphony Orchestra of Sri Lanka's concert 'Celebrating 60 Years: Tribute to Dr. Earle de Fonseka', on October 19 at the Ladies' College Hall.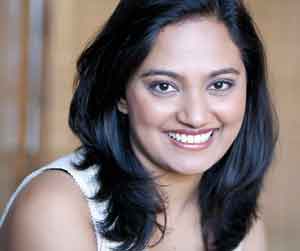 Tharanga will perform a selection of arias encompassing all the drama, angst and passion of opera, with works ranging from Handel's Julius Caesar to Puccini's La Rondine.
Tharanga studied at the prestigious Juilliard School in New York City, the only woman from Sri Lanka to have been accepted at the Juilliard so far. Tharanga has sung leading roles in opera under the baton of famous conductors such as Lorin Maazel, George Manahan, Anne Mason and Gary Wedow and has worked with many renowned directors during her career as a professional soprano. Her performances have taken her all over the world – Italy, France, England, Scotland, Korea, India, Canada and the United States.
Tharanga made her solo debut with the Symphony Orchestra of Sri Lanka (SOSL) after winning the Concerto Competition of Sri Lanka in 1998. In 2011, she was the guest soloist at the SOSL's concert under the baton of Gregory Rose. Tharanga, who has enchanted audiences around the world, enjoys a special relationship with audiences in Colombo, who have been thrilled by her warm and engaging personality and rich tone of voice.
'Celebrating 60 Years : Tribute to Dr Earle de Fonseka'commemorates one of the Symphony Orchestra of Sri Lanka's guiding lights Kala Keerthi Earle De Fonseka who stood at its helm from 1960 to 2000.
Conducted by Dushyanthi Perera, the dynamic resident conductor of the SOSL, this concert will also feature Ajit Abeysekera as the Clarinet Soloist, performing one of Mozart's most divinely inspired works: Adagio from Clarinet concerto in A major. Abeysekera first performed Mozart's clarinet concerto in a public performance in 1985, with the SOSL, under the baton of Dr. Earle de Fonseka.
The concert overture "The Dancers," by Sri Lankan composer Lalanath De Silva, also a conductor of the SOSL in the past will also be on the programme which features Aram Khachaturian's extremely popular Masquerade Suite.
Arturo Márquez, one of Mexico's most respected composers, was influenced by the sounds of the Mexican dance salons and captures a range of extremely infectious moods in his Danzón No. 2. Celebrating 60 Years, Tribute to Dr. Earle de Fonseka is sponsored by East India Holdings.
Tickets and box plan are at the Lionel Wendt Theatre.