Two Int'l Powerboat events at Bentota on Nov.11-12
View(s):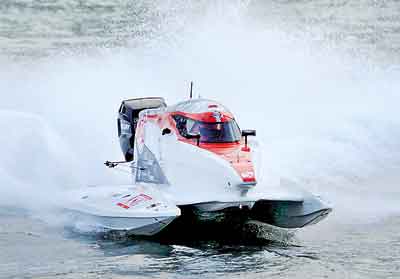 The Lanka Powerboat Association (LPA) will host 2 international Powerboat events at Bentota on Nov.11-12. This action-packed event will feature Formula 2 (Super Cat) and P750/Thundercat Powerboats.
The Championship will consist of Circuit and Offshore Racing with the drivers of both classes of boats jostling for positions on the water, concluding in 2 finals.
"Water based Power Sports have mass appeal offering breathtaking entertainment. Thousands of spectators now follow Powerboat Racing, which is positioning itself as one of the most prominent water sports of the 21st century," a communiqué issued by the LPA stated.
Alongside this, the LPA, in association with the World Body in Powerboating- UIM will be committed to provide a comprehensive training syllabus for all aspects of water based power sports, and are pleased to announce that, once again, the LPA is the first country to launch a brand new Aquabike and Jet Ski training programmes.
"This will provide professional training for our future generations of Aquabike and Jet Ski racing competitors and officials. It is one of the highest priorities of the UIM; there goal is to establish a worldwide network of training centres, to ensure the success and growth of the sport in all its disciplines, with Sri Lanka being the first," the statement added.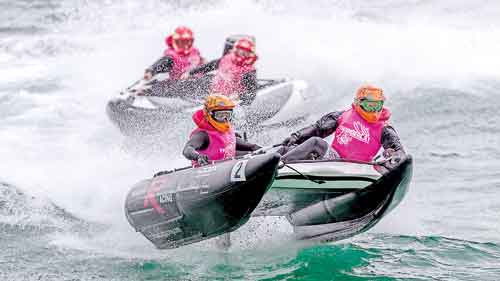 The programme will cover secrets of safe, responsible and environmentally friendly racing start with good training, attracting those who will be Sri Lanka's Aquabike or Jet Ski stars of the future. The LPA will scout for 8 potential drivers who will be drafted for the Ambassador Training Programme.
"The week's course will take place in Bentota from Nov.13. Upon successful completion, the participants could become qualified UIM-LPA Aquabike and Jet Ski Instructors and Ambassadors".
The ultimate aim of the training programme is for Sri Lanka to have its own Aquabike and Jet Ski team to participate in the UIM-ABP Aquabike World Championship. The UIM-ABP Aquabike World Championship is the most acclaimed and prestigious international series promoting personal watercraft in a competitive racing environment, and one of the fastest, most spectacular, demanding and entertaining sports on the water. The opening round of 2018 is set to take place in Colombo.