Test of riding skills and stamina…
By Naushad Amit
Cross Country Horse Riding Competition
View(s):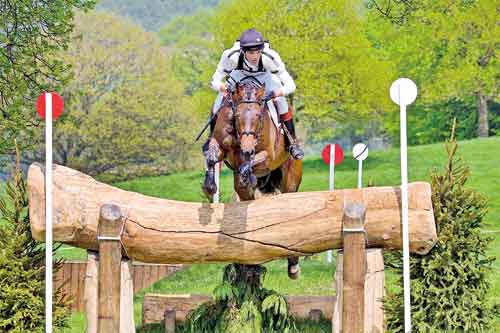 A total of 20 competitors — 11 on Horses and 9 on Ponies — will compete at the inaugural Cross Country Horse Riding (CCHR) Competition, at the Victoria Golf & Country Resort (VGCR) in Digana, Kandy today. Organised by the Sri Lanka Equestrian Association (SLEA) for 25 Riders, only 20 had confirmed their participation by the closing date.
Among the confirmed competitors, SLEA President Suranjith Premadasa himself, is a competitor representing the Premadasa Riding School on 'Kumood', while teammate Mina Baba will be on 'Honey'. The Upcountry Saddle Club have entered 2 riders, with favourite Rashmin de Silva and Sohanya Aziz to ride 'Storm Away' at the competition.
The Victoria Saddle Club (SC) and Sri Lanka Army (SLA) will have 2 riders each, while 4 independent competitors make up the confirmed 12. Ravindu Fernando and Chiteshya Nanayakkara will compete on 'Galaxy' for Victoria SC, while Rohana Udaratage on 'Abaya' and K.D.S. Nawaratne on 'Dhanuja' will represent the SLA. Three independent Horse riders — H.L.S. Surang, D.M. Jayalath and D.B.K. Abewickrama will ride 'Prawega', 'Nimala' and 'Kalawela' respectively.
Among the 9 Pony Riders, SLA, Nuwara Eliya Race Club (NERC), Angela Mathews Team (AMT) and Andrews Part I will have 2 Riders each, and an independent competitor. J.M.D. Madhushanka and D.M. Jayalath will ride 'Lankara' for the SLA, S. Pradeep and S. Satkuniaraj on 'Milaneeyam Queen' and Misty Queen' respectively, for NERC, R. Krishna Kumar and A. Dilan on 'Red Rum' and 'I-Tage' respectively for AMT, and D.H. Ford and L. Dayalan, on Millennium Baby and Re-Birth respectively, will ride for Andrews Part 1. Independent Rider Eashantha Nepali Dediwela will compete on 'Caltex'.
The CCHR Competition will kick off with the Pony Class in the morning session, while the Horse Class will be in the afternoon. The competitors will have to overcome 10 jumps across 2 1/2 km, under 15 min.
The competition is expected to give a wholly different aspect of Horse riding in Sri Lanka, where it is monopolised by Horse racing. The SLEA has conducted several National Dressage and Showjumping events in the past and, along with the event to be held today from 9 am, it hopes to broaden the interest in Equestrian sport.
With the VGCR coming aboard as the venue sponsor, Expolanka Freight and Mina Baba join in as the Logistics sponsor, while Abans, Sporting Times, Sporting Star and the Premadasa Riding School are the supporting partners of the event.