Two million face hunger, lack of water, and rising debts in worsening drought
By Kasun warakapitiya
View(s):
More than two million Sri Lankans are crying out for a drink of water and food and incomes to sustain themselves in a worsening drought that continues to cause large-scale human misery in at least 20 out the 25 districts.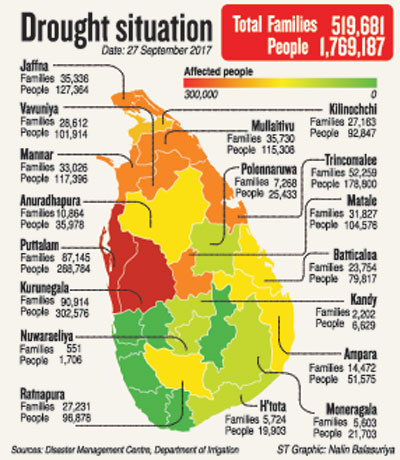 Sate assistance is minimal in terms of food and water aid, while international organisations are pitching in. Millions are being driven into poverty and are eating less. Indebtedness is rising.
UN organisations say 300,000 households do not to have enough food.
UN Food and Agriculture Organization and World Food Programme said in a report in June, 900,000 Sri Lankans (225,000 households), are facing a lack of food.
he rice crop will plunge by 40% to just 2.7 million tonnes, causing loss of income to farmers.
International organisations estimates and government data paint two different pictures, but the situation for millions is desperate.
The cost of staples such as rice, dhal, coconuts, and vegetables are soaring.
The drought has been going on since late last year.
Disaster Management Centre, deputy director, Pradeep Kodippili, said that Kurunegala, Puttalam, Trincomalee, Mullativu and Jaffna were the worst affected districts. The seasonal rains have not been adequate.
At least 1.8 million people from 519,681 families in 18 districts are suffering.
He said relief programmes are continuing. A relief pack worth Rs 5,000 a month is to be provided. This relief is only for two months.
Humanitarian organisations are also distributing dry rations, water, buckets, and water containers as well as 1,000 water tanks.
The Irrigation Department and the Department of Agriculture are continuing to repair irrigation canals and tanks, he said.
The Kurunegala District Secretary, Gamini Illangaratne, said dry rations are being provided and 51 water tanker trucks are being used to give drinking water.
Assistant director of disaster management in the Kurungala District, Viraj Dissanayake, said dry rations are given to 170,000 families and drinking water is given to 80,788 families.
District Secretary of Puttalam, N H M Chithrananda, said 36 water tanker trucks are deployed to distribute water.
Mr Chithrananda said that after heavy rains in Dankotuwa, the water distribution was scaled back, while water is being transported to Wennapuwa, Anamaduwa, Marawila and other areas.
The District Secretary of Mullaitivu, R Ketheeswaran, said tanks are dry but farmers are preparing for the Maha cultivation.
"Farmers decided to go ahead with cultivation hoping the rains will follow. There are 28,000 families affected by the drought." she said. Water is being provided by using 14 water tanker trucks.
The Jaffna District Secretary, N Vethanayahan, said two relief packs are being given every month to 60,000 families starting from this month.
Water is being distributed to 15,000 families by using 13 tractors and three water tanker trucks.
The Director General of Irrigation, M Turasingham, said there are plans to release water for cultivation in anticipation of inter-monsoonal rains. Recent rainfall has not been adequate to replenish the reservoirs, he said.
"There is less water in 70 major tanks, while some of the small tanks maintained by the Irrigation Department have gone dry," he said.
The Meteorology Department predicted thundershowers in mid-October.
Duty forecaster, Dharshana S Premathilake, said that after the second week of this month the inter-monsoon rains are expected with thundershowers island wide. Most of the rainfall is expected in Uva and Eastern provinces.
 DESPERATE HOUSEHOLDS SOAR TO 1.7  MILLION IN SEVEN MONTHS
In the seven months to August, the number of Sri Lankan households lacking enough food increased by 22% to 277,000, a report by the UN Resident Coordinator reveals.

Including Jaffna and Killinochchi, this adds up to 300,000 households without enough food. The estimate takes into account four per household.

People are eating less and fewer meals every day. Their debts have worsened and only 22% had access to government help.

Subsistence farmers and agriculture labourers are the most vulnerable, the UN warns.

The UN has described Sri Lanka's drought as the worst in 40 years.

Despite the southwest monsoon in late May, which triggered flooding and landslides in the southwest, the country-wide drought is continuing with more than two million suffering as of early September.

According to the World Food Programme, 45% of the reservoirs have dried up. Water levels in reservoirs is at 18% compared with 47% reported last year.

UNICEF provided four water tanker trucks to the government, as part of a US$1.5 million assistance package, while the Food and Agriculture Organisation, has distributed micro irrigation kits and vegetable seed packs in four severely affected districts, through the UN Central Emergency Response Fund allocation of US$3 million in March this year.