From 'Saltaire' to La Belle Époque
View(s):

La Belle Époque, the newest and trendy banquet facility in town, is located just next to S. Thomas' College, Mount Lavinia. Popularly named as 'Saltaire', property was a famous tourist spot during the 60s era.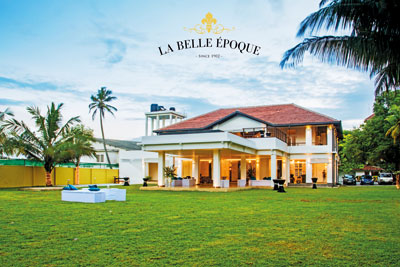 After going through massive refurbishing and restructuring programme, 'Saltaire' or La Langousterie Beach heaven is now opened for banquet, MICE and tourism business. Fully air-conditioned, adorned with chandeliers and a built-in bar, the building has two levels, with an infinity pool on the upper floor surrounded partly by an open air terrace, reaching out to a sprawling garden – here is an ideal venue for a wedding, conference, cocktail reception or any form of celebration for that matter.
The original building was constructed by the late Mrs. C. H. Obeyesekere widow of J. P. Obeyesekere, in the beginning of the 20th century and the design was that of a typical colonial bungalow with an upper floor surrounded by balconies and French windows which provided ample natural ventilation. This building was named 'Saltaire'.
Since this bungalow was only used as a holiday home and never as a permanent residence by any family member, in 1936, the then Warden of S. Thomas' College Mount Lavinia, Canon R. S. de Saram, inquired from Dr. P. E. P. Deraniyagala if it could be rented as the residence of the Warden.
With the tourism boom– Saltaire became a successful tourist guest house as far back as the late 1960s. The cabanas on wooden stilts sprung up, complemented by the beach restaurant, which became an instant success. Later they opted to build a 25 roomed hotel called 'Rivi Ras' while preserving the original ambiance of a large garden fringed with the coconut palms.The rooms boast of a spectacular view of the Indian Ocean. The old colonial building however, no longer served its purpose and it was decided in 2016 to renovate and re-design the original bungalow as a modern venue for banquets such as weddings and parties.
The brother and sister management of La Belle Époque hopes that this will be a promising venue in the days ahead. La Belle Époque boasts of wo luxury en-suites within the building ideal for a bridal couple to get dressed in comfort and could stay overnight too.
Special menus have been created to cater to cocktail receptions, wedding celebrations or any other event.
For more details log onto www.labelleepoque.lk