Inability to attract higher foreign direct investment serious constraint on economic growth
View(s):

If there is one economic issue on which there is little or no controversy, it is the country's need for foreign direct investment (FDI). As non-controversial is the fact that FDI inflows into the country are extremely inadequate. This inability to attract higher amounts of FDI is a serious concern and constraint on economic growth.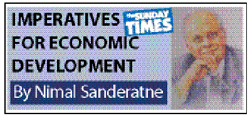 Neither the end of the civil war eight years ago, nor the change of regime two and a half years ago have turned the tide in favour of increased FDI inflows. It is of utmost importance for the government to look into the reasons why we are unable to attract a larger inflow of foreign investment as sustained high economic growth cannot be achieved without substantial FDI.
Low inflow of FDI
The low inflow of FDI has been, and is a continuing constraint, on achieving higher economic growth. There have been much talk of large investors coming to establish industries, but hardly any have materialised. For many years foreign direct investments have been much less than one billion US dollars and less than 1 percent of GDP. In the first half of this year FDI amounted to a paltry US$146.5 million.
Investor forum
It is in this context of inadequate foreign investment that the "Invest Sri Lanka Investor Forum" will be held at the Sofitel New York on October 16th. This Forum organised by the Colombo Stock Exchange (CSE) and the Securities and Exchange Commission of Sri Lanka (SEC) in association with CSE Member Firms and leading listed companies is expected to boost foreign investment into Sri Lanka. It is likely to boost investment into the Colombo Stock Market, as it did when a similar event was held in New York in 2014. There was also a successful inflow of investment into the stock exchange this year after an investor forum in Australia earlier this year. However it is unlikely to make an impact on inflows of FDI that is desperately needed to enhance exports and spur economic growth.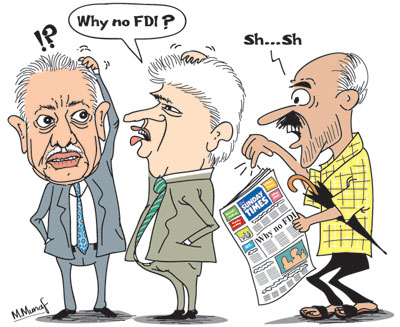 Importance of FDI
Foreign investment is a significant driver of economic development as it fills the savings-investment gap. Foreign investment could supplement domestic savings to enhance investment and thereby increase economic growth. However the importance of FDI for Sri Lanka's development is not confined to its financial investment.
While the quantum of foreign investment is important in determining the country's economic growth, the significance of FDI for economic growth and export growth is much more. FDI is an important means of technology transfer and transmission of management practices and contributes to improving work ethics, discipline, skills and knowledge of workers.
Multinationals
FDI's by large multinational companies not only bring finance, skills and technology but also bring with them international markets. It is the realisation of these economic benefits that has made former communist countries like China and Vietnam, and the formerly inward looking Indian economy, to actively seek foreign investment. These three countries attract a large amount of FDIs. China is the largest recipient of foreign investment, while Vietnam is an attractive destination for FDI.
Expectations
Although the end of the civil war in 2009, as well as the regime change in 2015, led to expectations of substantially higher FDI inflows, this expectation was not realised as there are many fundamental conditions that need to be put into place to make the country attractive for foreign investment. Foremost among them are predictable macroeconomic policies, efficient administration that makes doing business easy and free of corruption, macroeconomic stability and assurance of property rights.
Foreign Investment Inflows
The modest level of foreign investment during the period of terrorism and war was understandable. With the conclusion of the war it was widely expected that there would be large inflows of foreign investment. Although many investors expressed their satisfaction about the conditions in the country, these intentions did not materialise. After the present regime took over much FDI was expected. However in the two and a half years after that there has not been higher foreign direct investment. In fact foreign direct investment has declined rather than increased. This poses the question as to why this is so.
Factors deterring foreign investment
Foreign investment is influenced by political and economic stability, tax and other incentives, labour regulations, work ethics, social and economic infrastructure, and costs of production, potential domestic market and an overall assessment of political and economic conditions. Investors are deterred by perceptions of corruption. For these reasons, the international investment community does not appear to consider Sri Lanka a favourable destination for investment.
There is still a degree of uncertainty regarding government policies on foreign private investment. The experiences with respect to several attempts of foreign investors to buy state enterprises have not been conducive to developing confidence among foreign investors.
Costs
Costs of production play an important role in investor determination of investment locations. Sri Lanka is no longer a cheap labour country. There are other countries such as Vietnam and Bangladesh where labour is cheaper. Several production costs too are high. This is especially so with respect to energy costs that is deemed one of the highest. These factors make it rather unattractive to foreigners to invest here.
Labour laws
Labour regulations in the country also affect FDI. Sri Lanka is perceived as a country where labour regulations do not permit labour discontinuance either owing to changing market conditions or on disciplinary grounds. Investors find the lack of freedom to hire and fire an inflexibility. There are fears that inflation may rise owing to the weaknesses in economic fundamentals. The large foreign debt, trade deficit and foreign borrowing leave doubts about the external finances of the country.
Domestic market
Further the possibility of selling in the domestic market is limited. Large countries like India and China offer good prospects of local sales. This is why countries such as India and China are ones where reputed manufacturers of cars such as Benz and others have manufacturing plants in these countries.
Conclusion
Peace, law and order and the rule of law are necessary, but not sufficient conditions for attracting FDI. Foremost among the reasons for inadequate FDI is the lack of certainty and predictability of government economic policies, inefficient administration, corruption and the chaotic disruption of activities by strikes and road blocks. The government must look into these reasons and provide a climate for enhanced foreign direct investment. Without a larger inflow of foreign investment, sustained economic growth of 8 percent or more is unrealistic.