Baring it all seems unbearable to MPs sans Code of Conduct
By Chandani Kirinde- Lobby Correspondent
View(s):
Parliamentarians are easily irked by bad press, which is why MPs often raise privilege issues in the House to put the record right on reports that show them in bad light. This week one such issue cropped up over media reports of a large number of MPs' failure to submit their assets and liabilities declaration forms, a charge denied by most lawmakers.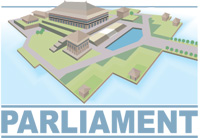 Speaker Karu Jayasuriya on Friday backed the MPs saying most of the MPs had submitted their assets and liabilities declaration forms to Parliament, while Ministers are required to submit their forms to the President, in keeping with the legal requirement.
Sports Minister Dayasiri Jayasekara and former Foreign Affairs Minister MP Ravi Karunanayake were among those who were angry that the image of all MPs was being tarnished by such reports, and sought the Speaker's intervention to ensure that damaging reports are not published without proper verification.
While the concern about their public image is understandable, the ball is now very much in the court of the MPs themselves by way of the draft Code of Conduct (CoC) for MPs, which awaits their approval in the House.
The CoC envisages measures that would lift the cloak of secrecy behind which elected representatives hide, to deny the public adequate information regarding their personal interests.
This is by disclosing their interests in the "Register of Members' Interests" which will be kept and maintained by the Secretary‐General of Parliament, once the CoC gets Parliamentary approval.
MPs will be required to disclose information relating to their business relationships and financial interests including information of next-of-kin, and also disclose information which could give rise to the perception of influencing behaviour between duties and responsibilities, and the Personal interests of an MP such as assets relating to land and property, shareholdings and gifts.
The final draft of the CoC tabled in Parliament in June, is to be debated in October, following which the long anticipated changes to bring more transparency into politics in the country could finally become a reality.
While these changes are in the pipeline, the Govt this week submitted to Parliament for approval a supplementary allocation of Rs 134 million, to pay an MP Rs 100,000 per month to maintain an office. Each MP is entitled to a monthly allowance of Rs 100,000 to maintain an office.
While any talk of enhanced allowances for MPs does not go down well with the public, given the negative image they have of politics and politicians in general, there is justification for enhanced salaries and more benefits for MPs, if it goes hand in hand with honesty on their part in their dealings with the public.
Making their assets and liabilities declaration details online on the Parliament's official website would be fair by both the public as well as the MPs, so that those who fail to do so can be exposed.
It would be akin to the attendance register of MPs which is online, so that members of the public are now able to ascertain if the persons they elect to Parliament are indeed taking an interest in parliamentary business or, are absentee lawmakers who only show up at election time, looking for votes.
Singaporean politicians are the highest paid in the world, but that goes with zero tolerance for corruption. In Sri Lanka, if MPs are to make a case for better salaries and facilities, giving their approval to the CoC would go a long way to winning the trust of the public, as well as attracting more persons of higher calibre to politics..