Handy guide to Sri Lanka's reptiles
View(s):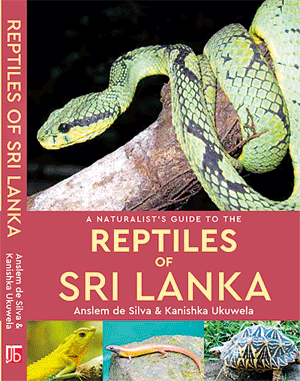 There is a long string of publications focusing on nature not only linked to Sri Lanka but also the region.
The latest to 'roll off the presses' from John Beaufoy Publishing based in Oxford, England, are herpetological titles including 'A Naturalist's Guide to the Reptiles of Sri Lanka' by Anslem de Silva and Kanishka Ukuwela. The guide will be launched next month at the International Book Fair.
This 176-page paperback is filled with colour images, 300 in all, and may be ordered from Vijitha Yapa Publications on www.vijithayapa.com.
It is described as an easy-to-use identification guide to the 150 species of reptiles including snakes, lizards and turtles, most commonly found in Sri Lanka, with their features, distribution, habitat and habits given in detail. An overview of the climate, vegetation, folklore and snake-bite management is also part of the guide.
A complete checklist of the reptiles in the country along with their status, both regionally and internationally, is available within its pages.
John Beaufoy Publishing is an independent book publisher which specializes in the fields of natural history, travel and adventure, with a focus on the tropical regions of Southeast Asia, Africa, Central America and the Caribbean: The parts of the world lying between the tropics of Cancer and Capricorn.