Appreciations
View(s):

From backroom UNPer to much talked about politico
PAUL PERERA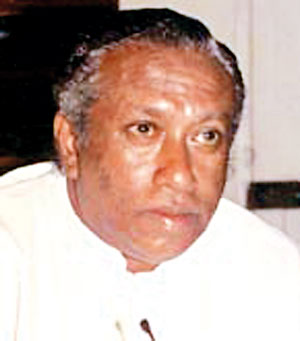 Paul Perera was a household name in politics two decades ago. Paul became a close associate of J.R. Jayewardene when he was the Leader of the Opposition and played a key role in ensuring the UNP victory at the 1977 General Elections. He started his career in the public service and then left to become an Advocate of the Supreme Court. It was during this period when he lived opposite J.R. Jayewardene's residence that they became friendly. He was originally a backroom member of our party – a person who did important work for the Party but was not known. Subsequently he became a much talked about political figure.
I got to know Paul Perera in 1972 when I was an apprentice lawyer working for H.W. Jayewardene. One day, he together with some others, came into H.W. Jayewardene's Chamber for a discussion after obtaining the Court Order prohibiting the expulsion of J. R. Jayewardene from the UNP. I joined the case at that stage. Subsequently J.R. and the then Leader Dudley Senanayake reached a settlement. That single act changed the history of our country for without J.R. Jayewardene there would not have been an open economy in Sri Lanka. J.R. could not have won an election without the UNP.
After the expulsion issue was settled, I got to know Paul Perera and we all went to work for the UNP candidate at the Kesbewa by-election. When J.R. Jayewardene became the leader of the UNP in 1973, he appointed Paul and myself to the Party Working Committee. He was always by the side of J.R. working on different strategies to ensure that Parliamentary elections were held in 1977,which the UNP won. Paul Perera also oversaw a group of the electorates in the Gampaha area including the constituency where I was the organiser.
In 1977 after the unexpected landslide victory of the UNP, Paul Perera was entrusted to help Upali Wijewardene to start work on establishing a Free Trade Zone –the Greater Colombo Economic Commission (GCEC). He was appointed as the Deputy Director-General when Upali became the Director-General. This was the first special economic zone set up in the South Asian region. Upali Wijewardene focused on promoting investments while Paul Perera was responsible for the construction of the Katunayake Free Trade Zone and the Biyagama Free TradeZone. He, together with Lalith Athulathmudali were also responsible for Sri Lanka obtaining quotas for the export of garments to the USA. They also obtained similar facilities with the EU. Subsequently, Paul Perera succeeded Upali as the Director-General of GCEC. The work of Upali Wijewardene and Paul Perera ensured the success of GCEC, which today is known as the BOI.
A good example of Paul Perera's commitment to the Investment Zones is the construction of the Biyagama IPZ.The UNIDO specialists said that Biyagama was not suitable for an investment zone as the soil was too hard for construction. Paul Perera overruled them and acted on the advice of the Sri Lankan engineers who pointed out that this was a misreading of the local soil conditions of the Siyane Korale. I must recall with gratitude, the help he gave me in transforming Biyagama from a backward region to one of the highly industrialized regions with one FTZ and two Industrial Estates. Paul Perera together with late Suranimala Rajapakse were instrumental in the construction of the roads from Kiribathgoda to the Zone, as well as the Kaduwela Biyagama- Belummahara Road.
By now Paul Perera had got the itch for politics. In 1983 President Jayewardene appointed Paul Perera to fill the vacancy in Parliament arising from the death of M.D.H. Jayawardena. During the first night of the 1983 July riots, the President instructed H.W. Jayewardene, Paul Perera, and myself to visit Dehiwela and Ratmalana and report back to him. Until Paul Perera's death we would frequently recollect that horrifying experience, which we shared that night.
Subsequent to the communal riots, Paul Perera started his Parliamentary career as Acting District Minister for Polonnaruwa. When the country returned to normal, Ekanayake from Medirigiriya became the District Minister while Paul Perera returned to the backbench. He became the Minister of Justice at the end of President J.R. Jayewardene's term of office. When President Premadasa downsized the Cabinet Ministers, Paul Perera became the Minister for Science and Technology in my Cabinet Ministry of Industries, Science and Technology. He was a great help, taking over the daily chores from me. Paul Perera then became the Cabinet Minister of Lands under President Wijetunga, a post he held till the end of Parliament.
The high point in Paul Perera's Parliamentary career was when he was nominated as the Parliamentary candidate for the Gampaha seat with Attanagalle as his base. Everyone had expected him to lose, but Paul Perera had mastered the system of preferential voting early. He went around stating that he is the opponent of Mrs Sirimavo Bandaranaike and requested every UNPer to spare him one preference. Paul Perera won handsomely, but it was a tactic that you could not repeat. An unexpected consequence was that it heralded the entry of Chandrika Kumaratunga to politics.
Paul Perera was a superb lawyer; he was quick on the uptake, seized a point immediately, and studied the brief thoroughly – at least thrice over. He carried these attributes into politics. Paul Perera enjoyed Parliament; for him it was a continuation of the Court craft –similar to appearing in Court and thinking on his feet. He volunteered to speak on many debates, and insisted that his speeches were fully reported. This was not an easy task for the press gallery.
Paul Perera was also a fighter who never gave in. The best example was in 1997 when he fell seriously ill during a flight and the plane had to make an emergency landing in Bangkok. He was given a few weeks to live, yet he fought back, recovered, and carried on for ten more years.
It was a unique experience working with Paul Perera, which I did for two decades. Paul Perera will be remembered, not only for his politics, but also for his contribution in promoting foreign investments in Sri Lanka; in this he was a pioneer.
Ranil Wickremesinghe
---
You made my life what it is today
Prof. Uditha Liyanage
When I heard about the demise of Professor Uditha Liyanage two years ago, I jotted down the thoughts that came to my mind on a piece of paper. Today I still feel the same. He directed me to rethink about "life" and the life I enjoy today is the result.This is exactly what I wrote two years ago……
The day I met you first, in my life
I was only half way thru' my life
Changing directions, to a different life
You guided me to a balanced life
Networking, development and fun
The "manthra" you gave, for me to run
Taking PIM as the focused gun
You said "you'll never miss your target son"
As a "person" you are no more
But in my mind you are much more
Taking your thoughts to more and more
Is the best, what else can I do more
Sure, there is an end to a human life
Not for "you and what you did" in your life
When we need you throughout our life
How can I wish you "nibbana" for a different life?
Finally we faced the truth as you say
The "Need" is to depart physically one day
The "Want" is to be with us every day
Your "value" (=Want-Need) will grow up every day
My deepest sympathy to your beloved wife
And for the loving daughter in your life
As we have no choice in deciding the life
I wish you will shine (no doubt) in your next life
Linton Fernando
---
A generous man he always gave a helping hand to our union activities
Dr Kumaradasa Abey Gunapala
Dr Abey Gunapala passed away on June 17.
He was fondly known to his friends and colleagues as Abey or Doctor and was a man with a big heart, kind, loving and sharing .
He hailed from a highly respected family in Kurunegala, his father being a Gate Mudaliyar. He had his primary and secondary education at Maliyadeva College and St Anne's College in Kurunegala and Dharmaraja College in Kandy.
After leaving school, he joined the library staff at Peradeniya University. From there he migrated to Germany where he pursued higher studies. After obtainining a Doctorate in Zoology, he retuned to Sri Lanka with his wife Gabriella Sortek, whom he married in Germany. He had a short stint at the Ministry of Fisheries imparting his recently acquired knowledge and thereafter got into his loved vocation, becoming the Managing Director of Ranwan Lanka Hotel in Wellawatte, being a man who had a flair for cooking.
We, at St Anne's College, Kurunegala – Colombo Union, initially got to know him as a member of the Executive Committee of our Union from its inception in 1982. When we were looking for a place to have our Ex Co meetings at the beginning he volunteered to host the meetings at his hotel, Ranwan Lanka and also provided refreshments at no cost to us. Whenever the members of the Colombo Union visited Kurunegala, we were welcomed with open arms at his residence.
There were a few times he was offered the Presidency of the Union which he politely refused. He served in the Executive Committee of the Colombo Union till his untimely demise. Although he was actively involved with the activities of the Past Pupils Associations of all three schools he studied, his commitment to St. Anne's College – Colombo Union was amply demonstrated by his participation at all Executive Committee meetings held in Colombo, coming all the way from Kurunegala and returning back home in the dead of the night by public transport.
He was well liked and respected by all members of the Colombo Union and their spouses. During the time he was with us he helped and assisted many of our members in various ways.
He was a great philanthropist and generously contributed to various charities in kind and money.
Dr. Abey Gunapala leaves behind his daughter and her family.
While remembering his loss with great sadness we salute him for his commitment to our St Anne's College – Colombo Union and our Alma Mater.
May he attain the supreme bliss of Nibbana at the end of his sojourn in Sansara.
Bandula de Silva and
Bandula Weerasekara