A splash of watercolour
View(s):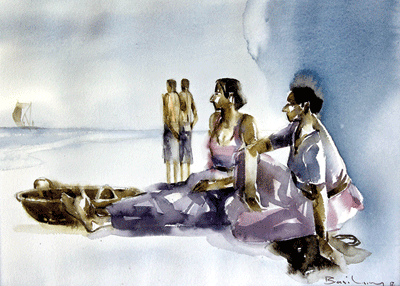 Beyond the Water Margin, a group exhibition of watercolour paintings by four talented artists in Sri Lanka's arena of watercolour art – Gunasiri Kolambage, Basil Cooray, Sanjeewee Senevirathna and Nilusha Weerakkody opens on August 18 at the Lionel Wendt Art Centre.
The four artists who have each gained recognition for their work will present 80 paintings in all at the exhibition.
Graduating from the Government College of Fine Arts, Gunasiri Kolambage is a senior artist who combines European and Indian traditions of watercolour art. His work of art is inspired by traditional Sri Lankan art and the Buddhist philosophy.
Basil Cooray who takes up a modern viewpoint of art, employs the themes of humanity, simple folk and vignettes of rural life with expressive use of colour. He merges human figures with landscapes.
Sanjeewee Senevirathna's skills were inspired by European and Asian artistic trends. Urban, suburban areas and a person's cultural space are his core themes. "Painting by watercolour is difficult compared with oil paint and acrylic paint as the artist should decide the exact paint stroke on the paper since any mistake would be visible through transparent watercolours. That is why Milind Mulick, an Indian watercolour artist says, "painting by watercolour is like shooting an arrow, once shot it cannot be brought back," explains Sanjeewee who acts as the Country Head of the IWS (International Watercolour Society).
Nilusha Weerakkody's watercolour fantasy mostly depicts dewdrops, grass surfaces, reflections on rained earth and lights of moving vehicles at night under the street lights representing worldly pleasures, sensuous and warm colour schemes.
The exhibition is on from August 19 to  21 from 9 a.m. to 8 p.m. at the Lionel Wendt Art Centre.