First-ever transplant for acute liver failure in Sri Lanka
By Kumudini Hettiarachchi
Doctors crossed line between human and divine, says joyous family - 25-year-old Maleena saved from the grip of death
View(s):
It was meant to be – with even the tiniest detail falling into place promptly, paving the way for the first-ever liver transplant for acute liver failure in Sri Lanka.
A humble family from Bandiruppuwa in Lunuwila, close to Wennappuwa, believes that for a brief moment in time all the members of the Colombo North (Ragama) Hepatobiliary and Liver Transplant Unit crossed the line between human and divine, to snatch from the grip of death their one-and-only 25-year-old daughter and sister.
"Devivaru," murmurs the tearful father, as mother, elder son and daughter, Maleena Madushani — with a brand-new liver that wonder organ, working to perfection within her — sigh and cry at the sudden turn of events which so easily could have brought about death and tragedy. They also smile at the final outcome as we meet them on Wednesday at the Colombo North Hepatobiliary and Liver Transplant Clinic.
"My first birth was from my mother and this is my second birth, due to the efforts of the doctors and their teams and the liver donor," says emotional Maleena about her new lease of life, while pleading with people to consider organ donation from kith and kin to save lives.
We relive the trauma of the family of W.L.D. Stephen Merinas and W. Dulma Priyanthi Kurera before we get into the medical wonders of the miracle that is this transplantation, with a liver from a cadaver (a person who had been declared brain-dead) for Maleena with acute liver failure.
There was absolutely nothing wrong with her, both her Thaththa and Amma tell us emphatically, while Maleena wearing a mask to prevent catching an infection describes how she is a Physical Training Instructress at Jennings International College at Nainamadama.
It was while she was at mass on a Sunday morning in May that she felt faint and collapsed in church. Tests including an EEG (an electroencephalogram tracks and records brain wave patterns) followed, with a diagnosis that she had had a fit (seizure). Some pills were prescribed to be taken daily.
Always physically fit, she took her school team for an athletics meet in Polonnaruwa soon after, returned to school and worked for another week and then once again took the team for another athletics meet in Wennappuwa which was close to home, all the while popping the pills diligently.
"The vomiting after a meal, at least once a day, started around that time," recalls Maleena, while Thaththa says that her whole body including her eyes turned yellow and Amma says that she just could not eat, "bohoma chuttai kewe" (she ate very little).
With advice to eat a lot of sweet stuff, it was a blood test that indicated that something was wrong with her liver and she was referred to Consultant Gastroenterologist and Hepatologist, Dr. Madunil Niriella.
The day is seared into the memories of Maleena's family…..it was July 17. Maleena was in a wheelchair and when Dr. Niriella asked her to stretch her arms out they were gehenava (trembling).
Dr. Niriella's advice was urgent and clear – Don't wait until tomorrow, admit her right now and that is how she went into the Colombo North Teaching Hospital's Intensive Care Unit (ICU).
"Bohoma kadinaming," the Hepatobiliary and Liver Transplant Unit's members got activated, says Thaththa, describing how they began "cleaning" her blood. By that time, however, Maleena was not fully conscious. She was confused and in a daze and by July 19 when she developed severe breathing difficulties the team immediately put her on the ventilator.
It was to Maleena's Aiya, Malik, that Consultant Gastroenterological and Hepatobiliary Surgeon, Dr. Rohan Siriwardena explained the critical condition in which his sister was. She needed an immediate transplant as her liver cells were dying.
"We had never heard of such a thing before," says Malik, who then pleaded for just one hour, as Thaththa was on the way, before making a decision. A small family meeting followed and both brothers, Aiya Malik and Malli Manoj, without hesitation offered a part of their liver to their beloved sister.
However, the Hepatobiliary and Liver Transplant Team had also spread the word around among colleagues that they were in want of a donor liver, while keeping the distraught family updated with all the information at every step telling them they would require certain items which may not be available at the hospital.
"On July 20, we got the list of requirements and by 6.30 in the evening everything was bought, while we kept a vehicle and three motorcycles on the ready to rush off if anything else was needed," says Malik, recalling those hours fraught with tension.
Maleena was wheeled into the Operating Theatre at around 8.30 on the night of July 20 and the family kept in a room close-by, with a team member keeping them posted about what was happening. They also kept the younger brother who was a 'match', fasting just in case they needed him to donate part of his liver.
The rest is now only a very worrying memory for the family. With a cadaveric liver being sent from the Sri Jayewardenepura General Hospital at the crack of dawn around 12.40 on July 21, the transplant was concluded by 5.30 a.m. Thereafter, Maleena was transferred to the ICU of a private hospital nearby and in three days all tubes were removed. This was necessitated as the Colombo North Hospital has only a general ICU which could lead to infections being acquired by the organ-recipient.
A week after the transplant, Maleena was back at the Colombo North Hospital, kept in a special room until she was discharged on August 4.
Many are the people who supported this family, both in cash and kind, in their hour of need. The students of Jennings College had donated their tills and also cancelled their class trips to channel the funds to buy the items not available at the hospital; and her alma mater, Ave Maria Convent; the family's neighbours and friends, three Catholic priests; the monks at the temple; and even strangers who responded to a Facebook appeal by her brother.
With Maleena's Thaththa and Amma being Roman Catholic and Buddhist respectively, for the Colombo North Hepatobiliary and Liver Transplant Team and the donor's family there are double blessings – masses in church and Bodhi poojas in the temple.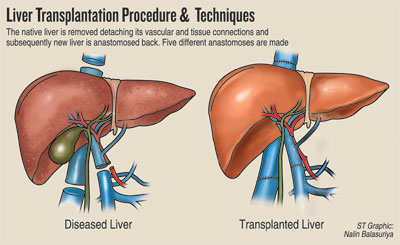 Beyond the call of duty, to save Maleena's life

It was all in a day's work and much more personal commitment and dedication for the Colombo North Hepatobiliary and Liver Transplant Unit as well as several colleagues who extended immense support from other institutions such as the National Hospital of Sri Lanka (NHSL), the National Institute for Nephrology, Dialysis and Transplantation, Maligawatte and the Sri Jayewardenepura General Hospital.
All these members had come together as the 'Liver Transplant Team of Sri Lanka' to save Maleena's life.Maleena had severe drug-induced liver (DIL) injury, explains Consultant Gastroenterologist and Hepatologist Dr. Madunil Niriella, pointing out that after investigations for an episode of loss of consciousness, a common anti-epilepsy drug which had been prescribed had acted against her liver."This is a very, very rare side-effect and doctors have no way of knowing the reaction," he reiterated, underscoring that it is an 'idiosyncrasy' of this particular drug.

This acute liver injury rapidly progressed to acute liver failure, with the accelerated development of jaundice and alternating levels of consciousness and confusion and alterations in the liver's biochemistry, the Sunday Times learns.
The symptoms were there for a week and on evaluation there was progressive liver failure not responding to medical treatment.
A liver transplant was the only option, says Dr. Niriella, contrasting it with someone who has chronic liver failure due to cirrhosis and is in need of the same life-saving solution.

Maleena was unconscious and on the ventilator, all of which had happened suddenly. In cases of chronic liver disease, unlike Maleena's which was acute, there is time to evaluate and prepare the patient for an anticipated liver transplant.
"Sudden," is how Dr. Niriella describes Maleena's situation and preparations were needed urgently, as early as possible. There also wasn't adequate time to look for a graft (liver). Death was staring her in the face.

Quickly the team spread the word that they were in need of a liver and their plea was answered by NHSL's Consultant Transplant Surgeon Dr. Ruwan Dissanayake who informed them that there was a cadaveric liver available at the Sri Jayewardenepura Hospital.
"The call came that there was a rudimentary match with a brain-dead donor," says Consultant Gastroenterological and Hepatobiliary Surgeon, Dr. Rohan Siriwardena.

The "match" was a surprise, for it was an elderly donor with long-standing diabetes. The decision was to open up and take a look at the liver, for Maleena was in dire need. When Dr. Dissanayake opened up, they found that it looked good, says Dr. Siriwardena, adding that they also took the kidneys for transplantation in other recipients at that hospital.

By that time, the Colombo North team had explanted the diseased liver of Maleena which was much more challenging than a usual procedure as she was very ill and there could be more bleeding and other complications.

Seven hours, the operation took, while Maleena's liver was removed, detaching its vascular and tissue connections, after which the new liver was anastomosed (linked) back, says Dr. Siriwardena, adding that five different anastomoses were made.

It was the onerous task of Consultant Anaesthetist Dr. Bhagya Gunetilleke to maintain her vitals during the procedure as well as in the critical post-operative period. "In acute liver failure, the killer is the brain swelling up and Maleena's condition was not very good," he says.
"However, everything fell into place," adds Dr. Niriella, who was fully supported by Consultant Physicians Dr. Anuradha Dassanayake, Prof. Arjuna de Silva, Prof. Janaka De Silva and their senior trainees.

This is while Dr. Siriwardena worked in tandem with NHSL's Dr. Dissanayake and Maligawatte's Dr. Nalaka Gunawansa and also Dr. Gomathi Narayan and their trainees.

Dr. Gunetilleke's team, meanwhile, comprised Dr. Sagari Ranasinghe, Dr. Tharanga Gunarathna, Dr. Nadeeshya Welikala, Dr. Jeewaka Kulatissa, Dr. Roshangani Ranamuni, Dr. Rachini Withanage, Dr. Vishaka Kerner and Dr. Thamosha De Silva.

Giving just one instance of the whole team going beyond the call of duty, Dr. Niriella says that the nursing team rose to the occasion without hesitation. One nurse had come in even though she was off-duty and she did not have anyone with whom to keep her child at home. So she brought her son to hospital and sent him to school the next morning from there.

Others who went that extra mile included Consultant Microbiologist Dananja Karmaline; Consultant Nephrologist Dr. S. Mathu; and the Blood Bank, laboratory and minor staff of the Colombo North Hospital.