Bus only lanes get going with rules for the road
View(s):

For three hours every morning from Tuesday, public buses will run on "priority lanes''. This is expected help vehicles move along at a better pace at rush hour.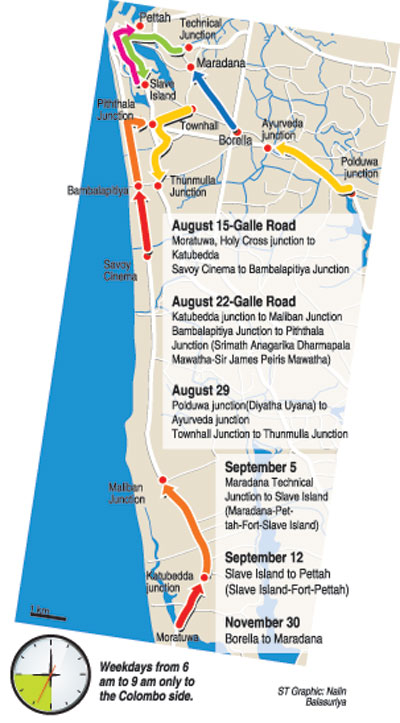 Bus only lanes will only be possible on three-lane roads. The dedicated lane will be available to public buses, office buses, school buses, and school vans.
A transport researcher predicts that movement of vehicles will theoretically improve between 6:00 am and 9:00 am in some locations. He also claims it costs less to implement.
Still, there is no workable transport policy in Sri Lanka and ad hoc measures are being implemented as knee-jerk reactions to traffic chaos. At the Sri Lanka Transport Board, thousands of buses lie idle, according to its own data and yet more buses are being imported from China and South Korea. There are 6,178 SLTB buses but 1,591 are not running. There are more than 21,000 drivers and conductors for this unproductive fleet.
Professor Amal Kumarage, senior professor at the University of Moratuwa, predicts bus priority lanes will increase average traffic speed by 30% to 50% and could help save Rs 200,000 to Rs 300,000 per kilometre each day in costs. It was not clear what those costs relate to, or how they are calculated.
He said the average speed of vehicles in the city of Colombo is 12 kilometres per hour, while it is 17 kmph in the Western Province.
Bus only lanes will be operational in selected areas on Galle Road.
In a trial run from Borella Ayurveda junction to Rajagiriya, the average speed of vehicles increased between 20 and 25 kmph in the peak and off peak hours respectively. That would be the speed an average racing cyclist can pedal.
He claimed nearly half of the people use buses every day, while the other half uses private vehicles. Compared with 400,000 buses, there are four million private vehicles.
Prof Kumarage claimed that the outcome can be significant. According to him, the bus priority lane can only be implemented on three lane roads on which more than 100 buses travel every hour.
On Tuesday, bus only lanes will be available on Galle Road from Holy Cross junction, Moratuwa to Katubedda, and from Savoy Cinema to Bambalapitiya junction which will be extended, a week later, from Katubedda junction to Maliban junction and from Bambalapitiya junction to Piththala junction (Dharmapala Mawatha-Sir James Peiris Mawatha) on August 22.
The plan will come into effect from Polduwa junction (Diyatha Uyana) to Ayurveda junction and from Town Hall junction to Thunmulla junction on August 29. It will be implemented from Maradana Technical Junction to Slave Island covering Maradana, Pettah, Fort, Slave Island areas on September 5 and again from Slave Island to Pettah via Fort on September 12. The final step of the first phase begins onNovember 30 from Borella to Maradana.
Buses will have to abide by some rules. Buses can stop at designated areas only on a lane. The leading bus that arrives at a bus stop should remain at the first block, while the following buses should stop at the next block, one after the other.
Buses are not allowed to overtake a bus that has stopped at a halt, but if the space at a halt is not enough, drivers can stop on the bus lane.
Buses can remain at halts only for passengers to board or alight.
Buses that do not stop at bus halts can overtake a bus that has stopped at a halt. A bus that stopped at a halt should remain there until the leading bus leaves.
Buses can enter or leave the bus lane at marked places only, while the other vehicles that wish to turn left from the main road, can enter the bus lane also at places marked for the purpose.
Vehicles that enter the main road from by-roads should use the second lane without using the bus lane to turn left.
At a pedestrian crossing, priority should be given to pedestrians.
Other vehicles are not allowed to stop on the bus only lane except with good reason.
Meanwhile, Minister of Megapolis and Western Development, Patali Champika Ranawaka said the aim is to attract people on to public transport. Bus only lanes will be expanded to areas such as Kandy and Galle based on the outcomes in Colombo.
Buses are expected to be tracked by using GPS technology and CCTV cameras to ensure compliance on bus only lanes.