Sri Lanka's rental market is too small
Niche in real estate rental segment
View(s):
It's only 5.4 per cent of the total housing stock and this number is dominated by high-end luxury apartments. It is worse for mid and low income segments.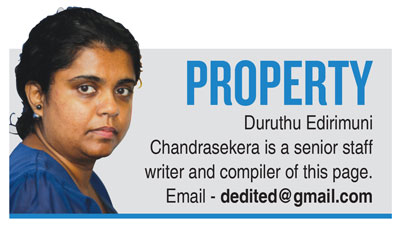 Analysts say that the market for middle-and low-income renters is almost non-existent especially in Colombo.
In recent times, rents in luxury/high-end apartments have risen by an average of 11 per cent annually, according to local real estate analysts. Rents for a three bedroom apartment ranges from Rs. 250,000 (US$1,898) to Rs. 350,000 ($2,657) per month in completed projects such as Iceland Residencies, Crescat Residencies, Empire Residencies and The Empire, data show. Rental yields in Colombo high end range from 3 per cent to 7 per cent, according to local developers. These yields are low, considering the 13.7 per cent prime lending rate and mortgage interest rates of around 13.5 per cent to 15.5 per cent.
So in rupee terms the range of rent for a 3-bedroom condo in Colombo city is Rs. 75,000 to Rs. 240,000. These yield figures, according to some analysts, are 'gross' as they don't take into account costs such as servicing a mortgage, maintenance costs, or add-ons, etc. They cannot be sustained with these costs, an analyst said. The point is that this type of cash won't be thrown around anymore and in that light their rentals will drop. But builders are not predicting that rents will plunge, they do expect them to stagnate and perhaps ease in the short term.
So this will force landlords to slash rents and offer deep concessions as a glut of supply brings the apartment boom in Colombo to an end, analysts say noting that mid-to-low income rentals are mostly concentrated out of town.
Demand for urban properties – especially rentals jumped for the past decade as young, high-earning professionals shunned homeownership and flocked to the big city. Developers responded by focusing most of their efforts on high-end properties and those who lapped these properties – say two at a time – were mostly eyeing rental income. Now, though, the number of upscale apartments coming onto the market appears to be outpacing the number of renters able to move into them. Current industry statistics show that some 4,000 new luxury apartments are coming to Colombo within the next two years. Amongst these Shangri-La, Altair, Cinnamon Life and City Centre (Abans) will fetch 450 apartments each while ITC, HTC and Astoria will bring 600 apartments each. The Achilleion, promoted as '7-star luxury', at Station Road, Bambalapitiya is also expected to have 600 apartments.
Also a new niche for mid income studio apartments can be seen in areas such as Rajagiriya, Mt. Lavinia, Ratmalana, Moratuwa, etc.
This is the same trend for commercial properties. "In this case, we observed that customers look for flexibility. Most small scale businesses and start-ups are unable to lock in a huge capital for a longer period of time right away. You need to have options that let customers carry out their businesses with an initial advance payment for a smaller period of time like three months or six months. This will encourage small scale businesses to rent out or purchase commercial properties within the city limits, but this isn't happening. So now there's a niche for this," an analyst told the Business Times.