Major cement mix use creates history in Sri Lankan construction industry
View(s):
A major concrete 'pour' of 6500 cubic metres was done at the ITC One Colombo One project site in the 5.87 acres of land in Galle Face Road, Colombo adjoining the Taj Samudra hotel over the long weekend (August 5-7).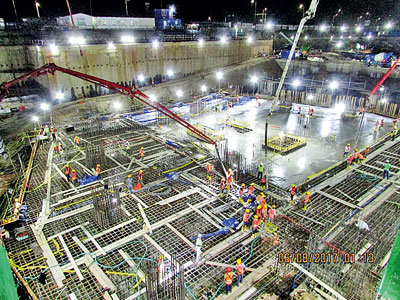 The cement mix was continuously 'poured' over a period of 70 hours, a record in the Sri Lankan construction industry, the general contractor Larsen & Toubro Ltd said in a media release.
The major concrete pour was for the raft foundation of the Residential Tower in the project and was done with some special features. As per the available records, this single pour of 6500 cum concrete is the largest pour in Sri Lanka. It was done with a special mix design of C50 grade concrete, the ingredients proportion being used first time in Colombo. The concrete pour had 1250 MT of reinforcement work. Concrete Core Temperature of 70 Degree Celsius was maintained throughout. The concrete was meticulously planned in segments for operational ease. Special care was taken to ensure no inconvenience caused to the neighbours and the public.
ITC One Colombo One project is a mixed use development project of two tall towers on the Galle Face road, consisting of 135 units of high end residential apartments in a 224 meter tall tower and a 5-star hotel of 350 keys in another tower of 140 meters tall. The project has a sky bridge with a swimming pool at 100 meters height connecting the residential tower with the hotel tower.
Major construction work in the project started in January 2017 with the mobilisation of the Larsen & Toubro Ltd, a major engineering organisation from India working in various countries across the globe.
Subsequently Sri Lankan sub-contractors were finalised for the civil and structural work. The residential tower which is the taller one is being constructed by M/s International Construction Consortium (Pvt) Ltd (ICC) from Sri Lanka.
"Utmost care was taken in safety of the concrete pouring operations including risk assessment and implementation, strict traffic management, workmen welfare and it has been witnessed by the District Factory Inspecting Engineer of the Labour department who visited the site on August 4. Safety requirements such as emergency arrangements including ambulance and male nurse, training of workmen, work permit system, entry system were also meticulously followed. Adequate lighting arrangements were made to ensure easy working in the night shift. Logistics arrangements including pour sequence, organising resources, permissions were organised well in advance.
The concreting was planned during the long weekend so that traffic is not affected. Concrete was taken from four Batching Plants with 86 Transit Mixers to achieve average pouring rate of 100 cum per hour. We could achieve a maximum of 210 cum per hour during the course. Total pour of 6500 cum was completed in 70 hours," the contractor said.