Governance levels unlikely to improve – BT Poll
View(s):
Not many people believe Foreign Minister Ravi Karunanayake's resignation would improve governance and accountability levels, a quick Business Times poll conducted through email on Friday, reveals.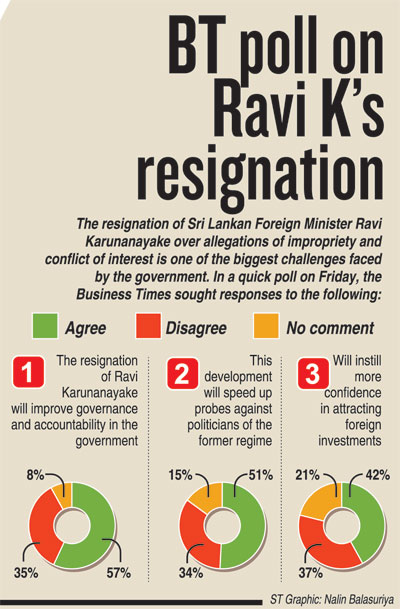 But it was noted that this is a landmark development in Sri Lankan politics where an accused (not proven guilty yet by a court of law) has resigned. Some respondents commended the former minister for his 'bold' move.
Three questions were asked in the poll which drew a sizable response. While 57 per cent of the respondents agreed that the resignation would improve governance and accountability, 35 per cent disagreed and 8 per cent were 'undecided'. Asked whether this development would speed up probes against politicians of the former regime, 51 per cent agreed, 34 per cent disagreed while 15 per cent were undecided.
In terms of the 'resignation' instilling confidence amongst foreign investors, 42 per cent agreed while 37 per cent disagreed and 21 per cent were undecided.
The poll drew responses from a cross-section of the professional class like bankers, accountants, company directors, academics, entrepreneurs, educationists, civil society activists. There were also comments from a leftist politician and two senior government officials.
In the plethora of comments received, one respondent said that the resignation was as a result of a power struggle between the two top leaders and had nothing to do with accountability or good governance. Another urged the immediate setting up of a special court with respected judges and definite timelines to probe misdeeds of the former regime. "A large percentage of the people want a proper probe against the last regime and subsequent punishment because it is the people's money that was plundered. This appears to be a difficult task because of 'double deals' and some 'traitors' in the present regime apparently obstructing the inquiries," a civil society activist said.
An academic said that the incident has highlighted the fact that this Government is corrupt as well with the only difference being that there is democracy now when compared to before.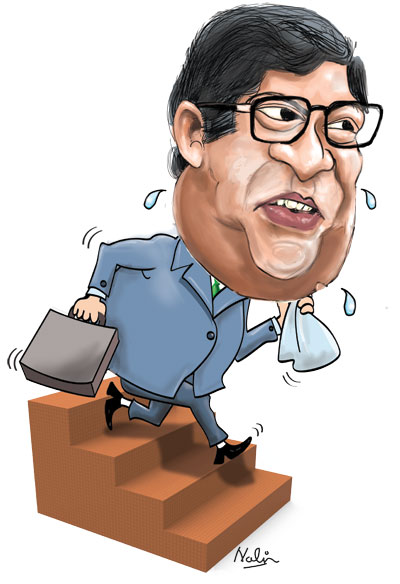 Some respondents were unhappy at the treatment meted out to the former Foreign Minister. "This was a ploy by the highest authorities to get rid of one person. Look at the sequence of events. Why was Ms. Anika Wijesuriya called to testify at the Commission all of a sudden? I am not favouring RK. If he has done wrong he has to pay for it. But to me, it was a beautifully planned plot to evict him," said a senior corporate director, adding: "If all are served with the same spoon, it will be beneficial to increase investor confidence. But I seriously doubt it will happen in the hands of Yahapalana Government. Culprits of the previous government will never be brought to book. This is why I firmly believe that there is a conspiracy to sideline the UNP in the Yahapalana Government and eventually to get rid of them."
Here are excerpts of the comments received:
 I do not believe that RK is the only person who is tainted and stands or stood in the way of good governance and accountability. There has to be a wider purge of the corrupt politicians. For the record, I voted for this government; it was a vote against corruption and better governance. I will not vote again.
 Over 40 odd politicians and officials who were accused of corruption never resigned in the previous government. Leave alone resigning, some were reappointed against Supreme Court judgments that they are not fit to hold government posts. Furthermore not a single politician or official in the previous government ever faced any inquiry or commission.
 In terms of governance and accountability, there is still a lot more to be done.
 'Revenge politics' will probably take precedence now, as the government goes after the Rajapaksas'.
 Improving the "Ease of doing business Index", "Corruption Perception Index" and a jungle of red tape and multiple taxes will have to be eliminated before our FDIs improve.
 It will moderately and indirectly have a positive impact on good governance and country political stability.
 Good governance was implemented from January 2015 in several areas; notably freedom of expression, improvement in law and order, independence of the judiciary and setting up of the Constitutional Council and Independent Commissions. The appearance of a senior cabinet minister before a Commission to be grilled by an over-enthusiastic prosecutor was itself a welcome change. The resignation of RK before any conviction by a court or Commission augurs well for good governance, which nevertheless has a long way to go.
 This development will speed up probes against politicians of the former regime. However several ministers who have been indicted in courts from the SLFP are in office. Nothing will happen unless there is pressure from citizens.
 There are serious problems for foreign investors, including ad hoc taxes from midnight gazettes, history of retrospective taxes, expropriation, which also hurt domestic investors.
 He resigned because he knew he would lose the no confidence motion and the UNP knew as well. If he challenged this, it would have been political suicide for him. So he resigned as the better option for his political survival.
 I initially hoped that this will expedite probes against the politicians of the former regime. But in thinking about this further, it may not happen because this government probably is becoming more aware that it may not be elected again. So why take chances against pursuing cases against politicians of the former regime because if they come back to power (what's the alternative?) these 'crooks' will be in the same predicament in 2.5 years.
 Policies (and some are very good) are announced but overturned in a week because some interested party will protest against it.
 At least now there is a potential deterrent for misbehaving (in government). One hopes that the resignation is only the start, if there is proof of breach of trust and corruption then he should be criminally pr0secuted.
 Politicians will now find better ways to cover the paper trail! Ministers and Government MP's especially RK and his supporters will use every opportunity to highlight delays by the AG's department, FCID and Bribery Commission in view of what happened.