Kite-surfing legend Ruben Lenten trains local talent
View(s):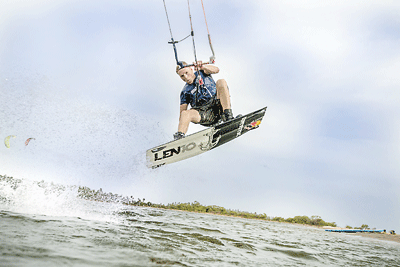 Kite-surfing legend Ruben Lenten spent 5 days in Sri Lanka to conduct a training programme for 32 local Athletes, as part of the Red Bull Local Hero Tour. The programme was held from July 13-17 at Kappalady Lagoon, Donkey Point, Kalpitiya Lagoon and Vela Island. The locals took on Ruben's tag line- "Ride Hard and Fly High'" to heart, as they pushed themselves to perfect tricks and learn new moves under the masterful eye of the experienced kite-surfer.
With daily, early morning coaching, warm up sessions and personal guidance during the kiting sessions, the Kite-surfers were able to improve on their tricks immediately.
Ending the 5-day camp with a downwind exploration Kite-surfing session, Lenten picked Anishka Dinel as the Local Hero from the 32 riders.
"Being at the Red Bull Local Hero Tour has been really thrilling. For me it has been an honour to have been chosen as the Local Hero, as well as being able to kite with Ruben (Lenten). I can see myself improve on a daily basis under his guidance. For the kite-surfing community here in Kalpitya, Red Bull has given the opportunity for the riders to showcase their hidden talents, and for this, we are all very thankful," local winner Dinel stated of his achievement.