DRINKS TROLLEY
View(s):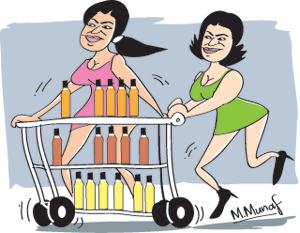 A common scene at a particular sports event is the Drinks Trolley which is being wheeled in by two pretty girls to the ground. Naturally the girls take the opportunity to speak to the stars. It has now surfaced that the World Ruling Body of the sport has not given the green light for drinks to be wheeled in by females during internationals.
HEARTBURN DUE TO POOR PERFORMANCES
Sri Lanka's poor performance at a popular women's sport at an Asian level competition is causing a lot of heartburn among sports fans. In this regard an inquiry is being held by the authorities concerned. The head coach in particular is under heavy scrutiny. It is alleged that there are over 60 complaints against her including trying to split the team and being rude to the skipper. The sooner this is known the better as there are several competitions in the future where Sri Lanka has a good chance of winning.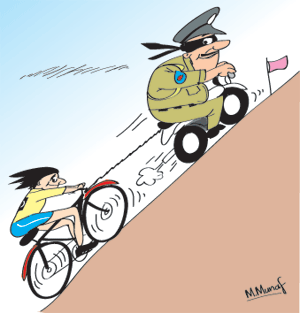 DRUGS GALORE
A top athlete has been detected taking drugs. Now it has surfaced that there are more than ten other athletes in the same trade. Now the controlling body is planning to take action to stop this menace. Will they succeed and how?
PETITIONS GALORE
Petitions have been pouring in against the staging of the AGM of a popular women's sport. Due to this no definite date has been fixed for the AGM.
HELPING HAND FOR TWO-WHEELERS
Everybody has a high regard for officials of the law. In this particular incident this high official was spotted giving a helping hand to some of his comrades at lonely spots, at a key two wheel sporting event. This officer was seen helping some of his team members with the aid of his motorcycle by helping the riders to overcome difficult climbs!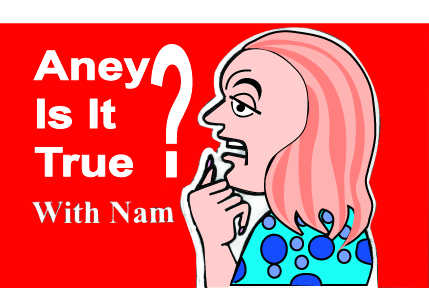 NOT GOOD AT HILLCLIMBING
At a recent two wheeler sport a particular rider was in the limelight. It is alleged that there was heavy planning to pave the way for this winner. It is even said that a stage featuring a heavy climb was changed as this particular rider was not good at hill climbing. The outcome of it was this rider won and it was all due to the organisers efforts!