A friend indeed
APPRECIATION-UPALI MAHANAMA
View(s):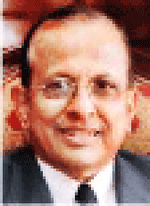 In the Sunday Times of  30th  July 2017 an  appreciation was  written about Dr. Upali Mahanama by one of his closest friends  Mailk Cader, under the heading "service to humanity was the best work"  I could not agree with him more in his description of  Upali.
In 1970 I too had the privilege of being introduced to this wonderful gentleman by the name of Upali.  I was later informed that his surname was Mahanama. As we all know Maha means big or great and true to his name he remained a great friend of mine since that day onwards.
I say this knowing his achievements.  Some of which I would like to mention below.
He was a versatile cricketer, cricket administrator, umpire, MCA president, a vocalist, a speaker of no mean repute — also an entertainer, compere, cabaret artiste, social worker and director of several companies.  And truly a great friend!
He was founder president of the Colombo South Jaycees and won six out of nine national awards. He was awarded best Jaycee and his chapter Colombo South won an Asian award for a project called "operation clean up".
In 1972 at the JCI conference in Hong Kong Upali was elected the chairman of the conference bid committee.
In 1977 he was national president of the Sri Lanka JCS uncontested and was awarded JCI senator ship, the highest international honour.  He was elected jci world vice president to Norway, Denmark, Finland and Iceland.
Some years later I   followed his footsteps in   free masonery and worked closely with him on several charity projects.
While working on various projects. What struck me most about Upali was that if a plan did not work out, he would change the plan not the goal. The goal remained the same and achieved.
Merits performed throughout his life include helping friends at time of need. Finding  employment and shelter, settling family disputes, advising people going astray and, being a strength to the poor, the weak and many other merits too many to mention.
He gave from his heart rather than a piece of his mind, which gave him the many friends he has had even up to the day his soul left his body.
Another trait in Upali was his humour and wit. If laughter is the best medicine then Upali was the best person in that field.
There is a Mexican saying that "a man dies three times" — the first when his soul leaves his body, next when he is cremated or buried and now out of sight, the third when his friends and relatives have forgotten him.
In the case of Upali he will never ever have that third death, as he is one  unforgettable character and person.
He leaves behind his wife, Swarna and two sons Devaka and Roshan and their families, who loved him dearly.
 Carlyle Edwards.