Stray dogs too have a right to life
View(s):

Stray dogs are sentient beings. Like us humans, they too feel pain.Though in law, called 'stray', they are 'community' dogs cared for by compassionate persons, most being vaccinated against rabies and sterilized.Thus it is very unfortunate that in this country which boasts of a rich animal friendly cultural heritage and in its Constitution gives foremost place to Buddhism- based on its very tenet, Compassion- these harmless animals have, since  recently, become victims of horrendous cruelty with State patronage. They are brutally seized and whisked away to unknown destinations –to "beautify" the cities or rid them of a perceived "nuisance'.

With no transparency, speculation is rife that these dogs are poisoned or drowned or abandoned in jungles  – the most recent being the atrocity  in the Moratuwa University, where the removal  contract was given to a security service, when under the law, the local authorities are responsible for stray dogs. Discovering the mutilated bodies  buried (one still alive),  a young activist wept  that buried that day were not only dead animals, but also humanity.

To cite two out of several other incidents, when in 2013, Sri Lanka hosted CHOGM (Commonwealth Heads of Government Meeting), Colombo's stray dogs were removed and despite authorities assuring their return after the meeting, they were found  dumped  in Chilaw,  many died unable to survive in hostile surroundings, having previously been nurtured  by the community; or when the 'learned' authorities of Sri Jayawardenepura University contracted a pest control company to remove vaccinated and sterilized community dogs within the campus premises, when dogs are not pests under our pest control laws.

The solution is not destruction, but dog population control through CNVR (Catch, Neuter, Vaccinate and Release), the humane, sustainable method recommended by the World Health Organization (WHO) and the World Organization for Animal Health (OIE) which Sri Lanka is obliged to follow, being a member of both organizations. Why then are some State institutions resorting to inhumane killings?  Along with CNVR Dog Managed Zones, fenced and with feeding stations should be established, to prevent the dogs roaming.  Human rabies deaths, highest during the killing spree, decreased substantially with CNVR.  Many countries are zero rabies due to dynamic CNVR programmes.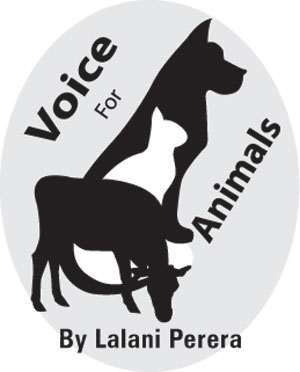 Dogs are said to be descendants of the gray wolf and their co-existence with humans dates back to 15,000 years. The Mahavamsa records that when Prince Vijaya and his followers landed in our country in the 5th century BC, seeing a dog  and surmising  that "only where there is a village are dogs to be found", they had followed the dog,  leading the prince to his future queen, Kuveni.
Dogs are intelligent animals, even crossing roads at pedestrian crossings.  "Dog is man's best friend" is not an empty phrase.  Stray dogs have saved numerous human lives, the world over, by alerting humans to need for help, like howling until help arrived to save an abandoned baby, or preventing disasters, like when fifty American soldiers in Afghanistan escaped death with three strays biting a suicide bomber attempting to enter their barracks.  During the conflict, it was common to see stray dogs befriended by soldiers at checkpoints.
Our laws based on 19th century thinking that animals are chattel, allow stray dog destruction to control rabies,but with then President Mahinda Rajapakse's 2006 "No Kill Policy", sterilization and vaccination became  the humane alternative to brutal killing which had hitherto claimed thousands of lives.  In 2016, Cabinet approved a humane plan. Today, many countries recognize animals as sentient beings, with a right to life.This nation too must amend its laws.  Activists through a court case, and Local Government Minister Faiszer Mustapha's Animal Welfare Advisory Committee have submitted draft laws to give statutory recognition to the "No Kill Policy".
Responsible for this "nuisance" or rabies risk are us, humans; haphazard garbage dumping, poor garbage management, abandoning unwanted puppies in public places, irresponsible pet ownership being some contributory factors.
With escalating "white van" rides for dogs, activists have tirelessly campaigned to draw the attention of the current and previous regimes to  this State sponsored cruelty. At a demonstration in 2012, the police implored  the protestors to 'roll up' a banner saying "Mr. Defence Secretary -  Why are you reluctant to meet animal welfareorganizations?" stating  however that we were free to display other banners.Former Local Government Minister Karu Jayasuriya and current Minister Faiszer Mustapha were approached. Minister Jayasuriya, directed his officials to pursue CNVR efficiently; Minister Mustapha assured that dogs would not be killed, but will be removed from public places. A plan to re-vitalize CNVR was presented to Megapolis Minister Patali Champika Ranawaka in 2015. Lobbying key politicians, holding press conferences,social media exposures,intervi-ews,pahan poojas were some other attempts. Last May, at a candlelight vigil, the President was requested to issue a statement assuring the welfare and safety of dogs in public places.
In 2009, the Indian Supreme Court highlighting the need to balance compassion for animals and human existence, acknowledged that killing  is no solution and sterilization is the answer for dog population control, and directed all Indian States to sterilize stray dogs, allowing destruction only of irretrievably ill or rabid dogs.More recently,the Court ordered the States to conduct sterilizations, supervised by India's Animal Welfare Board,  observing that authorities were indifferent due to financial constraints or apathy. In Kerala, Jose Maveli, wanting to end what he called the  "dog menace"  by eliminating  stray dogs faces multiple animal cruelty charges.Discussing the issue in the State Assembly, Health Minister K.K .Shylaja rejected the demand of some members to allow people to kill street dogs. A petition in Kerala says "Boycott Kerala tourism now that the government is brutally killing dogs."
A large group of Buddhist clergy and activists have sought relief from our Supreme Court to halt this horrendous killings which  violate our animal cruelty laws.
Our archaic laws prescribe a mere fine of Rs.100 for animal cruelty. The Law Commission's  Animal Welfare Bill, recommended to replace that law, is outstanding since 2006,  delayed by groups with vested interests.  The government must give priority to this Bill and the draft law on humane rabies eradication now pending in the Local Government Ministry.
Is Minister Mustapha's assurance to his Animal Welfare Advisory Committee that street dogs will be removed only in consultation with Animal Welfare Organizations to ensure their welfare, being ignored by his officials? Animal welfare organizations await a long sought meeting with the President in the belief that the Compassionate Government he pledged will apply also to dogs and other animals.