Waste officials draw fine line on city garbage
View(s):

Unsorted garbage is being left behind by sanitation workers and as a result, piles still remain on the streets, officials say. In some area unsegregated garbage is accepted for the time being, but in many other locations, such waste is rejected.
Meanwhile, municipal councils, private sector groups including Abans and Carekleen, as well as government bodies have been fined for not managing their garbage.

More than 4,500 people accused of dumping garbage illegally have been arrested.

In addition, collection is being tracked though GPS in some of the garbage trucks.

Colonel Rohan Wettasinghe, senior military liaison officer, attached to the Ministry of Megapolis and Western Development, said although some people separate waste, at collection time, it is problematic. On occasions, the type of waste handed over cannot be collected by the vehicle doing the rounds at the time. As a result, waste is once again left behind.

He said more than 30 army personnel attached to the city beautification unit observe sites where garbage gets piled up and they collect photographic evidence every day between 6:00 am and noon, and then after 3:00pm. The photos are then sent to the CMC and the environmental police division via email.

He added that fines are imposed on institutions that handle garbage if the mounds are not cleared on time.

Col Wettasinghe said that some times within 10-15 minutes of reporting about garbage piles, they are cleared. But then, as soon as the waste it cleared, people dump again. "Regular operations are carried out by the environment police and to arrest those who are illegally dumping garbage on the roadside," he added.

He also said that CCTV cameras will be installed at locations where garbage is often dumped.

He said GPS has been installed on more than 20 percent of the garbage collecting vehicles to monitor collection. "This ensures vehicles go to the correct places on the correct day of the week," he said.

He added that the 1917 hotline will also be dedicated for complaints.

According to reports, the amount of unsorted garbage received by the Kerawalapitiya Waste Management Park is almost double the amount received as sorted garbage. Out of the total of 1,319 metric tonnes transported to Kerawalapitiya by 220 vehicles from 6:00 a.m. on August 3 to 6:00 a.m. following day, only 429 MT were sorted, while 890 MT came as unsorted mixed waste.

Officials pointed out that unsorted garbage gathers in collection centres for longer until they are segregated manually.

Dr Upali Indrasiri, project director of the presidential task force on environment protection, told the Sunday Times that a conveyor belt will be built to speed up the segregation now done by hand. He also added that nine mechanised composting machines will be imported for the nine provinces while 190 compactors too, will be imported shortly.

More than Rs 2.3 million have been charged from private and government institutions as fines for not managing garbage properly in the Colombo city area.

Popular private institutions, Abans and Carekleen were also among the other local government bodies including in Colombo, Sri Jayawardenepura Kotte, Kaduwela, Kolonnawa, Dehiwala-Mount Lavinia, Moratuwa and Peliyagoda, which were fined.

An officer from the Sri Lanka Land Reclamation and Development Corporation said nearly Rs 500,000 had been imposed as fines against the Kaduwela Municipal Council while the Colombo Municipal Council has been fined Rs 400,000. Dehiwala-Mount Lavinia Municipal Council and Kolonnawa Urban Council have been fined Rs 100,000 while Sri Jayawardenepura Kotte has been fined Rs 200,000. SLRDC said that for the private institutions the fine will be deducted from their annual contracts signed with the CMC adding that all the institutions have been officially informed about the fines.

Abans claimed that they were warned of the penalty, while Carekleen declined to comment.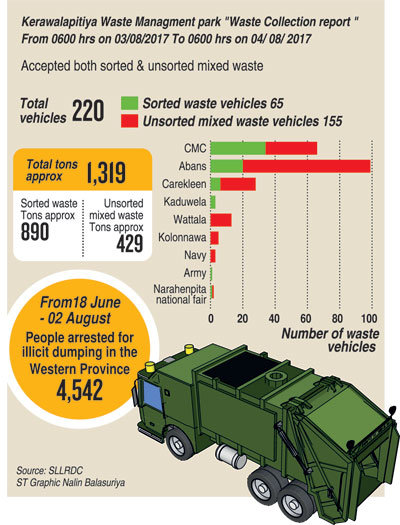 SLRDC said that the fines will be deposited in a separate account which will be used in the future for development activities.
An official also said garbage being dumped into canals has become a crisis in many congested areas. They claimed that in some canals, bags had been found with human waste. He claimed that this is common in areas like Apple Watta, Mattakkuliya and Grandpass adding that steps have been taken to provide toilets.
Meanwhile, the police said that 4,545 people have been arrested for illicit garbage dumping from June 18 to August 2 this year in the Western Province alone. Out of that 4,146 were arrested by the police, while 399 were held jointly by the army and the police. Environment Police DIG, G S Walgama said that the accused have been produced in court and a maximum fine of Rs 5,000 fine was imposed on each person.
WASTE PLANTS PROMISE 10Mw ENERGY
Two multi-million dollar projects to convert waste to energy will begin construction this Thursday at Kerawalapitiya promising to generate 10 megawatts every day.

It is not known, however, how much these plants will cost to operate.

One megawatt, or 1,000 kilowatts, is estimated to be enough to power 750 homes.

Prasad Ranaweera, director (project management) Urban Development Authority, said one plant will convert garbage collected in the Colombo Municipal Council area while the other will accept waste from Gampaha District with a capacity of 700 metric tonnes and 630 MT per day respectively. The two projects will be implemented with the assistance of China along with Japan and South Korea respectively.

He said that the project for CMC waste has been designed according to volumes received at the Meethotamulla dump site. It will be operated by the CMC while the other project will be implemented by the Western Provincial Waste Management Authority.

The project to convert CMC waste costs US$95 million (Rs 1.42 billion) with an expected construction period of 18 months, while the other costs US$91 million and the construction will be completed within two years.

Mr Ranaweera added that the two companies were selected out of 119 bidders after calling for tenders in February last year.

He said that another project will begin this month in Karadiyana for the garbage collected in other areas. It will have a capacity of 500 metric tonnes per day to generate 10 megawatts a day.

Mr Ranaweera added that any type of waste except hazardous materials and clinical waste can be used.