COINS to create country's future cinema
By Susitha R. Fernando
Colombo International Student Film Festival- 2017
View(s):
In a country which lacks a film school and a proper cinema education system, the Digital Film Academy (DFA) of the Sri Lanka Foundation (SLF) has come forward to lay the foundation to cinema education for many a budding filmmakers and enthusiasts. The DFA has not only created a platform for student filmmakers to learn cinema but set up a forum with Colombo International Student Film Festival (COINS) to compete with international young filmmakers.
COINS Film Festival is the first-ever and only international students film festival in Sri Lanka which is an academic event that creates a platform to introduce new talent to the world of cinema. Having completed two successful festivals in 2011 and 2014, the COINS 2017 is to be held from September 7 to 9 with a series of events including film workshops, a digital cinema technology exhibition, film screenings and a competition followed by a red carpet grand finale with an award ceremony.
Started in April 2011, COINS film fest creates a meeting ground for both local and international young filmmaker. About 700 participants took part in the maiden festival in 2011. In 2014, the second COINS film festival was held with over 1100 participants and a number of film workshops were conducted by acclaimed cinematographer A.S. Kanal and film director Jayashree Kanal.
Now a much awaited annual event specially for young filmmakers and film enthusiasts, a number of local academic institutions including University of Colombo, Sri Lanka Television Training Institute (SLTTI), National Film Corporation (NFC), University of Kelaniya, Sri Palee Campus affiliated to the University of Colombo, University of Visual and performing Arts, University of Peradeniya and some national schools, become a part of COINS film festival.
"We started this film course at the Sri Lanka Television Training Institute (SLTTI) in a backdrop where there was no film school to study cinema. The project was started by Dhanushka Gunatilake who came from India and wanted to start as a proper course here. Many seniors in the industry including leading filmmakers unconditionally supported this project," says Sudath Mahaadivulwewa, head of department of direction of the DFA.Sudath, an award winning filmmaker and teacher in cinema says the DFA was started with the aim of making future filmmakers and initially it didn't have equipments needed for filmmaking.
"But today we are equipped with almost all the necessary technical equipments and have produce cinema artistes including directors, editors, cinematographers who are working in the mainline cinema industry" Sudath said.
However the journey was not so rosy as there were obstacles like political interference to use SLTTI. "It came to a point where we were going to stop the course and even informed the students to withdraw their payments. However all the students stood together and refuse to get the money but to start a new film study course," Sudath said describing the challenges the DFA had to face.
However Sudath and the team are happy that the DFA is back in the track and they are able to organise an internationally attractive students' film festival, which is organised as the final project of outgoing batch of students of DFA.
Chirath Nirmanaka de Silva, the chairperson of the festival, says this year there would be around 300 entries from all over the world for the festival. "So far films from countries like France, Germany, India, the USA, Iran, Thailand and Taiwan had sent films and the closing date is August 7.
"Apart from Colombo IFF, this is the only international film festival in Sri Lanka and it is organised to promote academic filmmaking. Compared to previous two year in addition to fiction and non-fiction, a new category under animation film has been introduced," says Chirath.
The festival is organised as a part of an academic event and the funds for the festival is borne by the students and the DFA itslef. The students are of the opinion if sponsors can support this project it would be a great service for the future of country's cinema.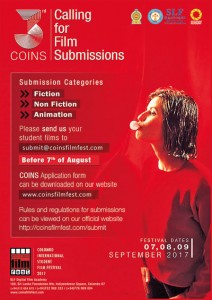 Applications for COINS open now

Applications with films for COINS film festival are open now and only student filmmakers are eligible to make entries.

Awards will be given in different catogaries including Best Directing, Best Cinematography, Best Editing, Best Sound Designing in Fiction and Non-fiction sections and Best CG Acting, Best Character Design, Best Look Development and Best VFX under Animation catagory.

Applicants and films can be submitted online and more details are available on the festival website coinsfilmfest.com. The deadline for the entries is August 7.
| | |
| --- | --- |
| COINS partners with renowned film festivals and institutes | |
| The COINS film festival has also made partnership with some of the world leading international film festivals such as Locarno Film Festival- Open Doors in Switzerland, Cox Beach International Film Festival and Vesoul International Film Festival and a number of films schools including the University of New Mexico, Film Academy Baden-Württemberg in German, NETPAC and Iranian Independent Films. | |