Zimbabwe series raise more unanswered questions
View(s):

Yes, finally the Lankans trudged towards a four-wicket win. Yet, there was an empty, lost feeling. Fighting tooth and nail to beat Zimbabwe in our own backyard is rather unacceptable under any circumstances. Around eight months ago, Sri Lanka did not have any hiccups beating Zimbabwe 2-0 in as many Tests in Harare. But today, we have seemingly plummeted to rock bottom, but yet, the irony is who is responsible for this self-inflicted debacle.

Nonetheless, it must also be said that, winning a match also turns the coin upside down, and on that predictable wicket it was proved that the second session was reserved only for batsmen who are interested in sticking around. Yet, allrounder Asela Gunaratne's effort is commendable. In every game he plays he does not fail, adding value to his larder. Right now, I presume he is just on par with or, even better in player value than experienced Angelo Mathews.

Besides that, there is very little that the Lankans could gloat about as a top rung cricketing nation which has won two ICC Trophies in two different formats of cricket. Not many others have achieved those accolades as yet.

In general terms, Zimbabwe plays against second rung cricketers in the top slot of the ICC. So, could anyone go into raptures about beating Zimbabwe in their one-off Test? What if there was a second and a third? It was clear that the Zimbabweans were short of practice in the longer version of the game. They play very little international cricket against sides like Sri Lanka.

Then, as far as Sri Lanka Cricket (SLC) is concerned, we still are under the impression that we have a lot of unanswered questions, owing to the shortsighted policies of the SLC management.

Culminating from the Zimbabwe reversal, SLC has found a ready scapegoat in Nick Pothas, a fielding coach by profession elevated to the level of acting head Coach. Then there were buzzes of Australian cricket commentator Dean Jones coming in as consultant coach during the Indian tour, but the proposition did not materialise.

On Friday, there was another SLC pillar that came crashing down. The national team's versatile fast bowling coach, Champaka Ramanayake, packed his bags up to get employment at the Bangladesh cricket headquarters.

When Sri Lanka beat Zimbabwe by 225 and 257 runs in the two Test matches in October and November last year, managing the Lankans was Charith Senanayake. What I wanted to know was what he saw in Zimbabwe and what magic this ensemble possessed to come back and take the wind out of Lanka's cricket.

Senanayake explained, "One of the first things that I noticed was how difficult the prevailing conditions in Zimbabwe are! You have to go to a bank and stand there for a considerable time to withdraw a meagre sum of around $20, just for their sustenance.

"Besides in cricket, in Harare and Bulawayo there is very little or no International cricket but, even there the prevailing training facilities are archaic. I noticed they were short of funds to employ net bowlers and, when we needed them, I had to device a system to get some allocation to pay them. So, when we beat them comprehensively, I took it as another day on the job. We, at the same time, had difficulties in collecting our allowances that had to be released by the host Board. Even that, I had to make representations to the ICC and get the funds released. Why I am explaining all this because, what I saw over there was a bleak situation and there were problems in Zimbabwe's cricket book."

The other day, while watching the one-off Test on television, I picked up this little anecdote. Former Australian batsman Dean Johns was querying: "Yes, Rangana Herath may pick up five wickets in an innings, who is going to take the rest of the wickets?" I guess he had noticed something about the Sri Lankan bowling and sensed there was something amiss.

Then, a former National cricket captain called in and queried, "While playing on our conditions, we have to play to our strengths. Why prepare dead wickets? Why didn't we have some grass on that wicket and get our seam bowlers a share. What is the big advantage you have by opening the attack with Rangana Herath? Anyway he is going to get his fair share of wickets but, there would have been a better chance for our seamers to pick up a few more wickets. At the same time, the Lankan seam attack has more potency than any of the seamers that Zimbabwe possess. Mind you, young Lahiru Kumara bowls 140+ kmph and, on a helpful wicket, he would have definitely troubled the Zimbabwean batsmen. I think, in this exchange, we missed a cue. We overbanked on the Herath factor and Graeme Cremer almost creamed us out."

As for me, my assertion was different. There was no difference in the quality of cricket that was played by both teams, and it did not matter whether it was Sri Lanka who ultimately won or, Zimbabwe ultimately drove a point home. What I assume there is very little difference between the two sides and the loser in this exchange is definitely Sri Lanka. Taking it in a short time context; from October last year to July this year, Lankan cricket has definitely deteriorated.

The only solace is that we do have a real match winner in Asela Gunaratne who refuses to take no for an answer, and Dinesh Chandimal winning his first match as Sri Lanka captain. But, hilariously, the man who took the centre stage in the win was none other than the SLC President, who personally concocted the magic portion. He was right in front with his team of "yes" men to take away the glory of the rest of the cricketers. As a habit, he is there when Sri Lanka wins, but when we lose his whereabouts are a question.

Still, the dark truth is that the two teams, on present performance, are on even keel. Even the Zimbabwe cricket story is somewhat similar in some aspects.

In the early 2000s, Zimbabwe cricket went to zero with the sacking of the then captain Heath Streak — the present Zimbabwe coach. It happened so with politics entering the cricket arena and several unwieldy decisions taken by the then Zimbabwe Cricket authorities. Gradually, Zimbabwe began to lose some of their best cricketers. Past cricketers such as Alastair Campbell, Stewart Carlisle, the Flower brothers – Andy and Graeme, Murray Goodwin, Neil Johnson and even Henry Olonga were lost to the game. Instead, the team was packed with some new names and this culminated with Zimbabwe losing their Test status.

It took time for the ICC to restore their Test status, and it was done after the democratisation of cricket in that country. Certainly they are on their way back, but still miles away from the accepted target.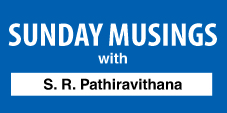 As for the Lankans, we are fast sliding down to a status of uncertainty. Some say we are moving with a vision but, what is visible is that the SLC hierarchy is wearing blinkers, like the ones used by race horses. I feel even the Player Manager hocus pocus is a load of baloney just to distract the attention of the state of cricket and lo and behold a string of cricketers starting from Arjuna Ranatunga, Mahela Jayawardena and Kumar Sangakkara are up to the neck in it right now. We heard Sports Minister Dayasiri Jayasekera is going to launch a probe. But, prior to that why doesn't he have a closer look at SLC's match-fixing probe which is dragging on from February this year?
The Indians have already arrived and here they mean business. There we could ascertain if the Gurusinha-Sumathipala combination does have a plausible vision to resuscitate the Lankan game. No! we are not looking at winning the series but, we need to fight them on equal terms. Even in the last Indian series in Sri Lanka, we did beat them in one Test and definitely troubled the Indians in some way or the other, even though we lost the series. In short, what we are looking is to take the bull by its horns and fight till the end.