Wimbledon- The expected and the unexpected
View(s):

Roger Federer, Seeded 3, won the Wimbledon title in a unique way as expected and Spain's Garbine Mugurusa, Seeded 16, did the unexpected and won the Women's title.

There was another winner last week. Even after losing in the 2nd Round in the Women's event at Wimbledon, Karolina Pliskova became the world's No.1 for the first time. World rankings go on point system. The system is such that, not only the good performance of a player that takes a player up, but also bad performances of others too. Pliskova became No.1 because of world No.1 Kerber and No.3 Halep losing before they reached the semifinals.

Seedings went haywire

If there was a year in Wimbledon, when seeding had very little effect to the outcome of events, it is 2017. Never has the injury list been so prominent, causing this much of issues to Seedings. This has given room to think we have been looking at performances of burnt out players and thinking they are 'classy'.

Federer is exhibiting the game in a manner worthy of praise. He has not performed this well in recent years. The long rest period he had, skipping the entire Clay court European season this year, has made the difference. He needed that much of time to recover. What we saw in him is the best of his in the last 5 years, and it confirms that the pro circuit burns players too much.

Federer reached the finals playing fewer Sets and hours on the court than the other finalist Marin Cilic. In fact, Federer won the title without dropping a Set. After the 4th game of the 1st Set in the Wimbledon finals, any trained eye would have noticed something was amiss in Cilic. He became noticeably slow. What's more, we have never seen a Wimbledon Men's finalist crying in the middle of the match either. Injuries and burn out got that pathetic this year.

Heads rolled from Quarters

Women and Men Seeded players were beaten unexpectedly. In Women, the unknown Rybarikova, Konta and Venus Williams came up with good movement, consistency, tactics for grass and in stroke-making. They were marginally stronger, to be rewarded with a spot in the semifinals.

Player development in recent years has almost ignored the necessities of Grass court Game. One of the effective games on grass is to play at net. Most of the development now is to play on hard court than any other surface. Players are incapable of moving to the net and volleying multiple shots, the way Rod Laver, Roy Emerson, Tony Roche, Dennis Ralston among men and Billie Jean King, Maria Estella Bueno and Martina Navratilova did. On grass, any other form of net play is not effective.

Mugurusa's Wimbledon

Venus Williams, Seeded 10, beat 6th Seeded Englishwoman Johanna Konta, in the semifinals, in a manner almost conclusive as to who will win the Wimbledon crown this year. Mugurusa, a seasoned campaigner who has been in Grand Slam finals before, and has the French Open title to her credit, looked very solid against her semifinal opponent Rybarikova. Still the bets were on 37-year-old Williams.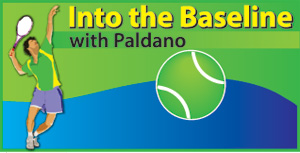 If a player is good at 'engaging' the opponent, after neutralizing the service and return advantages in a rally, it is difficult to hit winners against them, especially on grass courts. In the finals, Mugurusa served and returned extremely well in this Wimbledon, and her ability to engage the opponent went up along with it. Venus Williams could not sustain the repeated returns of her winners by Mugurusa, and began to run high on unforced errors. This was Mugurusa's plan and she made it work. Adding to this, Mugurusa, with her confidence pumped up, hit that many winners more, that she won the 2nd Set 6-0. One has to dig deep into time to find when there has been a love Set in the Wimbledon finals.
Colombo- Group III Davis Cup
Last week, Our Davis Cup matches were worked out at the SLTA Courts. For us and many countries in our situation, this is the high point of our Tennis. It is somewhat of a 'Snakes & Ladders' situation, moving between Group 2 and Group 3 of the regional Group for the last good 6 decades. We consistently have stated that we have Tennis players in numbers over 7,000. This means, we have to have nearly 1,000 courts for them to play Tennis regularly islandwide. We hardly have 80 competition-level courts, and mostly in the Western Province. In this situation, we are bound to have up to 10 players on one court, and hit an average 100 shots, with a walking coach, in a session. A Tennis match needs close to 2,000 shots in competition conditions, concentrate average of 2 hours and cover up to 3 km on court. What we have are thousands of school-going age group players and about 40 adult players or so. So, Davis Cup for us, is to see Tennis does not vanish from our soil. Let us keep doing it.
-George Paldano, Former int. player; Accredited Coach of Germany; National, Davis-Cup,
Federation Cup captain/coach–
geodano2015@gmail.com -