Four teams remain unbeaten
Mercantile Rugby 7s 2017
View(s):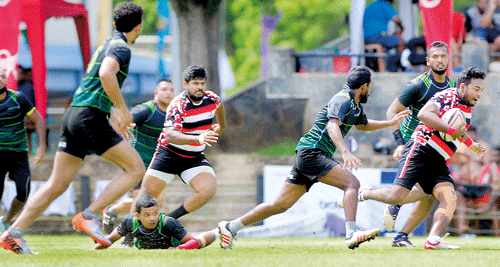 Hela Clothing, Clovetel, Fairfirst Insurance and Access ended the second day of the annual Mercantile Rugby 7s with an unbeaten track record at the Racecourse ground in Colombo yesterday.
Heal Clothing beat HDPL, Sri Lanka Insurance and Commercial Bank in Group 'D' while competing from Group 'C' Clovetel recorded easy wins against Classic Travels, Janashakthi and NTB to top the group. Fairfirst Insurance tops Group 'F' with wins against Attune, Ceylon Knit Trend and NDB as Access went on to beat AMW 'A' and MAS from Group 'A'.
The highest score and best winning margin of the day was recorded by Janashakthi, who thrashed NOR Lanka by 43-0 from Group 'C' while CDB 'B', competing from Group 'E' fell one point short as they beat Amana Bank comfortably by 42-0. Kandurata Umbrella too managed to reach 40 points against Ceylon Tobacco without conceding any points.
There were quite a few eventful matches but the one that stood out was the game between Dialog and John Keells, a Group 'B' game, which ended in a 14-all tie. The 47th Mercantile Rugby 7s, organised and conducted by the Mercantile Rugby Football Association, will end today.
Results
Classic Travels beat Janashakthi 26-7, Mercantile Investments beat Virtusa 31-0, NTB beat NOR Lanka 35-0, Sri Lanka Insurance beat HSBC 19-0, Hela Clothing beat HDPL 28-7, AMW 'B' beat Commercial Bank 21-19, CDB 'B' beat Ceylon Tobacco 29-5, Commercial Credit beat Amana Bank 12-0, Kandurata Umbrella beat Prosperous Capital 24-5, Fairfirst Insurance beat Attune 26-5, Sampath Bank beat NDB 24-0, Brandix beat Ceylon Knit Trend 28-5, Clovetel beat Classic Travel 19-12, Janashakthi beat NOR Lanka 43-0, NTB beat Mercantile Investment 12-10, AMW 'B' beat HSBC 10-5, Hela Clothing beat Sri Lanka Insurance 22-14, Commercial Bank beat HDPL 12-10, Kandurata Umbrella beat Ceylon Tobacco 40-0, CDB 'B' beat Amana Bank 42-0, Commercial Credit beat Prosperous Capital 12-5, Fiarfirst Insurance beat Ceylon Knit Trend 12-0, Brandix beat NDB 17-0, Clovetel beat Janashakthi 22-5, Virtusa beat NOR Lanka 33-0, Classic Travel beat Mercantile Investment 21-14, HSBC beat HDPL 7-0, Hela Clothing beat Commercial Credit 17-0, Sri Lanka Insurance beat AMW 'B' 27-0, Access beat AMW 'A' 24-0, MAS beat Kanrich 19-7, John Keells beat CDB 'A' 24-0, Ceylon Tobacco beat Commercial Credit 12-7, Prosperous Capital beat Amana Bank 38-0, Kandurata Umbrella beat CDB 'B' 12-7, Fairfirst Insurance beat NDB 14-0, Sampath Bank beat Brandix 24-0, Janashakthi beat Virtusa 31-0, Clovetel beat NTB 28-7, Access beat MAS 12-0, Kanrich Finance beat AMW 'A' 10-5, Dialog drew with John Keells 14-14