Govt. 'cuts Gordian knot' on polythene ban; industry in crisis
By Sandun Jayawardana
Ban's enforcement date, type of biodegradable polythene that the CEA wants manufacturers to start producing; key points of contention
View(s):
Polythene manufacturers and recyclers say, while they aren't opposed to the ban on certain types of polythene, Govt insistence on enforcing it from September is impractical, and will put many in the industry out of business.
Industry representatives met with Deputy Minister of Mahaweli Development and Environment, Anuradha Jayaratne as well as senior officials from the Ministry and the Central Environment Authority (CEA) on Thursday (20), to voice their concerns.
Accordingly, the Deputy Minister is due to brief President Maithripala Sirisena, who is the Minister of Mahaweli Development and Environment, while further discussions are to be held to find common ground.
Key points of contention include the ban's enforcement date as well as the type of biodegradable polythene that the CEA wants manufacturers to start producing.
The Govt announced last week that polythene lunch sheets, grocery bags, shopping bags and food containers made from polystyrene, will be banned from September 1. This was after Cabinet approved a proposal submitted by the President in his capacity as Environment Minister.
The President's Cabinet paper was submitted on the implementation of short, medium and long term measures recommended by a committee of intellectuals appointed to study ways to manage the use of polythene, in a way that minimises its impact on the environment. .
"How can you simply shut down an entire industry in 45 days?," questioned President- Polythene Manufacturers & Recyclers Association (PMRA), Anura Wijethunge.
Mr Wijethunge claimed there were over 1,000 polythene manufacturers and recyclers in the country. "About 40,000 people are directly employed by the industry, while some 300,000 others are indirectly employed as sub agents, wholesalers and retailers."
While the PMRA does not oppose a ban on non-biodegradable polythene, Mr Wijethunge said the problem was that no one had bothered to consult manufacturers on how long it'll take to phase out non-biodegradable polythene, and what kind of alternatives can be put forward.
Mr Wijethunge was severely critical of the CEA. "We wrote to the CEA thrice, before the ban was announced and once more after the announcement, to brief them from our side, but none of the letters were answered," he charged. In the end, PMRA representatives met Deputy Minister Anuradha Jayaratne, who arranged a meeting with officials.
"Authorities have not taken into account that an industry such as theirs cannot be subjected to such a drastic change at such short notice," the PMRA President charged.
"By our calculations, it'll take six months to a year to adjust to the new conditions laid down by the Govt," he claimed.
"Raw material needed for the manufacture of polythene based material must be ordered at least one month in advance from overseas. Manufacturers usually order about two months stock of raw material," he explained. "In most cases, it takes a further month for materials to be shipped to the country. As such, many orders have already been placed, while other stocks are currently in shipment. Meanwhile, manufacturers, wholesalers and retailers keep about three months of finished polythene products in their stocks. There's no way we can be ready by September. Who's going to compensate for our losses when the ban goes into force?"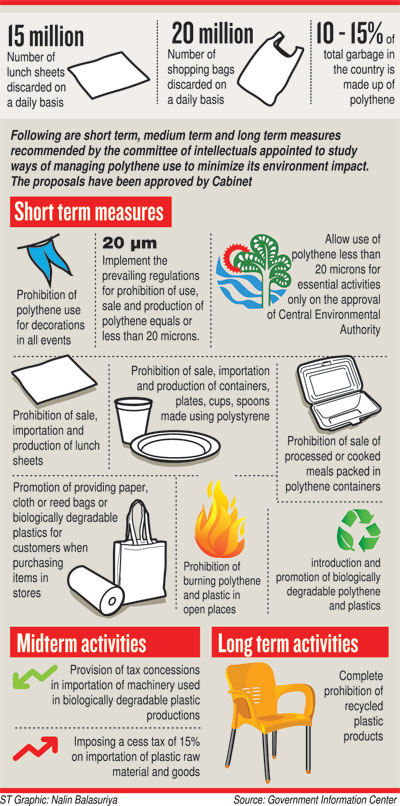 According to Mr Wijethunge, the uncertainty surrounding the matter had already led manufacturers to scale down their production. "Personally, I have scaled down production by 50%. There are others who have completely stopped work for now, as they are concerned about further losses."
Meanwhile, manufacturers and the CEA also disagree on the type of bio-degradable plastic/polythene that the authority wants manufacturers to produce. The manufacturers want to produce oxo-biodegradable plastics, which are recyclable, while the CEA is pushing for compostable, hydro-biodegradable plastics.
Working Committee Member on biodegradable plastics at the Sri Lanka Standards Institution (SLSI) and Director- Evinco Polymers, Thilan Samarawickrama claimed oxo-biodegradable plastics was the best form of degradable polythene for the country, as the industry could quickly transition to mass manufacture, mostly through the use of existing resources. "Some manufacturers, who are exporting packaging overseas, already produce oxo-biodegradable plastics. Plus the cost won't be as severe."
"In contrast, if the industry were to shift to hydro-biodegradable plastics, as the CEA wants, it would not be able to do so using existing machinery and special machinery would need to be imported. Costs would skyrocket," he cautioned. "The products from such plastics can't be recycled either," he said.
Meanwhile, some other industries were also voicing concern regarding the timing of the ban. President- Canteen Owners' Association, Asela Sampath warned many restaurants will be forced to close if the ban on polythene items were to go into effect from September.
Mr Sampath said restaurant owners too were supportive of the ban, but to implement it so quickly, without first introducing viable alternatives, would create enormous problems for the industry.
The CEA, for its part, is still adamant the ban should go into effect by September 1. However, the CEA will be discussing with industry representatives regarding how best to implement the ban and was open for compromise, Director- CEA's Waste Management Division, Ajith Weerasundara told the Sunday Times.
Mr Weerasundara pointed out the Govt has so far only announced a decision to ban certain types of polythene products and no laws had been drafted. "We are willing to consult all stakeholders when drafting the new laws," he said.
"The CEA was also ready to discuss what type of bio-degradable plastic was the best option for Sri Lanka," he assured.
Mr Weerasundara pointed out strict measures were needed to control the impact of polythene on the environment. "People are unnecessarily discarding polythene into the environment, and controlling that is a must," he observed.
"While manufacture of biodegradable polythene was one aspect, it was also important to promote natural alternatives to polythene," he further added. "If you take lunch sheets, we can use banana, lotus and kenda leaves to wrap lunch parcels. We must also encourage people to use lunch boxes. If all office workers in Colombo brought lunch boxes to work for example, we can prevent so much polythene being discarded into the environment," he opined.