Sigiriya Village: Under the shadow of Lion Rock
By Sanath Weerasuriya
View(s):
Over 1950 years ago, the Sigiriya Lion Rock was a magnificent palace hideaway for a king. Sigiriya Rock Fortress has many legends and tales surrounding it. History records that it was the magnificent, secret fortress and pleasure palace of King Kashyapa. Today, still guests can lost in the nature and lounge by the pool of Sigiriya Village Hotel and enjoy perhaps the best view of this UNESCO World Heritage eighth wonder of the world.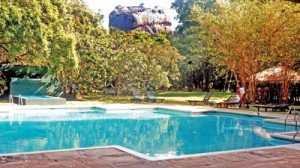 Set amidst this historic location, Sigiriya Village is the last remaining theme hotel of its caliber that offers its guests the true Lankan village experience.  Started in 1980, Sigiriya Village, one of the pioneering resorts of the main Sigiriya area, is located under the shadow of Sigiriya, the Lion Rock.
Sigiriya Village's 120 rooms are an ideal blend of nature and culture, without foregoing the comforts of a luxury setting in a unique location in the vicinity of the 8th Wonder of the world.
Six themed clusters are spread across the 26 acre vast green covered land, dividing it into three categories- Deluxe, Classics and Superior.
King's Arbour has 20 luxurious themed rooms awaitto be pampered like a King. 'Inspired by the regal history, this cluster will enable the guest to experience the peace and serenity within a fortress made by parapet walls creating an atmosphere of a Royal Fortress with an enchanting water moat that creates a stream around the cluster' said Anthoney Perera, the General Manger of the hotel.
Avrudu and Ganga Addara offer 40 rooms located in a natural habitat will make you experience the historic villages. 'Avurudu' cluster represents the Lankan village culture, while 'Ganga Addara' recreates the village atmosphere which was woven around a river which enriched the livelihoods through agriculture.
'All rooms of these three clusters have gone an extensive refurbishment programme recently, adding all new modern facilities to the cluster deluxe rooms. All other rooms are now changing faces to suit the modern hospitality requirements' GM Anthoney said.
King Fisher, Temple and Paddy Clusters has 60 Superior rooms entailed with three themes that is close at heart to villagers of Sri Lanka is assured to provide you an amazing serene experience of waking up to a mind-blowing natural environment every day. While a mini paddy field and a scarecrow will weave a magical story around the village and Temple cluster contributes to the spirituality of the Buddhist culture and the King Fisher cluster paints a magical picture of the bird habitats, new lakes and pond which is common scenery in the locality.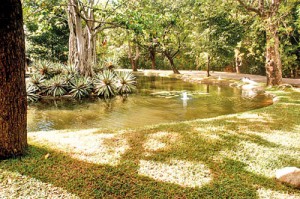 Air-conditioned guestrooms offer views of the garden. Each room is equipped with a minibar, tea/coffee making facilities and a flat-screen TV with cable channels and DVD player, telephone, piped music and hair dryer.
For dining purposes Sigiriya Village offers its guests a main restaurant that is ideally located in the main and central area of the hotel which is separated from the cottages.
All guests to the Resort can enjoy the mouth watering buffet style breakfast, lunch and dinner while a la carte dining is also available. an Al-fresco dining option is available on request. Hotel offers a pool bar, a lounge bar and a Cluster bar, which is operated on special occasions' said the Executive Chef Sumith Priyantha.
Sigiriya Village offers a host of recreational facilities which includes a clay top tennis court, a swimming pool, a jogging track, cycling, a kiddie's park, jungle trekking and a bird trail. An array of recreational activities broadens the possibilities for local discovery with cycle rides, Village walks and bird watching. Adventurous travellers can explore nearby historical sites- Polonnaruwa, Dambulla, Pidurangala, Ritigala and of course Sigiriya, experience unforgettable guided safari tours to Minneriya, Kaudulla, Huruluwewa Eco Park and nature treks.
The incredible wildlife extravaganza begins to unfold as scattered herds from the Medirigiriya, Somawathiya, Katukeliyawa and Wasgomuwa forests start to congregate around the great Minneriya tank as the drought takes full effect by end July / mid August.
The hotel offers the traditional medical system under the supervision and recommendation of an expert practitioner who has not only excelled in ayurvedic talents in Sri Lanka but in many other countries.
For more details call 0662286803/6, 011 4334834/7, 0772514436 or log onto
www.sigiriyavillage.com
Pix by Neil Siriweera