Gypsy generations in Kitchen rebellion
By Sanath Weerasuriya
View(s):
Gypsies have done it again. Their brand new single 'Kussiya' (Kitchen Song) has hit the five million views within just two weeks after it has released to World Wide Web and the 'you tube'.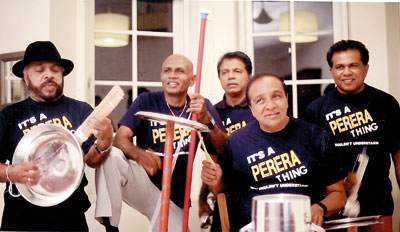 'Kussiya' (Kitchen Song) is the very first song that was recorded by the original line up of the Gypsies after almost thirty five years of lapse. Sunil, Piyal, Nihal, Nimal and Lal – five brothers have come together to record this song after three and half decades of break.
The former drummer Nihal was the first to leave the band in 1980 followed by bassist Nimal and keyboardist Lal to continue on their individual professions. All five have come together with basic kitchen equipment, to showcase how they started their music career in late sixties.
To create a song featuring all family members was an idea of Piyal Perera.
'Actually I was toying with this idea since last Christmas, when all our family members met at Amma'a house. But nobody has showed much interest in recording a song of this nature. I persuaded Sunil too to get involved in this project. I named this as 'Operation Perera Thing' Piyal explained.
The song 'Kussiya' or Kitchen Song was penned by Chandradasa Fernando is all about day to day happening at a family kitchen. Almost every member of the Perera family was involved in this song.
The music was composed by Piyal and Sunil Perera 'We have a very big family. Most of my bothers are now grand fathers and our extended family reached almost 50 members. All have performed along with Amma in this video and sang with the Gypsies. It was more like a family reunion. The new age heroes like Lanthra of Doctor fame and Gayan of Daddy fame too performed at this visual, created at our home kitchen' Piyal explained.
Kitchen Song video was directed by Samantha Siriwardene and the studio recording engineers are Ranga Dasanayake, Gayan Fernando and Gayan Udawatta.
'I have to thank the band members of the Gypsies – Dushan Monique, Kamal, Lal and Sheshri for their support in providing music. Also I am very much grateful to Melantha Perera and Suresh for their musical expertise'' Piyal said.
'Kussiya' is already on air with leading television stations and Radio channels.
'This song we all dedicated to our dear father Anton Perera, who was the force behind our success today. Gypsies are working on a couple of other songs to be released soon. We hope release these songs by the end of the year 2017 with the blessings of Almighty God' Piyal emphasizes.