Finding a platform to shine through dance
By Tarini Pilapitiya
Founder of the Mighty Steps Dance Academy, Jeremiah James tells the Mirror Magazine about his love for dance and mentoring youngsters
View(s):
It was around 2008-09 when Jeremiah James along with a group of his friends decided to play some friendly tap rugby on the generally overpopulated Mount Lavinia Beach. It was then that Jeremiah saw a group of children dancing on the coast to Baila music, that Jeremiah's eureka moment took hold when he thought "Wow! These guys can dance".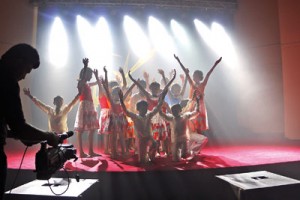 Today, Jeremiah is the founder of the Mighty Steps Dance Academy, a foundation that instructs over 140 dancers between the ages 5 to 22 years, from economically deprived backgrounds. Every other year Jeremiah and his academy gear up to perform for audiences, this year marks their fourth charity concert. The two hour concert and award ceremony will take place on August 26 at 5 pm at the Sri Lanka Institute of Hotel Management and Tourism, Colombo 03.
Jeremiah refers to teaching as his "calling", reminiscing how his church initially gave him the opportunity to start dancing and teaching, his then mentor Dinesh Michel calling Jeremiah's newfound dancing prowess coupled with his skill in managing and teaching children his "life's purpose" .
Over the course of the years he has taken hundreds of children under his wings to show them "How to live life in a positive way," he says. He's programme teaches the children ethics and manners, enhancing the children's moral values, self-esteem and confidence whilst also allowing them to cultivate their leadership skills through dance, drama and stories.Some of his students who have been with him from the inception of the dance academy in 2010 -11 are now taking on the role of choreographers for this concert– their ages being 16, 18 and 22 respectively.
These children are Jeremiah's legacy, and have been something he has been proudly building on over the years. He started dancing way back in 2007, initially performing Western dance genres like Hip Hop, Pop & Lock, and Freestyle dance.
Jeremiah lovingly refers to his dance school as a "travelling academyof sorts" as he goes to children's homes or community centers twice a week all around Colombo for on- site dance programs aimed at teaching his over enthusiastic protégés dance and ultimately giving them a temporary safe haven from their realities.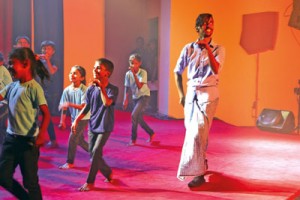 Jeremiah and the Mighty Steps team of volunteers also travel in and around conducting outreach programs with kids in rural areas, imparting good value systems in children through dance. The band of volunteers from Mighty Steps has travelled all over Sri Lanka going as far as the Delft (Neduntivu) island, Jaffna and travelling a full 360 around the country to Deniyaya in the Southern Province.
Although Jeremiah identifies teaching the kids as a "challenging occupation" he says he himself is able to identify and somewhat relate to these kids.
Jeremiah aims to give the children he teaches a sense of purpose in life and aims to make the learning environment a fun place to look forward to by finding music that matches that said feel of change or purpose that he tries to impart on his students, thus creating an overall positive environment for them to dance in.
The profits from the concert will go to funding the Mighty Steps stationery project, which will donate educational equipment and stationery to underprivileged children in Sri Lanka. The children most of whom have been there since the first concert in 2012 have embarked on a long journey and the "140 unseen and unheard performers are ready to showcase some power packed moves" Jeremiah says.
The show will feature a mixture of dance styles from Hip Hop, Dubstep, Bollywood, Baila even including Mexican and Ballet! The show will also feature guest performances by the Zep317 crew and an item titled "Bridge to Peace" by the talented students of La Petite Fleur.
Tickets are priced at Rs 500 to Rs 1000. Contact Andrew on 0771147368 or Jeremiah on 0774211228 or email the team at mightystepaod@gmail.com for more information.