Kids Essays
View(s):

My environment
I have a beautiful garden where I grow flowers, vegetables and fruits. Bees and butterflies come to collect nectar from my flowers. My environment is filled with the beautiful colour of green. Many birds and squirrels come to eat my fruits.

I enjoy my time looking all around and seeing my plants. I learn many things from looking at plants. Every year I plant trees at my school. At school there are many gardens where I love to spend my free time. Mother Nature has given us this valuable world to live in peacefully.

In my garden there is a pond  with fish in it. When I have a problem, I always talk to my little fish. They comfort me when I am sad. I get up every morning and see the beautiful flowers bloom one by one. When I open my window, I feel the fresh breeze. It energises me a lot. In the morning I love to play in the environment. It tickles when drops of water touch my toes.

I always think that plants and trees are my best friends. When I observe animals I learn many good deeds such as unity and selflessness. I love Mother Nature very much and I will take care of it and improve the environment much more.

Vinuji Jayasekera (11 years)
Visakha Vidyalaya
---
My Fidget Spinner
I like to play with
my Fidget Spinner.
My Fidget Spinner is blue colour. It spins very fast.
It has three sides.
I love my Fidget Spinner.
Jerren Reginald (7 years)
S. Thomas' College, Mt. Lavinia
---
Cats
Cats are very brilliant animals.
They catch mice and other small animals. They have whiskers on their cheeks.
They can see powerfully at night. Cats can feel vibrations because of their whiskers.
Cats can live for many days. When they get sick they eat plants. Cats have paws to walk on and they have sharp teeth as well. Some cats are very furry, we call them Persian cats.
I love cats very much.
Shalomi N. Manmatharaja (9 years)
Najaa Int. School, Mt. Lavinia
---
My sister
My sister's name is Shalomi.
She is nine years old. She goes to Najaa International School.
She likes to eat oranges. She likes to drink milk. She likes the colour green. She teaches me. My sister loves me. I love my sister.
Adaya N. Manmatharaja (6 years)
Najaa Int. School, Mt. Lavinia
---
A rainy day
As I was walking home after my class, suddenly dark clouds started to appear. A huge wind blew. All the leaves started to fly in the air and it started to drizzle. It was very dark and cold. I was feeling scared. There was no one around.
I searched for my umbrella in my bag
but unfortunately I hadn't brought it.
Heavy rain started to pour. I looked
for shelter but there was none. I saw a huge Banyan tree and ran towards it.
It rained cats and dogs for one hour.
I got drenched with water from top to toe. When the rain ceased, I ran home.
Mishaal Khan (Grade 7)
Royal College
---
Man Serves Man
The southwest monsoon came in with heavy rains and landslides. The floods and landslides left more than half a million people displaced. That included about 100,000 school children. Over 200 people died. Many were missing.
All these people lost everything they had. They were housed in relief centres. TV stations broadcast the magnitude of the disaster and asked for public help. The public responded very well. The items that were needed were donated in overwhelming quantities.
Now the water level has gone down. People have gone back to their houses. Most of the houses were completely washed away. Many were totally damaged. They have to start their lives from nothing. Foreign donations were received but it was not enough. We must continue to help these people including school children, till they are able to stand by themselves.
In this disaster donor gave not knowing who received the material. Members of the armed forces and the voluntary organisations provided their services in saving the victims, taking marooned people to safety, distribution of food and providing other necessities. Their only aim was to help and bring solace to the distresses.
All those who participated were selfless. Our country is blessed with four main religions. All religions promote love, compassion and service to others. The floods proved that we carry these qualities in our hearts. Let us continue these practices so we can work together to build a peaceful and harmonious society.
Anuthi Samaranayake (Grade

Anula Vidyalaya, Nugegoda
---
My railway experience
I like to travel by train. I have been making train journeys since I was an infant. The earliest train journey that
I could remember was at the age of two. My elder sister and I, accompanied by our parents travelled from Colombo Fort to Kandy.
The construction of the main railway line from Colombo to Kandy commenced in the year 1864 and opened to operational traffic in 1867 by the British Colonial Government and their primary objective was to transport Tea, Coffee and other agricultural produce from the central regions of Ceylon to the Capital where trade, commerce and shipping was being gradually established.
Distance of the rail track between Colombo and Kandy is approximately 74 miles (119 km) where we start at a mean sea level of 3 feet (1m) and reaches an elevation of 1629 feet (488.6m).
From Rambukkana we can witness a fascinating landscape with lush green vegetation, on the distant valleys and mountain tops with flowing streams and water spouts. The traveller could experience a panoramic view of the low laying country side and the distant provinces when the train passes a steep cliff fondly named.
'The Sensation Rock'. The other notable view point is known as the 'Lion's Mouth.' I have travelled by train to Badulla, Anuradhapura, Galle and Trincomalee from Kandy.I wish to experience a train journey on the British Channel Tunnel between France and England and also the Gotthard Base Tunnel in Switzerland's Alps mountain range, when I grow big.
Toshan Madugalle (Grade 5)
Trinity College, Kandy
---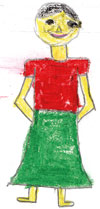 Myself
My name is Fathima Asma.
My father's name is Rifly.
My mother's name is Fazna.
I have one brother. He is Yoonus. I live in Kalutara. I am studying in Kalutara Muslim Balika Maha Vidyalaya. I am in Grade Three.
I like apples. My favourite drink is apple juice. My pet is a cat. Its name is Tooty.
I love myself very much.
Fathima Asma (Grade 3)
Kalutara Muslim B.M.V.
---
My English teacher
My English teacher's name is Madushika Senavirathna. She is very kind too. She teaches us English subject. She is an English diploma holder. I am proud of my English teacher.
Nisansala Herath (Grade 5)
Mahasen K.V., Dambulla
---
My favourite storybook
My favourite story book is 'Madol Doowa.' There are many chapters in this book. The author is the great writer Martin Wickramasinghe. He was born on May 29, 1890. He lived in the southern village of Koggala.
The main characters are Upali and Jinna. This story is about two friends called Upali and Jinna. Madol Doowa is a beautiful island. It is located in Koggala. They grow many vegetables and fruits there. I learnt many things from Madol Doowa. I learnt many words from this book. I learnt many good habits from this book.
Nethara Jayasooriya (10 years)
Sacred Heart Convent, Galle
---
My pet
My pet is a cat. Its name is Peter.
It is black and white. It likes meat. It plays with a ball. It is very nice.
I love it very much. It loves me a lot.
Yusuf-Ul-Haq
(6 years)
Matale Int. School
---
My environment
The environment is the natural surrounding around us. People, animals, trees, rivers etc., are the parts of the environment. As humans we can't live without the environment. Everything in the earth is a marvellous thing with beauty and creativity. Every item in the environment has an aesthetic value and a use, such as for medicine, food, drinks, clothes and beauty.
But today, the environment is facing a crisis. Mother Earth and environment are in danger. The natural environment has been destroyed. It's mostly because of our selfish and irresponsible activity. Mostly because of our desires to lessen the burden of working and non essential desires. Extreme weather pattern is a popular topic these days. That's mostly because people can't hear the voice of the environment.
World Environment Day is celebrated on June 5. But we should do our duty to the welfare of the environment, from our birth to death everyday. If we want a future without terrible things to face, we should love our environment. We should always remember the saying, "Whatever you did will return to you." If it's good you'll get good but if you did bad you'll get bad."
Earth will treat you in the way you treat it.
Narmada Bharathi (Grade 5)
Swarnamali Girls' College, Kandy