'Vimansa' weaves a romantic comedy on TV
View(s):

'Vimansa', a teleplay in the genre of romantic comedy, directed by Kanishka Bandara Megasuirya is now being telecast every weekday at 8.35 pm prime belt.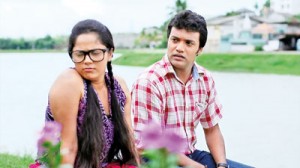 Starring Nethu Priyangika, Anusha Kodikaram, Buddhadasa Vithanarachchi, Clitus Mendis, Kamal Deshapriya, Hemantha Iriyagama, Srimali Fonseka, Suleka Jayawardena and Harshani Arnold, 'Vimansa' revolves around a budding journalist who works for a private newspaper.
According to the story Vimansa's father, Tissa was an investigative journalist and following a number of stories which exposed a racket and mafia in the pharmaceutical industry he had been abducted. Vimansa's main aim in joining the newspaper is to somehow find his father.
Even though Vimansa produces some good stories her work is not appreciated by her seniors and she is often scolded. But the young reporter is determined to achieve her target by remaining in the newspaper.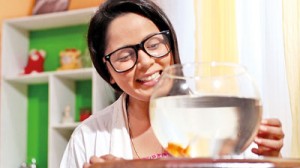 Aloka, a photographer working in the newspaper is a childhood friend of Vimansa. In fact he lives in the same flat where she lives with her father. Aloka and Vimansa's fathers too were good friends and they even had an idea to get Aloka married to Vimansa. But Vimansa is not interested in Aloka. Even though Aloka is a photographer, he does not have a good knowledge about photography or taking photographs for a newspaper. As a result he too gets often scolded by the editor. However Aloka's main aim is to be an actor and be a superstar. He tries to win Vimansa's heart but all his attempts fail.
It was at this stage, Vimansa comes across a diary maintained by her father. His records reveals details about two persons who were against him. They were two pharmaceutical businessmen about whom Tissa revealed in his articles
Vimansa finds a lead from there and goes in search of them. In order to get information about the two businessmen, Vimansa tries to get friendly with a son of one of them. Would she be able to do this? Will she ever find the people who are responsible for the abduction of her father? Would Aloka win Vimansa's heart? The viewers of 'Vimansa' will have to watch through the teleplay every weekday.