Adeesha Prabashwara's triple helps Rahula overcome STC Matara
16th Golden Pennant Football Encounter
View(s):
Rahula College boosted by three goals off the boot of Adeesha Prabashwara registered an epic 5-0 over St. Thomas' College Matara in the 16th Golden Pennant Football encounter played at the German Sri Lanka Friendship Football ground on July 7. With this win Rahula levels the series eight wins each and stalled the Thomian dream of keeping the Ruhunu Masters Trophy. STC Matara who won in 2015 and 2016 were looking forward to make it three wins in a row.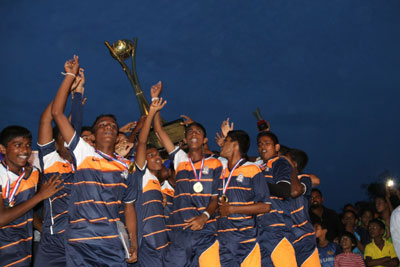 Both teams shared the ball in the first half hour in which few easy opportunities to score went astray until Naveen Gayantha registered Rahula's first goal in the 37th minute of the game after which Adeesha Prabashara scored for Rahula in the 42nd minute to give his team a 2-0 lead at half time.
Adeesha was quick to score his second goal in the 47th minute while Avin Kouwshika scored in the 59th minute to extend Rahula's lead to four nil. Adeesha's third goal came just three minutes before the game ended to see Rahula register a record 5-0 win over St. Thomas' and claim the Ruhunu Masters Trophy.
The STC Matara team led by R.K. Sellahewa comprised of D.W. Oshanda Vimukthi (Vice captain), M.K. Himal Sithara, K.P.H. Yapa, T.V.G. Dilshan Tharuka, H.D. Gallage, L.J. Asintha, A.Shashika Kavishan, A.Pasindu Shalika, B.H. Rashmika Shehan, Kavisha Samaraweera, N.L. Sahan Sathsara, M.L. Nirmal Chanuka, Abdul Razak, S.B. Diluka Sathsara, P.B. Devindu
Nilnuwan, M.U.M. Azim Usman, P.B. Sandaru Shamal, P.H. Kalindu Dilesh, M.N. Adithya Kalhan, J.B. Tharusha Biyanga, K.A. Hasindu Himashana, M.I. Ishak Ahamed, K.H. Kanchana Didulanga and R.S.G. Shashika Nadeepa.
Hosts Rahula College was led by Oshen Madusanka Gomes and the team was strengthened by K.G. Rajeeva Methsara Munasinghe (Vice Captain), Navin Gayantha, Kaveen Budhdhila, Janithya Damathindu, Avin Kowshika, Adeesha Prabashwara, Vinuka Sameshana, Tharushan Chandula, Tharindu Lasith, Nimnaka Chirath, Kavindu Dilshan, Gaveesha Nuwansara, Udana Dulshan, K.G. Praveen Chalinda, Senila bhathiya, D.L. Henuka, Ukthika Abeygunawardena, Deshan Nanayakkara, Rohan Brian Weerappulli, K.A. Kaveesha Githanjan, Thivira Hewamanage, Pramuditha Wadigahewa and Achintha Jayawardena.
T.H. Burah together with L.K.I. Udayakantha, M.K.I. Sandakelum and M.U. Sampath officiated and kept the game under control.
- Text and pix P.D. de Silva