Challenging an ideal
By Daleena Samara
Sri Lankan artist Kos Cos in Hong Kong presents new work that opposes the symbolism of the circle
View(s):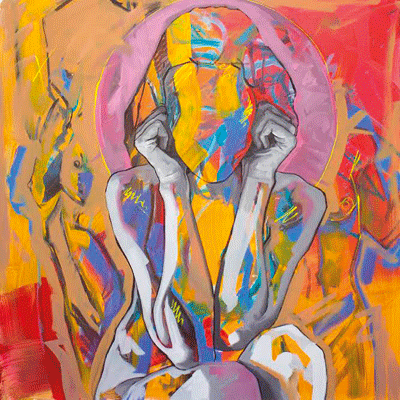 Kos Cos is in KLIQ Art-space, a spacious warehouse gallery tucked away in Fortress Hill, Hong Kong. For the past three weeks, his larger-than-life portraits of women have breathed life into the gallery's bare white walls. The show ended on July 5.
Entitled Incomplete Totality, his new body of work is thought-provoking, with compelling faces posed against a backdrop of a circle. Each painting is powerful, made life-like with multiple textures and primary and complementary colours. Kos has only used a few models, and so sometimes the same face appears in two or more works.
Kos Cos has an interest in faces. "It's hard to describe how I choose subjects. Because there's no practical process, an external catalyst is necessary. My mind is full of faces that I'd like to paint and so I'm constantly looking out for these imaginary faces in real life, because I need real people to add soul to my work. Once I see someone – usually someone on the street, in a bar or at a party – it's pretty straightforward … I ask them if they'll sit for a portrait. Sometimes they agree, sometimes they don't, so it's very hit and miss. In this way, I guess fate plays a significant hand in who I paint!"
The faces are presented in Kos's signature gestural brush and palette.
Each work captures a different moment, a dynamic emotion that compels the viewer to draw on personal experience. Each piece also differs in texture, some heavy and impasto-like, others light and dripping. In some, the faces are clearly seen, in others they are disordered and obscured, merging with the environment, with the circle stubbornly holding the disparate elements in place.
What of the circles? "To me, a circle means a lot of things: halos, chakras, bindi, infinity, perceptions or claims to holiness.  For years, artists used halos to separate saints from ordinary mortals. People have come to associate these circles with halos and holiness. However, in these paintings, the circles have little or no meaning – they are just a shape," says Kos.  "
"My subjects are ordinary women. I like painting faces of attractive women, and in these works, they are positioned in front of circles. I'm just trying to challenge the symbolism of the circle."
Instead of being perceived as a mere prop, the circles tend to provoke a new dimension of interpretation of the subjects; the halo-like forms suspend the subject in the symbolism of perceived "virtue", while colours and other elements such as bared bodies serve to remove the subject from perceptions of piety.  This creates a compelling conflict of opposites that extends the meaning of portraiture while challenging viewers to reconsider their perceptions. By blurring the forms of subject and divesting the circular form of all symbolism and meaning, Incomplete Totality begs us to question the validity of our own narratives and take a second look at how the addition of a simple significant element can alter judgment.
Kos says his research into the history of symbolism of the circle shows that at the very beginning, artists used circles merely to highlight a subject, usually of some significance, for example a king, in a crowd. That use gradually came to imply holiness. Today, the circle is a universal symbol with extensive meaning. Thus the circles in these artworks challenge the validity of their symbolism.
Born in Sri Lanka and now based in Hong Kong, Kos Cos (Kosala Gunasinghe) grew up surrounded by creative types. His father, a charcoal artist, ran an outdoor advertising agency and so he was surrounded by artists and other creative types. He honed his brush skills under his father and understudied cartoonist S.C. Opatha. He did a stint at Bates Advertising in Colombo before moving to Hong Kong where he took up art as a serious pastime.
Kos's work seems focussed on portraiture.  Will he always paint faces? Kos is not sure and reserves the possibility of expanding his genre in the future. He is preparing to show Incomplete Totality in Dubai later this year.