What does it take to make a successful coach in Sri Lanka!!
By Champika Fernando
View(s):
Coaches get the sack around the world owing to poor results or when administrators see no prospect of a turnaround–but the case of Graham Ford is different. When Ford was enticed into taking on the Sri Lanka team last year, it was a part of a long-term Board strategy to hire an experienced hand to see them through a transition. Sri Lanka Cricket (SLC) knew the road ahead was bumpy and that only a patient approach could change the fortunes of a team that once wielded dominance across all formats.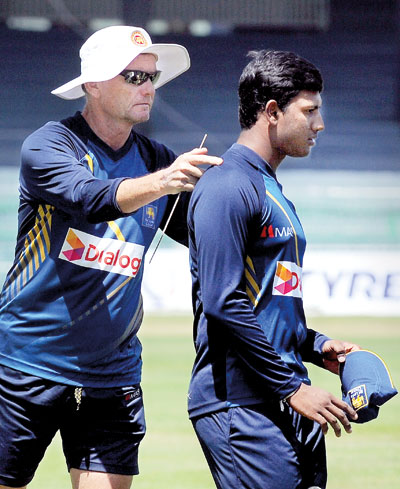 With a fair understanding of local politics–he served the Board from 2012 to 2014–Ford wisely refused the first offer. Given his reputation for working well with young people, however, Sri Lanka Cricket was determined to rope him in at any cost. They got Kumar Sangakkara to speak with him and, after much deliberation; Ford accepted a 45-month contract. It was due to expire at the end of the 2019 World Cup in England.
The new coach's first assignment was the Asia Cup, followed by the World T20 tournament. Sri Lanka were the defending champions in the latter but, given the furore over team selection, there was small hope of an impressive run. As expected, they ended their campaign prematurely. But Ford remained optimistic about the future with a brigade of young talent eager to fill the shoes of the retired greats.
The subsequent series in England was another failure in terms of match performance. However, taking the World Number one ranked Australia in a three-match Test series was a feather in Ford's cap. It was an achievement that no team prior to Angelo Mathews's men had achieved. Administrators basked in glory.
Ford was more pragmatic. "If you make the investment, you will get something back down the line," he was quoted as saying. "Older guys, who are perhaps past their best – when they fail, you're not going to get much back. I think that's been a view of the selection panel, as well. It's been exciting and I'm a little bit surprised to see them doing as well, as quick, as they have. But we've still got a long, long way to go. They will still disappoint us from time to time. With the attitude that they've got and the work ethic, we've seen some exciting signs for the future."
The success was short-lived. Sri Lanka beat Zimbabwe, hardly a competitive team at present, in Tests and won a tri-series also involving West Indies. But the defeat to South Africa early this year was a hard pill to swallow. The manner in which Sri Lanka surrendered the series caused all fingers to be pointed towards the coach.
This is when the Board carved out a new post within the national team and brought in Asanka Gurusinha, a former World Cup-winning cricketer domiciled in Australia for over two decades. He was placed in charge of cricket with powers superseding those of the head coach who had otherwise enjoyed a free hand.
Relations soon began to deteriorate but this did not surface in public. They reached a boiling point at the Champions Trophy in England last month. Soon after the opening loss to South Africa, Ford fired a letter to SLC complaining of interference and demanding a free hand in coaching and final team selection.
The SLC did not accede. Upon his return to Sri Lanka, Ford saw that the working atmosphere was far from ideal and refused to toe the line demarcated by the Board. He packed his bags and flew home. The coach knew there were no quick fixes to Sri Lanka's current predicament. The Board was aware of this, too. This is why they had hired Ford, one of the best instructors in the world. Why, then, did SLC engineer his exit a mere 15 months into his contract? Must he bear sole responsibility for poor results? Does replacing him guarantee better performance?
Bad results could be the fault of the coach, players, selectors or the Board (which makes policy decisions). If they had reservations about his abilities, why was Ford hired? The problem here could be the system–not the coach or players.
Expensive coaches were hired for the national team in the hope these expatriates could turn things around without identifying that the core problem lies, not with the national team, but at a domestic level. This has been discussed time and time again by successive administrators. A blueprint prepared by Mahela Jayawardene collects dust the plush SLC office at Maitland Place. This is a clear indication of the Board's lack of foresight or interest in implementing vital recommendations contained therein.
When results aren't forthcoming, the coach becomes the scapegoat. During the last five years, Sri Lanka has had six coaches including interim ones. Does this mean all six coaches were worthless? Or could dropping standards be attributable to the ever-widening gap between international cricket and our diluted domestic game? How can a coach produce results when you try out as many as 44 players in your limited-over team in a single year?
When Paul Farbrace decamped to England after leading Sri Lanka's T20 triumph in 2014, the Board appointed Marvan Atapattu and he took Sri Lanka to country's first ever Test series triumph in England. But after a string of mediocre performances including the 2015 World Cup, he was made to resign. Jerome Jayaratne, who was heading the coaching department, was then given the responsibility on interim basis but fortunes remained the same. That's when Ford was roped in.
Ford did not lose the dressing room, like India's Anil Kumble. Kumble had a running battle with skipper Virat Kohli but relations between Angelo Mathews and Ford were excellent so with the rest of the players. So there was no turning on the coach by the players. They got on very well.
Ford has left and the Board is looking for his successor. With a system that refuses to improve, turning the tide will be tough–no matter who takes over the baton.