Kids Essays
View(s):

Endangered Animals
In the last 100 years, many kinds of animals have been endangered and have died out. They include fish, frogs, snakes, birds and mammals.
The scientific organisation called IUCN produces a 'Red List' of endangered animals and plants.
About 500 years ago passenger pigeons were killed by people for their meat. The last passenger pigeon was Martha and she died in the Cincinnati Zoo. The Dodo is also an extinct bird. They were killed by sailors for fresh food.

The leafy sea dragon is endangered because it is caught by fish collectors. Leafy sea dragons are killed, dried and powdered for the traditional medicine trade. Cheetahs are also endangered animals.

Polluted water is a deadly danger for underwater animals. Australia holds National Threatened Species Day on September 7 every year.
If we don't protect dolphins, rhinos, whales and orang-utans they will all be lost in the near future.

Sinali Bethmage (10 years)
Musaeus College
---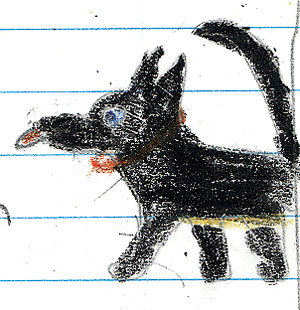 My dog
My dog is Taniya. It has black and white colours.
It has long ears. It plays with me. It will play with my brother, my mother and father. It will not play with others.
My dog will lick me and my brother.
If I throw the ball it catches it. I found my dog from a dog shop.
Sivanithiy Ramanan (Grade 1)
Gateway College
---
My father
My father's name is Sampath. He is
38 years old. He likes to drink tea. He likes to eat chocolate. He likes to play volleyball.
I love my father so much. I wish him a long and healthy life.
Yohara Gabbriyel
(Grade 2)
Lindsay Girls' School, Colombo
---
My best friend
My best friend's name
is Nethmi Madushani.
She is 11 years old. She has two sisters and one brother. She is fair and tall. She has long wavy hair. She likes to eat fruit and vegetables.
She likes to drink orange juice. She likes pets. Her favourite colour is purple.
Her favourite subject is History. Her hobby is reading books. She mostly likes princess storybooks. She likes babies. She is very kind.
I love my best friend so much and she loves me too.
Sara Kandasamy (11 years)
Najaa Int. School,
Mt. Lavinia
---
My school
My school is JMC College International.
It is situated in Angoda. There are about
1,000 children and 30 teachers in my school.
All the children are friendly with each other.
All the teachers teach us very well. There is a playground, a library, a computer lab and a Science lab in my school. We borrow books from the library. My school is developing fast.
I love my school very much.
Mayantha Anuththara (Grade 2)
JMC College Int., Angoda
---
My favourite book
This book is my favourite and I could read it more than a hundred times. It was written by Frances Hodgson Burnett and it is a lovely storybook. This book was out in the year 1909 and is read by children and even older people. Adults enjoy this book because it shows the writer's understanding of children even when she herself was 60 years old. This wonderful story is 'The Secret Garden'.
'The Secret Garden' is about a ten year old girl named Mary Lennox who lives in India with her English parents. She is completely neglected by them, causing her to be sickly, unpleasant, ugly and very demanding. Mary's parents die of cholera and she is sent to live in England with her uncle Mr. Archibald Craven. Mr. Craven is a hunchback who was in a state of grief ever since his wife died ten years ago. Mrs. Craven had maintained a beautiful garden which is now known as the Secret Garden. One day when she was swinging on a swing in the garden, a branch fell over her and she died. From then Mr. Craven had locked the garden and buried the key.
After Mary learns of this she becomes interested in the garden. She meets new friends and discovers the garden.
She also becomes stronger, friendlier and loving. This book is about children and I love it so much. My favourite part is when Mary meets new friends and brings the garden back to life. She looks after the garden well, plants flowers and spends hours in the garden with seeds and spades. I like Mary's determination towards bringing the garden back to life. I recommend this storybook to everybody because it is very touching and beautiful.
Amal Gaffoor (12 years)
Royal Institute Girls' School
---
World Heritage sites at Rajarata
Anuradhapura and Polonnaruwa are famous as 'Rajarata.' It's because many kings like Valagamba, Dutugemunu ruled there. And also for the ancient ruins like ponds, stupas, statues and ruins. Some examples of them are Samavathi, Twin Ponds etc. They were done by kings like King Kashyapa, Dutugemunu and many more.
Lankaramaya was built by Valagamba. Sri Maha Bodhi was brought by Sangamitta Therani to be planted by Devanampiyatissa.
Mirisavetiya and Ruwanveliseya were built by Dutugemunu and Sigiriya by Kashyapa. There is also a belief
that Ravana hid at Sigiriya before King Kashyapa. But the real designer of the Sigiri drawings and the palace is King Kashyapa.
To this day, generation to generation protected this. So it is our duty to protect them further.
Sadeesa Wijethunge (Grade 6)
Lyceum Int. School, Ratnapura
---
Natural disasters
Disasters are caused by hazards.
A hazard is a natural phenomenon which can cause damage to people and property. A disaster is formed when a hazard does cause damage. Some disasters are floods, earth slips, droughts and cyclones. Many disasters are caused not only for natural reasons but because of bad human activities. For example, earth slips can occur due to removal of vegetation.
As we are intelligent, we should realize that some things we do are not good, but full of disadvantages. Some human activities not only harm nature but also animals. We should know how to manage work if we live on Earth.
At present, Sri Lanka is suffering from earth slips and floods. We can see how hard it is to live if we undergo such disasters. Therefore, we should do our best not to harm our Earth in any circumstance.
Lihini Wijesekara (Grade 7)
Lyceum Int. School, Wattala
---
My pet
My pet is a dog. Its name is Tommy. Tommy likes to eat chicken. It loves to play. I love my
Tommy very much.
Dananjana Sathsarani (Grade 3)
Mahasen K.V., Dambulla
---
My trip to Kataragama
We left the house at
11 a.m. It is very far.
It takes five hours to reach Kataragama. We stopped the car to take our lunch. Then we started our journey again. We saw beautiful things. We saw a dagaba called 'Kirivehera.'
We went to other places also.
We went to a 'devalaya'. We did a pooja. There we went to another devalaya called 'Kataragama' Devalaya.
Then after worshipping at all the places, we spent our night there and came home the next morning. This was my trip to Kataragama.
Chanuth Opatha (Grade 6)
Sussex College, Ambalangoda
---
My hobby
My hobby is playing. I like to play with my friends. It is nice to play with my friends. Some of the games we play are Hide and Seek, Chocolate Box, Ice and Water, Run and Catch, Marco Polo and Lock and Key. Playing is good for our health. Playing gives us happiness.
Thinushi Jayasooriya (7 years)
Sacred Heart Convent, Galle
---
Rain
A big dark cloud stays in the sky,
The muddy puddles are big
Dark cloud is proud
Then cloud brought
A big rain.
Everywhere is filled with floods
People become very sad,
Because of the flood.
Nethara Jayasooriya (10 years)
Sacred Heart Convent, Galle
---
My school
My school is Richmond College, Galle. In my school there are two auditoriums, laboratories, a swimming pool, playground, library as well as a farm. There are around 4,000 students.
My school is the best school in Sri Lanka. When the school closes I feel sad. I love my school.
Abhilesh Karunanayake (7 years)
Richmond College, Galle
---
My school headmistress
Her name is Mrs. Krishanthi Abeygunawardana. She is a very kind and nice lady. She wears many beautiful saris to school. She is the smartest lady in school. She addresses us in very loving and pleasant words. When we see her smiling face my whole day turns out to be the best day ever. She has a beautiful smile on her face throughout the day.
She always tells us to be great HILLWOODIANS. She never scolds us and excuse us for small mistakes.
She is my first headmistress.
Mrs. Krishanthi Abeygunawardana, my most respected person makes us achieve the best and the highest in every way in education. We should be grateful to her for making our lives beautiful and fun.
I love you Mrs. Abeygunawardana for helping me to make my life a success. I wish you a happy future. May God bless you.
Risakee Palliyaguru (Grade 4)
Hillwood College, Kandy