Need for long term tech solution to foster development and wealth
View(s):
There is currently a war going on in the region that most Sri Lankans are either not aware of, or don't seem to care about. This is essentially a war for talent, we are not losing out on this war since we are not fighting it. But if Sri Lanka is to prosper in the next decade in the region we need to start fighting it. Countries are fighting for talent on a global scale since any country that can attract talent can then profit from it. Singapore has been the clear winner for decades on this with more than 40 per cent of its population being of expat origin but countries like India, Vietnam and Philippines are now coming up with attractive offers to get the best and the brightest to come and work in their countries; they are not just trying to attract their diaspora. Through education, retention, and exporting human talent our neighbors are building incredibly complex, and prosperous economies.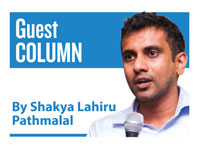 Sri Lanka has a major problem
Our exports as a percentage of GDP have been falling over the last 20 years. This is mainly due to the fact that we have stuck to exporting the same basket of goods mainly apparel, low skilled labour, traditional plantations and agriculture (Atlas of economic activity). Our total exports stand at a paltry US$10 billion (India's IT sector is at $125 billion) to give context. From 2000-2015 Sri Lanka has added only seven products with an income of a modest $100 million or less, in comparison Vietnam has added 48 products with export income of more than $50 billion! (UN COMTRADE). Most Lankan company heavy weights are not geared for exports but have built business primarily catering to the local market amid some protection so it's not very competitive internationally.
While most countries post excelling in apparel move in to electronics and then machinery (Harvard Study), we have failed to do so. We have lost the race on industrializing the country to make high value products for exports such as cars and planes. Investors have gone elsewhere and the state is too poor to invest the large amounts of capital required for these industries to take root.
Salvation in the short term through Business Process Outsourcing (BPO)
We currently have a large population of young educated professionals with skillsets that can be outsourced. Moreover, most of them are proficient in English. Compared to other export industries Sri Lanka has done relatively well in Communications, Computer and other (ICT) services. While BPO is synonymous with the export of services and products such as call centres and software development, it can also encompass sectors with significant headroom to grow such as research, legal, and medical services enabled by an unfettered technology sector.
In order to set up a BPO business the investment that is required is relatively low. A firm essentially needs only computers, a place to work, and human capital. Not only does the ICT and BPO industries currently employ 80,000-100,000 professionals, but it also boasts 20 per cent growth year-on- year and exports $800 million of goods and services. Given the fact that the cost of Sri Lankan IT labour is relatively competitive (WB), there is no doubt this will continue to grow. However, natural growth will probably prove too little too late for Sri Lanka in terms of addressing the major economic issues we have in the island.
What needs to be done in the very short to medium term?
1.) Concrete policy by the government to help grow and sustain the BPO industry. There should be a commitment not to tax the industry for an extended-term period. BPO should be seen as a catalyst to increase FDI and exports rather than yet another source of tax revenue. There are no silver bullets to foster wealth development.
2.) Reducing the tax burden on data consumption. In Sri Lanka the average person pays 50 per cent in tax for voice and data. In India its 15 per cent. The reduction of data cost will mean more Lankans will be online, and they will have more information at their fingertips. Which means a more knowledgeable population.
3.) Creation of private public partnerships for BPOs in selected areas. This is critical in adding more jobs in to the economy. The space should be given to the private sector for projects that create both exports revenues and jobs.
4.) Invest in an education system that develops young minds that are capable of critical thinking as opposed to memorisation and regurgitation. The education system should be designed to create the skill sets for an economy that is diversified.
Long-term game is adding complexity to the economy (value is in the longer term)
Sri Lanka's economy is not a very complex one, nor is it on the road to becoming one. While the BPO industry will alleviate current woes in the short term we must do more to make a more robust economy. Thus in the long term we will have to export proprietary technology, software, and IT products.
Currently there are a handful of companies, which are doing this. But we need to make more of these. The expansion of BPO industry will surely help us to reach our end goal; individuals who are working in low skilled BPO industries will learn and develop their skill set. We will eventually garner a reputation as a great place to invest for businesses that require highly skilled labour. We will have to build an eco-system that fosters innovation and subsequent value creation, that tears down the prevailing belief in Lanka that innovation equals hiring scientists. A policy that will not yield the desired results.
The lack of consistent, clear policy has also been one of the biggest hindrances to investment. Ad hoc changes in tax policy, changes in incentive schemes, and no clear authority at the BOI prevents the inflow of FDI into sectors such as BPO that are crucial for technology transfer and knowledge creation.
Finally Sri Lanka in the 21st century MUST have a migration policy that lets skilled migrants into the island. This should include any individual who would want to live and work here that has great talents (not exclusively diaspora).
This is how you build a self-sustaining eco system. This will not happen in a vacuum and this will have to be done by attracting people from around the world. If we do not take these steps due to our own insecurities or indifference we will remain a nation whose citizens speak fondly of its 2000-year-old history with nothing to speak of about its present.
(The writer of this article would like to dedicate this article to the memory of Dr. Saman Kelegama (Former ED of the Institute of Policy Studies (IPS), who was a real champion of economic change in Sri Lanka. He was also instrumental in fostering and mentoring young talent so they will be a part of positive changes to come. The writer is also co- founder CEO of takas.lk. The ideas expressed are his alone and does not necessarily reflect the views of the organization. He can be reached on Lahiru@takas.lk for comment)