London High-Rise fire: Colombo needs to act fast
View(s):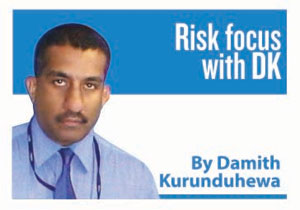 "Tell my sons I love them". Trapped in his level 22 flat while roaring flames engulfed the floor beneath him, 65 year-old Tony Disson whispered these words in his final phone call in the face of certain death.
Just 18 days ago on June 14 – the Grenfell Tower in West London played a real life 'Towering Inferno' – a blockbuster disaster movie of the yesteryear.
'We've lost everything that we've got. We stand here homeless and penniless'.
That's how a victim wept at the base-yard of the burnt residential high-riser. 'People are walking around like zombies after losing everything' explained another. Staying alive to tell the tale is yet a fine stroke of luck. Undeniably, they are luckier than about 80 victims who were destined for a painful adios.
Here in Colombo the Lankan skyline is literally growing by the day. Be it a high-rise hotel, a multi-story hospital, an office tower or a condominium – whether it exists, under renovation, upcoming or yet in the blueprint phase the West London fire disaster rings alarm bells amply louder to stir our protective senses right-away.
Safe design
High-rise fires are deadly; especially when the fire is driven skyward and flames wrapping the vertical tube rapidly. Thus, the tower designers and builders need to stretch the fire safety discipline beyond the mandatory (the bare minimum) compliance level.
We need to design and build to live or work safe in them. Not to get trapped and burnt alive to end-up resembling charcoal.
Positioning of the tower with spherical fire engine path, fire-walling, fire doors, fire rated paneling, duct sealing, pressurized and protected escapes, external escapes, rescue decks and combustibility testing are a few out of many that tower designers (and builders) should incorporate at the blue-printing of the concept.
Even though it looks practically challenging, a concerted effort needs to be brought on board to use as much as possible fire resistant material – both for interior and exterior.
Fire systems
Key features in high-rise fire safety are flash detection of smoke, heat or flammable gas emission and spread. For instance, a midnight fire may not be noticeable to people, unless the electronic sensors pick it up.
The fire detection system could be further enriched by AV distress alarm system to alert the occupancy with automatic or manual mechanism on the basis of points – zones – layers – or total tower.
Another critical component of the fire system is appropriate and sufficient firefighting apparatus. They can be incorporated as automatic sprinkling or suppression systems and manually operated portable or fixed systems designed on overlapping contours.
Immediate firefight
A high-rise tower may have invested in a top-notch firefighting system, but if no one within knows how to use it at the most vital moment, perhaps the entire block is in for a serious life risk and destruction.
Automatic systems can get into action, but the positioning of those may be limited to specific zones.
Fires are best fought at the embryonic stage. Thus, the right portable fire extinguishers can be of great use at the immediate attack.
Depending on the level of organized/trained internal firefighters within the tower, the next levels such as hose reels and hydrants could be used to prevent the spread or to fully extinguish the fire. After all, certificates do not fight fires; it's people.
A professional attack by the fire brigade is immediately required when there is no internal firefighting capacity in place. 'How immediate' the fire brigade can land first jet of extinguishing medium on to the wild flames depends on diverse situational constraints such as concurrent fires, route traffic, distance, maneuvering space, visibility, tower height, equipment reach, escalating heat – and the list goes on.
Optimum egress
The mass egress planning should include illumination, exit signage, exit corridors, final exits and refuge zoning.
The egress can be planned via protected fire escapes, routine stairways (if declared safe) – and external stairways, considering the peak volume at different height levels and congestion potentialities at the exodus.
Please turn to Page 10
Another challenge in mass egress is to bring down the victims from high elevations to ground refuge and to immediate medi-care bays amidst heat, flames and smoke.
This is effectively possible only by pre-planning from the design stage and rehearsing for all critical eventualities once occupied.
Timely rescue
In high-rise fire emergencies, another likely phenomenon is that occupants getting trapped either inside their compartments or on the way of exit attempt.
Thus the design itself should enable external stairway rescue, sky ladder rescue, cable rescue, chute rescue and heli-rescue options. A safe space for aftermath flash medi-care needs to be located in the landscape at the design and construction itself.
Some high-risers are struggling consequently to device effective fire emergency response owing to the omission of these life critical dynamics at the conceptual stage.
In such settings, we realize rather lately that nothing much can be changed to elevate safety benchmark though we are aware of the risks.
Act fast
It is time to objectively critique what we have comfortably called 'safety' thus far. The West London tragedy echoed that 'illusionary safety' is never adequate to safeguard precious lives, valuable assets and revenue continuity.
The outrageous consequence there piercingly calls for momentous concern by all high-rise stakeholders here – from voice to motion on fast track passage. Sri Lanka – predominantly Colombo – needs to act, fast!
(The writer is a foremost enterprise risk management specialist and a corporate risk trainer who serves as the CEO of Strategic Risk Solutions. He can be reached via eMail on solutions@sltnet.lk or via web www.solutions.lk)