Lankan entrepreneur produces high-quality biodegradable bags to protect the environment
View(s):
The damage caused to the global environment by dumping of non-biodegradable polythene bags has posed a global threat to the environment as polythene does not perish even after 500 years, according to scientists.
Many Third World countries have so far not come up with a plausible solution to counter the use of polythene.
The problem of polythene dumping has grown over the years as garbage collecting centres particularly in Sri Lanka have not come up with a solution towards the safe disposal of polythene. Everything sold at grocery stores or supermarkets is wrapped up in polythene bags.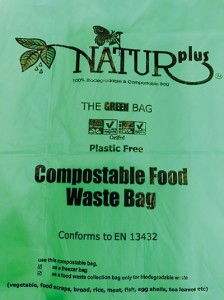 A Sri Lankan entrepreneur through his company Plastic Packaging (Pte) Ltd based at Ratmalana has now come up with a novel solution to address the polythene menace by manufacturing degradable bags using a different kind of chemical that is not harmful to the environment.
Although these bags look similar to those of polythene the difference is noticeable. These biodegradable bags perishes within a given period and pose no threat to the environment.
In an interview, Plastic Packaging (Pte) Ltd Chairman Mervyn Dias said his company has been manufacturing these polythene bags for export to the UK during the past three decades.
"We have specialized in manufacturing thin polythene bags for exports. When we first started manufacturing bags, it used to be 10 microns but now we manufacture three microns bags which makes the polythene cover very slim. These are the normal type of polythene bags that does degrade," he said.
Manufacturing of polythene bags for export was good enough to earn money but the negative impact it had on the environment was tremendous. "Therefore we decided to embark on a project to manufacture bags that are environmentally friendly and that can degrade over a period of time.
We started this project about 20 years back by manufacturing oxo biodegradable and compost degradable bags.However we realized the additive used in the manufacture of these bags also took a long time to degrade as it had some polythene element in it.
Thereafter we experimented further and manufactured a compost and biodegradable bags in 2006 without any polythene content which was a starch based product. But there was a technical glitch where we could not bring the thickness of the bag to a low level due to non availability of technology.
Further experiments done over the years yielded positive results with the importation of a new chemical to bring down the thickness of the bag," he explained noting that the these biodegradable bags were exported to the UK in 2009.
He said the bags are now being used in UK households to dispose their garbage in an environmentally friendly manner.
"The compost and biodegradable bags were first distributed free of charge to customers at supermarkets so that they can hand them over to waste collectors or else they themselves can even compost it at home. But after some time supermarkets stopped giving these bags free to householders."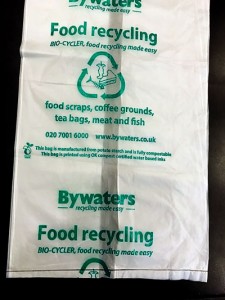 A household requirement of these bags is about 10-15 bags which is quite sufficient for a month. The bags comes in different sizes but the bags used for collecting garden waste is much bigger.
"We export both type of bags to the UK in large quantities. A small bag will cost around Rs. 9 and a bigger garbage bag will cost around Rs. 30," he added.
Asked whether it was feasible to sell these bags in Sri Lanka, he said a different type of bio degradable bags is sold in Sri Lanka as well. However it is not available at supermarkets because they are not sure whether it will sell or not.
The other advantage the consumers have is that these bags can be even used as freezer bags to store vegetables in a deep freezer. Thereafter the bags can be used to dispose kitchen waste, etc.
Referring to Municipal City garbage collectors, he said they have been instructed not to collect any polythene bags from households which has caused a problem The garbage collector does not know the difference between a compost biodegradable bag and a polythene bag.
He said the disadvantage of using polythene bags was that the throw away refuse in such bags does not perish along with the bag. He said the solution to the problem was by using biodegradable bags that can be taken away by garbage collectors to be dumped in a compost plant.
"We have also informed the Waste Management Authorities on the benefits of using biodegradable bags to dispose refuse without aggravating the problem.
But so far we have not received any response from them," he said
Referring to a certification process by an international body called Vinbo in Belgium, he said the biodegradable bags are subject to a rigorous test to determine whether it contains any element of polythene and whether these bags are compostable or not.
"If such bags contain any semblance of polythene, the certification process is rejected debarring such products to be exported to the European Union countries."
He said four tests are carried out to determine the certification process. The first one is that biodegradable bags have to disintegrate within a period of four months and the remaining small pieces have to go through a 2-2 mm mesh.
The second test was that the bags have to completely disintegrate within 180 days otherwise they are not considered as compostable bags.
The third test is to ascertain whether the bags contain any heavy metal that contaminates the soil.
The fourth test is checking out the quality of final compost and eco-toxicity. This involves testing to see if the germination and production of plants are not affected by the influence of composted packaging.
Once the above conditions are satisfied the bag is 100 per cent eco-friendly and certification is given.
The OK compost label certification guarantees compliance with EN 13432 and OK compost logos that are printed on the bags where customers can identify the compostable and biodegradable bags.
The small kitchen bags can hold a weight of 2-3 kg whereas a garden bag can carry a weight of 7-8 kg.
Asked for future projections of the company, Mr. Dias said that plans are underway to export biodegradable bags to supermarkets in France as well. (Jayampathy)