Give2lanka launches housing for poor project with IT sector
View(s):
Give2Lanka, a not-for-profit organisation that connects donors with impactful poverty alleviation projects, is building houses for the poorest families with the direct participation of corporates in the IT sector.
In the first stage of this project to provide 10 such houses for deserving poor families, the staff of IronOne Technologies are partnering with Give2Lanka to assist with building a house in a remote village called Eluwana in Dehiowita.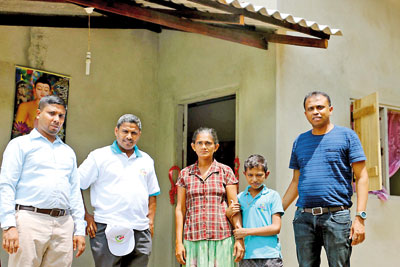 The house is for a family with a mother and an 11-year-old son who currently live in a wooden shack not fit for habitation. The mother works as a helper and cleaner at a local cleaning company. With the demise of the father, the family has lived in this wooden shack for the past 10 years. The son has the misfortune to have a heart condition that requires him to go through blood transfusions on a periodic basis, placing them in further destitution, IronOne said in a media release.
Give2Lanka Chairman Dulan de Silva stated, "Give2Lanka welcomes more IT companies and their youthful staff members to participate in similar programmes and help to complete the target of the 100 houses in 2017. Give2Lanka is available to provide the support and help to organisations to locate and identify the poorest and needy families as well as to arrange reliable locally sourced building contractors to complete the work. Give2Lanka also helps to arrange the participation of the donor company's staff members in the ongoing activities to have a hands-on experience in the process similar to that of IronOne Technologies."
The funding for this house construction is contributed by the staff of IronOne Technologies, a leading IT software solutions company in Sri Lanka. The participation does not stop with just provision of money for the building. The staff of IronOne Technologies has been involved in steps towards the building and initially took up a shramadana campaign to remove the old wooden shack and make the plot of land fit for building by clearing the rubble and flattening the areas. The IT team members, consisting of a youthful group of young professionals, were eager to spend their time and efforts to provide such manpower to be truly part of this programme.
Give2Lanka says it has identified 10 such deserving families and has invited the corporate sector to come forward and support them.