Upheaval has impacted Chandimal – Sanga
View(s):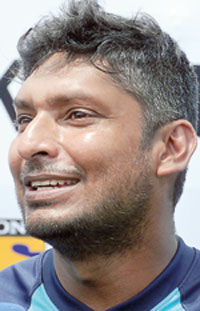 Sri Lanka may have upset the apple cart in the Champions Trophy with their victory against India, but rejuvenation of the Island nation's team has taken too long, says Kumar Sangakkara.
Sangakkara said the upheaval in the side had adversely impacted on the career of rising star Dinesh Chandimal.
On commentary during Sri Lanka's Champions Trophy Clash against India, which the underdogs won by seven wickets after completing a record run chase of 322, the 134-Test veteran expressed doubts about his country's ability to uncover and nurture the next generation of star players.
Sangakkara said 27-year-old batsman Dinesh Chandimal, who has 12 international centuries, was one of few young players who had blossomed. Chandimal's talent is not in question, with the right-hander becoming the fourth Sri Lankan – after Sanath Jayasuriya, Sangakkara and Dilshan – to score five consecutive ODI half-centuries last year. He also has eight Test tons to his name.
"The search has probably gone on a little too long," Sangakkara said when co-commentator Michael Atherton compared Sri Lanka's predicament to other nations who have faced similar challenges.
"We've had two, two-and-a-half years of it now, looking for replacements for Dilshan, Mahela and we have some fantastic young players coming through.
"One of the accusations directed at the management and the team has been that they haven't groomed anyone to fill those voids. "But I think the one man that was identified very early was Dinesh Chandimal, who performed excellently in South Africa, then in England, in Australia.
"He's actually had a period where he's been identified as the best young player (and was) appointed captain probably a bit too soon. "Then he was dropped from the captaincy, dropped from the team, so he's never had a consistent run in the position that he was identified for.
"I don't think the environment he's played in has been very good for his confidence. Every time he now takes the field, it's almost as if (he's) playing for his place, for survival, and that's not a good place for a young player to be. "But also we have to re-look at a lot of the things that happen below international level – our first-class structure, our 'A' team structure – to make sure we actually drag those structures into the modern day." Sangakkara, who scored 12,400 runs as a wicket-keeper-batsman at Test level at an average of 57.40, said Sri Lanka had failed to recover from their losses as effectively as Australia and England.
(Cricket.com.au)