Nandikadal lagoon fish perished without oxygen, says NARA
View(s):

By Malaka Rodrigo

Thousands of fish seen floating in the Nandikadal and another nearby lagoon in Mullativu this week died because of a lack of oxygen, experts say.
Nandikadal is where a decisive battle against LTTE terrorism took place in May 2009. So the news of the dead fish triggered more curiosity.
The Fisheries Ministry directed the National Aquatic Resources Research and Development Agency to investigate. One June 4, a team led by NARA's head of Environmental Studies S A M Azmi visited Nandikadal.

"Different species of fish ranging from shrimp, eels to modha were found in the mass fish grave. We tested the water in the lagoon and found that the oxygen level is zero in the affected section of the lagoon. So literally, these fish died due to depletion of oxygen in the water," Mr Azmi revealed.

They did not find any bacterial infection.
He also pointed out that this is a common phenomenon.
The water level of the Nandikadal lagoon had dropped below the sand bar as a result of the drought and this prevented the flow of water between the sea and the lagoon.

"Usually a sudden rain that brings lot of nitrogen and fertilizer to a water body triggers an algal boom – a rapid growth of microscopic algae. The algae soon die and the decomposition process consumes a lot of the oxygen dissolved in the water rapidly depleting the lifeline of the fish in the water. Once in a while fish in Beira lake and other inland water bodies, too, die due to this phenomenon according to the NARA expert. The area in Mullativu got some rains on the 29th of May, but there was little time for such algae bloom," he said.

Mr. Azmi believes disturbances of the bottom sediments due to activities such as fishing could have triggered different oxygen consuming processes that led to the sudden depleting of oxygen in the Nandikadal lagoon. He said it is rarely that they record a zero oxygen level in a body of water, adding that even in cases of fish deaths in other areas due to low oxygen, the level is not zero.

The NARA team advised that a section of the sand bar be excavated to let the sea water flow into the lagoon.
Mr Azmi said the NARA team heard from locals that this is a common occurrence at this time of year. "So it is advisable to cut this barrier every year around the 15th of May," Mr Azmi said.

This could happen in shallow coastal areas as well. These areas are called 'dead zones' resulting in deaths of fish in the open ocean as well.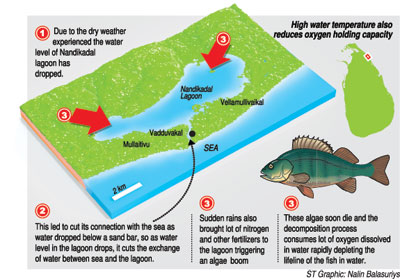 Unseen invaders afloat in plastic waste

Along with the World's Ocean Day on June 8, a high-level United Nations Conference on Oceans was held last week in New York.
Sri Lanka assured its support for the UN Sustainable Development Goals.

One of those goals is to "conserve and sustainably use the oceans, seas and marine resources'', or goal 14.
Arjan Rajasuriya, coordinator, coastal and marine programme, IUCN Sri Lanka country office, said Sri Lanka should ensure sustainable fisheries, reduction/elimination of pollution, ocean litter etc.

Much of the pollution of our seas comes from the land in various forms such as non-biodegradable waste including polythene, plastic, chemical waste from household detergents, vehicle service stations, factories etc.

Mr Rajasuriya cited pollution of the sea from Panadura to Negombo as an example. There are two sewage outfalls – one in Dehiwala and the other in Modera. All the new condominiums are spewing out high volumes of polluted water and massive loads of toilet waste. "Where one or two houses stood in the past, now we have high-rise buildings with about 20 to 30 apartments. Just imagine the increase of waste-water alone and the volume of sewage," Mr Rajasuriya points out.

Sri Lanka is also concerned about invasive alien species. Studies are being done in ports and fishery harbours on the possible invasive species coming into our waters from ballast water and hulls of ships and fishing boats. But we are completely ignoring invaders attached to floating plastic debris. Much of the floating plastic waste that goes from land add up to large floating piles (rafts) of plastic litter floating out at sea. Eventually currents and wind bring them to shore. Many invaders can come through these sources, but we are not giving much attention to these floating plastics, Mr Rajasuriya worries.