Price wars, oversupply cloud country's thriving leisure sector
View(s):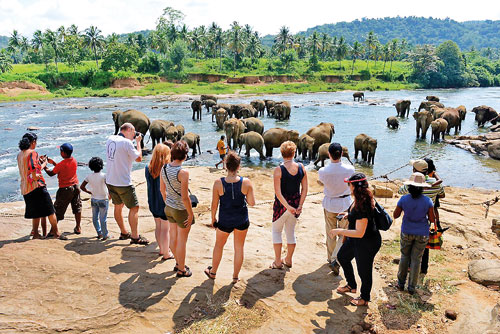 Price wars, lack of a national plan and proper regulation, and oversupply are plaguing Sri Lanka's tourism and hospitality sector, according to several companies in the business.
These concerns have been reflected by many hotel companies namely John Keells, Aitken Spence, Hemas Hotels, Grand Hotel (Nuwara Eliya) and Pegasus Reef in their 2016/17 annual reports issued over the past fortnight. The following is a synopsis of the concerns:
   Setting proper standards
Nuwara Hotels veteran Chairman George Ondatjee:
"Our tourism policy framework is not properly designed to meet the current situation. To meet the 2.5 million tourists in 2016 there was a shortage of rooms supply in the island, but I personally feel that while the Sri Lanka Tourism Development Authority has given approvals to build tourist hotels in major cities it has not been properly planned as there is an oversupply situation. As a result price wars have begun and hoteliers find it difficult to meet their obligations such as meeting the energy bills, payroll and other fixed overheads, finally guests suffer for value for money services cannot be given to them.
Our neighbouring countries will reap the harvest and attract more tourists to their destination for a lower rates. Sri Lanka has failed to market the country as one that offers a different product from that of the Maldives to both Chinese and Italians who travel to the  Maldives in large numbers. In this connection, another issue that arises is which kind of tourists are we targeting – high-end, middle or the lower-end. Some argue that we must target the higher-end and focus on smaller number of tourists who are high spenders and bring more foreign exchange earnings. To attract high end tourists our service standards should improve for that government should give more concessions to this industry without taking more taxes.           New standards should be set for new, upcoming hotels about the facilities, only then can we have a quality product."
Informal sector unregulated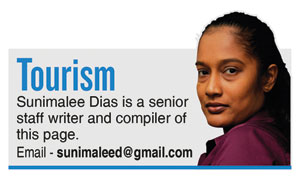 Aitken Spence Deputy Chairman J.M.S. Brito:
"Considering the environment in which the local hotels operate, the informal sector, which is largely unregulated, continued to pose obstacles in the development of a level playing field in the industry. Inadequate regulations have meant that the informal sector is not properly governed in terms of desired industry standards and as a result do not fall within the regulated tax regime, which gives them an unfair advantage and would impact the legitimate foreign exchange earnings of the country. Moreover they are often not aligned with the Sri Lanka Tourism Development Authority (SLTDA) and in most cases do not participate in the collective efforts by the formal sector to build a credible platform for the country's tourism industry. As such, I continue to urge the authorities to put in place necessary regulatory controls that would create a level playing field for the betterment of the industry. Further, I cannot overemphasize the importance of having a cohesive country strategy in order to strengthen the country's value proposition as a tourist destination."
   Urgent need for a national plan
Dolphin Hotels (Hemas) Chairman Abbas Esufally:
"From a macro perspective, it is clear the industry needs a comprehensive national strategy to sustain continuous industry growth and to target specific growth opportunities. Global geopolitical and technology changes are creating new opportunities and challenges for the Sri Lankan tourism industry. The instability in parts of the Middle East and some other parts of the world, coupled with exchange rate volatility, is changing global travel paradigms. More people are opting to visit safer regions of the world, including ours which is considered relatively stable. Increasing digitisation of lifestyles is also generating opportunities for a more flexible and cost efficient tourism business. New technology applications are driving reservations, hotel design and hotel operations for leaner, more efficient functioning.
However, the domestic travel and tourism industry is already facing some serious challenges. Competition in Sri Lanka is intensifying in certain areas where there is capacity oversupply. In this situation, maintaining price levels, revenues and occupancy, is a challenge. On the other end of the spectrum, the informal sector is gaining market share using a lower-cost operating model. The informal business sector is outside the tax net, while the tax burden on the formal tourism sector companies is currently over 29 per cent. This unequal playing field puts the formal sector, which is better regulated for quality standards relating to health, food hygiene, fire and safety at a significant cost disadvantage.
Sri Lanka requires a structured national plan, which is crucial if we are to succeed in the current globally competitive environment.
We should also look at the arrival numbers from a more qualitative perspective. Arrivals should not be the only measure of the industry Rising cost structures in the formal sector are also eroding overall country competitiveness. Our regional competitor destinations, such as Thailand, Bali, Malaysia, Vietnam, etc offer a similar, or better, product at a cheaper price. This poses a serious sustainability concern for our industry."
   Steep increase in room supply
Pegasus Reef Hotel Chairman Chandima Gunawardena:
"Competition is intensifying across the industry with a large number of graded rooms being pumped into the market at a fast pace. In an environment characterised by such stiff competitiveness, it is distressing to see the unregulated informal tourism sector still enjoying unfair advantages. While the Government's decision to impose mandatory minimum standards on such accommodation is commendable, I hope to see the fast and smooth implementation of such decisions in the foreseeable future.
Headwinds of competition remain challenging amid tough operating conditions.
Specifically, there is a steep increase in room supply visible in and around Colombo, where most of the star-class hotels are offering rates as low as US$75-80, hence going forward Pegasus Reef hotel would be operating in such an environment identified with intense price competition."
   Focus on online bookings
John Keells Hotels Chairman Susantha Ratnayake:
"Growth in the informal accommodation sector in the Maldives and Sri Lanka is expected to continue, together with an increase in star category rooms.
In order to combat pressure from competition, the company will continue to focus on enhancing online bookings with online travel agents and its own web site, coupled with a focus on digital marketing initiatives. Additionally, there will be focus on sales strategies targeting selected cities in India through our representatives in India to drive the MICE market, particularly events and weddings."
 (Feizal)