Cracks appear in historic cave
View(s):

Tension cracks have appeared near the entrance to the ancient Pahiyangala rock cave where remains of Mesolithic humans – or prehistoric Homo Sapiens sapiens – have been found.
The fissures were seen after a massive landslide occurred nearby on the same range of hills on May 26. National Building Research Organisation (NBRO) officials have said there is medium risk of an earth slip at the site should rainfall intensify. But reports that the massive rock outcrop atop the Pahiyangala hill – part of which forms the cave – is about to break off are false, they said.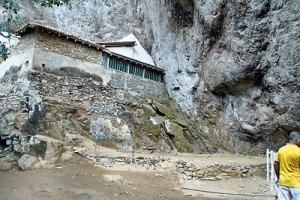 'ÄúWe are speaking of bedrock,'ÄĚ said Harsha Ekanayake, who oversees Kalutara district for the NBRO. 'ÄúIt is not going to come down. However, tension cracks have appeared in an area that was filled with soil during past archaeological excavations at the site. There is a possibility that these could become wider if the rains continue.'ÄĚ There are 25 monks, including novices, at the temple. The youngest is just six years old. They sleep in an old house in the village at night and return during the day, said Ven. Pahinyangala Chandima Thera. 'ÄúIt still rains at night,'ÄĚ he explained. 'ÄúThat'Äôs the problem.'ÄĚ Similar tension cracks were observed at Pahiyangala in 2008, said Mr. Ekanayake. NBRO officials have recommended that urgent conservation measures now be taken in conjunction with the Archaeology Department. They inspected the location again yesterday.
There were no devotees at the temple on Thursday, when the Sunday Times visited. A few white flowers were wilting on the altar beside a large, gold-hued reclining Buddha. Despite an interval in the rains, water showered down from the rock face onto the ground. The cave smelled of bat droppings. Ven. Chandima Thera pointed to the fissures at the summit. 'ÄúOfficials tell us there is danger here and that they will put up warning signs,'ÄĚ he said. 'ÄúBut that'Äôs not enough. They must come up with a proper plan to protect this national treasure.'ÄĚ
The yawning natural cave is Sri Lanka'Äôs largest and is also called 'ÄėFa-hsiengala'Äô, after the Chinese monk Fa-hsien who stopped at many Buddhist shrines while traveling on foot from China to India in search of books of the Buddhist canon and images of Buddhist deities. There is no archeological evidence that he was ever here but the name has stuck.
In 2012, it was at Pahiyangala that the 10,000-year-old complete skeleton of a young woman was found. Several excavations have thrown up bone tools, shark beads, shells and stone artifacts. Also found were fragments of human bone fossils of children and adults and evidence of fireplaces dating back 37,000 years.