Deluge and disaster
View(s):
Tri forces spearheading rescue operations struggle to reach survivors cut off by flood waters
President chairs emergency meeting soon after arriving from Australia
People living along riverbanks asked to leave to safer ground as rivers swell in spite of rains easing on Saturday
By Sandun Jayawardana
Despite an easing of torrential rains yesterday, rescue teams were still struggling to reach thousands of people trapped by floodwaters and landslides in several districts, the worst the country has witnessed since May, 2003.
Fourteen districts were affected with Kalutara, Galle, Matara and Ratnapura being the worst hit. Some places in these districts remained inaccessible to rescuers even last morning.
Home Affairs Minister Vajira Abeywardena told journalists yesterday that Ayagama and Rakwana in Ratnapura were difficult to reach while about 2000 people cut off by floods in Mapalagama, Nagoda, Gammeddegoda and Unanvitiya in Galle. Many were on the roofs of their houses and were pleading for rescue, he said.
The Minister said one reason for so many people being trapped is that those living along riverbanks had not been vigilant regarding rising floodwaters further upriver. He urged people living along riverbanks to move to safer areas about two-three kilometres away as water levels could rise rapidly as rains fall upriver.
President Maithripala Sirisena, who chaired an emergency meeting of people's representatives and senior Government officials in Kalutara yesterday, soon after his return from Australia, had directed officials not to be burdened by Government circulars and to take whatever measures necessary to assist those who have been affected. He had also directed the immediate purchase of 10,000 life jackets to be airdropped to those who are still trapped due to flooding. Health Minister and Co-Cabinet Spokesman Rajitha Senaratne said the life jackets would at least provide the wearers with the ability to keep floating until rescuers can reach them. A set of these life jackets were also on board an Indian vessel that arrived in Colombo yesterday carrying flood and other relief items.
Rescue operations were being spearheaded by the tri forces. Fifteen battalions comprising about 1500 soldiers belonging to the Sri Lanka Army's 58 and 14 Divisions as well as the Commando Regiment were engaged in operations in affected areas, Military Spokesman Brigadier Roshan Seneviratne told the Sunday Times. They were deployed in Ratnapura, Galle, Matara, Kalutara and certain areas of the Colombo district. In addition, the Sri Lanka Navy had deployed 68 vessels to the affected areas along with rescue teams comprising about 400 naval personnel. Naval teams had rescued 1854 people by last morning Captain Sujeewa Seneviratne, the Navy's Deputy Director (Operations) said. Sri Lanka Air Force (SLAF) Spokesman Group Captain Gihan Seneviratne said they had deployed six helicopters including Bell 212, 412 and Mi-17s to assist in operations. An SLAF Beechcraft observation plane was also in the air to locate persons trapped. The SLAF's rescue helicopters had saved 25 people by Saturday.
In some instances, rescue teams could only reach certain areas after the SLAF assisted to airlift boats.
An airman who was engaged in rescue operations on an SLAF helicopter died in unfortunate circumstances during a rescue mission in Neluwa on Friday. Flight Sergeant Y.M.S. Yaparathna (37), was involved in evacuating two people who had been buried in a landslide at Doowili Ella Kanda and had safely extracted one individual before he fell from the helicopter, Minister Abeywardena said. Flight Sergeant Yaparathna, a resident of Kotugoda, later succumbed to his injuries at the Karapitiya Teaching Hospital (Please see box).
The death toll from the destructive floods and landslides had reached 103 by Saturday morning while 113 are reported missing, according to the Disaster Management Center (DMC). A total of 221, 738 person from 60, 472 families have been affected. According to the DMC, 273 houses are classified as being fully damaged. As of yesterday, over 12, 000 displaced persons were being housed in 104 camps.
Galle was the worst affected district, with 12, 874 persons from 32, 215 families being affected and 13 people reported missing.
Kalutara was also severely hit, with 40, 284 persons from 9210 families affected. Kalutara reported the highest number of missing, with 72, 38 deaths and 167 houses fully damaged – the most in any district.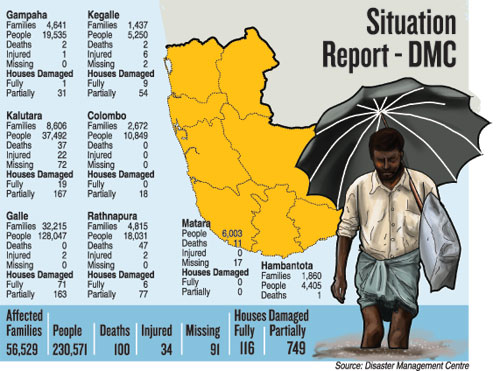 Matara was next with 20, 757 persons from 5886 families being affected. There were 11 confirmed deaths while 17 people are listed as missing.
Ratnapura was the hardest hit in terms of confirmed deaths, with 46.
Most lost their lives in landslides, with Kalutara being the worst affected. Several large landslides occurred in the Bulathsinhala area. Many others who were believed to be trapped under the rubble remained missing even yesterday.
Given the scale of the disaster, the Government also requested assistance from the United Nations (UN) and neighbouring countries. The Indian Government was the first to respond. While one vessel carrying disaster relief material arrived yesterday, a second vessel is due to arrive today. India has also offered search and rescue helicopters if needed while other countries have also offered assistance, Minister Rajitha Senaratne said.
Rs.150 million have already been released as emergency disaster relief by the Government.
In a bid to ensure food hygiene is maintained, authorities have decided to cook food for those who had been affected at one place and airlift them to relevant areas. Accordingly, all cooked food will be airlifted from the Ratmalana Air Force base in coordination with the relevant district and divisional secretaries. These will then be distributed by vehicle, boat or helicopter depending on the situation. Dry rations to be distributed later were also being stocked.
The floods also caused havoc in the health services in the affected districts. The Iththepana and Galpatha hospitals in Kalutara are cut off. The bodies of several persons killed due to floods and landslides are lying in the mortuaries of these hospitals, Minister Senaratne disclosed. 'ÄúWe have asked that the bodies be kept in the mortuaries until floodwaters recede as there is currently no way to conduct final rites,'ÄĚ he stressed. Meanwhile, the Ratnapura General Hospital and Kamburupitiya Hospital were also affected by flooding while patients and staff have been evacuated from the Deniyaya and Morawaka hospitals as they were in danger of being completely flooded, he disclosed.
The Government has decided to provide compensation to those who were killed while houses which were fully destroyed would also be repaired, the Minister added. In addition, compensation would be given for property damage and losses.
The adverse weather was brought on by the onset of the southwest monsoon over the island. The Department of Meteorology had earlier correctly predicted that the monsoon will set in from around May 25. Nevertheless, the destructive nature of the rains seemed to have caught everyone by surprise. During the 24-hours ending at 8.30 a.m. on Friday, Kukuleganga had recorded the highest rainfall of 553 millimeters (mm). S.R. Jayasekara, the Met Department's Director General, stated that the flood situation was comparable to the destructive floods of May, 2003, which left hundreds dead.
Mr. Jayasekara said the Met Department predicts the rains to gradually ease by Sunday (28). There was however, a danger of further heavy rains on May 29 and 30, he cautioned.
Ratnapura was hit hard during the 2003 floods and the situation was similar this time. Ratnapura town itself was inundated on Friday, as armed forces personnel scrambled to rescue hundreds of people trapped by floodwaters.
Meanwhile, several towns in the Galle district, including the Neluwa and Thawalama were inundated, with floodwaters in some of these areas reaching as high as 25 feet.
According to M. Thuraisingham, the Irrigation Department's Director General, water levels of the Kalu Ganga, Nilwala Ganga and Gin Ganga were rising. The Nilwala and Gin Ganga especially had reached critical levels, he noted. Water level of the Kelani River was also rising.
Meanwhile, the Home Affairs Ministry has cancelled the leave of all Government employees and field officers attached to District and Divisional Secretariats in disaster affected districts until further notice and they have been instructed to immediately report to their respective offices.
District Secretaries were also given powers to recruit retired Government employees to execute duties if there is a shortage of officials.
Flight sergeant's death being investigated
The Sri Lanka Air Force has launched an inquiry after a fight sergeant engaged in operations to rescue flood and landslide victims in the Neluva area fell to his death on Friday.Y.M.S. Yaparatne (37), an SLAF fire fighter, had hoisted a person who was trapped in the floods on to a Bell 212 helicopter and was on the way down to rescue another when he had fallen to his death.

Air Force Spokesman Wing Commander Gihan Seneviratne said it was too early to say what caused the flight sergeant to fall and hence an inquiry is underway to ascertain what caused the accident.

The SLAF has engaged six helicopters and one Beechcraft in the rescue operations and airlifted more than 25 persons.

---

Highest rainfall recorded since 2003

The rainfall on Thursday was the highest recorded since 2003 resulting in floods that left 260 dead in five districts, the Meteorology Department said.

A high rainfall of 55 mm was reported in the Kukuleganga area on May 26 while heavy rains were also experienced in the South Western areas as well as Western, North Western and Central provinces.

Weather Forecasting Division Deputy Director Anusha Warnasuriya said that compared to rains which caused floods in May 2003, the current rain fall has been considered high due to its prolonged effect.

'ÄúOn May 17, 2003, there was continuous rain for 12 hours and a rainfall of 730 mm. This year it rained for at least 48 hours," he said.
The 2003 floods displaced 800,000 people while 15,197 houses were completely destroyed and 26,284 houses partly damaged.

---

India, Pakistan stand by Sri Lanka in her hour of need

Indian Prime Minister Narendra Modi on Friday expressed his condolences for the loss of lives and property in the country. "India condoles the loss of lives and property in Sri Lanka due to flooding and landslides. We stand with our Sri Lankan brothers and sisters in their hour of need.
'ÄúOur ships are being dispatched with relief material. The first ship will reach Colombo tomorrow morning. The second will reach on Sunday. Further assistance on its way," the Indian Premier said.

Meanwhile Pakistan's Acting High Commissioner, Dr. Sarfraz Ahmad Khan Sipra said, 'ÄúPakistan people are standing shoulder to shoulder with the Sri Lankan people in these times of grief and suffering,'ÄĚ

He added that as a true and trusted longstanding friend, Pakistan has always been providing unconditional assistance to Sri Lankan brethren in their hour of need. The High Commission of Pakistan said that it is in constant touch with Sri Lankan Authorities and they will soon provide necessary relief goods to the government and people of Sri Lanka.

---

Indian Naval Ship 'ÄėKirch'Äô here on relief operations; 2 more to follow
A day after torrential rains caused serious floods in the country, an Indian Naval Ship 'ÄėKirch'Äô arrived at the Colombo port yesterday, with relief assistance for victims of floods and landslides.

The INS Kirch is tasked to assist in the ongoing disaster relief efforts, and was welcomed by the Sri Lanka Navy on her arrival, in keeping with Naval customs.

'ÄúOn the directives of Indian Prime Minister Narendra Modi, a consignment of relief materials have been promptly shipped to Sri Lanka, strengthening long term ties of camaraderie and mutual friendship between the two neighbours,'ÄĚ a statement from the Indian Navy said.
The ship, with around 125 personnel on board, arrived at Colombo Port yesterday morning and offloaded relief supplies, inflatable Gemini boats with diving teams, and a mobile medical team with supplies. High Commissioner of India Taranjit Sandhu officially handed over the supplies to Foreign Affairs Minister Ravi Karunanayake at the Port. The Indian rescue personnel are now being deployed to the disaster affected zones in coordination with the SLN and other local authorities.

Minister of Foreign Affairs Ravi Karunanayake, Indian High Commissioner (IHC) to Sri Lanka, Taranjit Singh Sandhu, Commander- Western Naval Area, Rear Admiral Niraja Attygalle, officers from Naval Headquarters, IHC Defence Attaché in Sri Lanka, Captain Ashok Rao and a host of Govt. officials were present on the occasion.

A second ship, INS Shardul left Kochi and is scheduled to arrive at Colombo Port by this afternoon. The ship is carrying additional relief material requested by the Sri Lankan authorities, apart from more inflatable boats. According to the IHC, a third ship, INS Jalashwa, has also set sail from Visakhapatnam to join the relief efforts, and is expected to reach Colombo within two days.

"INS Jalsahwa is an even larger Dock-class ship, which can carry large amounts of relief material and is ideally suited for conduct of Humanitarian Assistance/Disaster relief missions. The IHC in Colombo is in close touch with local authorities to coordinate any additional assistance that may be required," a statement from the IHC said.

The Indian assistance came as the Foreign Affairs Ministry activated its Emergency Response Unit Ministry, to coordinate rescue and relief measures related to the flood situation in several parts of the country yesterday.
The Ministry, in coordination with the Ministry of Disaster Management, has appealed to the UN International Search & Rescue Advisory Group (INSARAG) and neighboring countries to provide assistance to affected people, especially for search and rescue operations.