Mind the trade gap to avoid a balance of payments crisis
View(s):

The widening trade gap in the first few months of this year poses serious difficulties for the balance of payments. The trade gap that has been increasing in recent years has widened still further in the first two months of this year to US$ 1.73 billion and is expected to increase to nearly US$ 1.9 billion in the first quarter of this year.

If this trend continues the trade deficit would exceed US$ 10 billion and create a serious dent in the balance of payments. Containing the trade deficit to around US$ 8.5 billion this year is imperative to avoid a balance of payments crisis. Resolving the problem by increased foreign borrowing would further aggravate the very debt burden.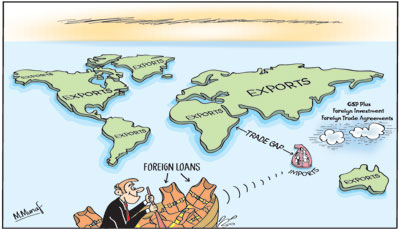 Recent performance
The country's recent trade performance has been extremely disappointing. This has been as much due to a fall in exports as an increase in imports. In 2015 export earnings fell by 5.6 percent to US $ 10.5 billion, followed by a further 2.2 percent decline in 2016 to US $ 10.3 billion. Imports, on the other hand, increased from US$ 18.9 billion in 2015 to US$ 19.4 billion last year. Consequently, the trade deficit increased from US$ 8.4 billion in 2015, to a massive US$ 9.1 billion in 2016.
This year
This trend has continued into the first quarter of this year: exports have fallen and imports have increased. The trade deficit widened to an unprecedented extent of US$ 1.73 billion in the first two months as exports declined by 1.1 percent in January and by 2.7 percent in February. The trade deficit for the first quarter is tentatively estimated at US$ 1.87 billion. Imports have increased by twice the increase in exports.
One of the reasons for the widening trade deficit is the increase in the country's oil imports since December last year that continued into the first quarter of this year. The more than doubling of the oil bill in February increased imports substantially and deepened the trade deficit. On the other hand, exports declined by 3.2 percent in the first two months: by 1.1 percent in January and by 2.7 percent in February. Consequently the trade deficit was US$ 1.73 billion in the first two months of this year. Indications are that the trade deficit expanded further in March to increase the trade deficit to about US$ 2.7 billion for the first quarter.
If the trade deficit continues to increase in this manner this year's trade deficit would exceed US$ 10 billion. This would be a severe strain on the balance of payments that is likely to record a significant deficit that necessitates foreign borrowing. However there are reasons to think that the trade gap will narrow during the rest of the year owing to increased exports to the EU, increased tea production and better prices and reduced oil imports.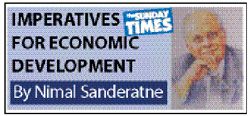 Export decline
For quite some time the blame for the poor export performance has been laid on the slow growth of the international economy. While this is true, exports fell due to other reasons too. These included an inability to be competitive with other country exports, the lack of diversification in export products, the inability to attract foreign investors to manufacture export commodities, especially the hi-tech industry, impediments exporters have to face, especially with respect to perishable exports and policy uncertainty weaknesses.
Tea exports
Geopolitical factors combined with the depressed incomes of oil producing countries were responsible for reduced tea exports. Improvements in these conditions may boost the demand for tea this year. An increase in tea production aided by good weather is needed to benefit from an improvement in the world tea market.
Prospects and expectations
There is an expectation that exports to the EU would increase by about US$ 500 million this year. This would certainly ease the trade deficit, but is inadequate to reduce it to a manageable level of about US$ 8 billion that is needed to generate a balance of payments surplus. Exports to the EU could expand by about US$ 1 billion next year provided we can increase exportable products.
There are brighter prospects for exports now owing to the EU's decision to grant the GSP Plus concession, an improved demand for tea, and free trade agreements with China and India. Yet these may take time. There have to be economic policies and a helpful domestic environment to take advantage of these opportunities. The supply capacity is an important determinant of the extent of export expansion.
Policies
Economic policies must be geared to expanding exports. A clear statement of economic policies is overdue to build confidence that would expand exports. Economic policies that encourage foreign investment in export industries are especially important as the experience of South East Asian countries like Malaysia, Indonesia, Thailand and Singapore have demonstrated. Taxation policies should have an export bias.
Imports
The containment of imports is important especially in the short run. The continuing increase in imports has been a significant cause for the trade deficit. Imports are almost twice the country's export earnings. Despite efforts to manage aggregate demand through monetary, fiscal and exchange rate policies, imports have continued to grow. High value investment goods imports and higher imports of oil in recent months are causes for this import expansion.
Hopefully an improvement in rainfall with the expected monsoon would reduce oil imports in the second half of the year. Good weather conditions could also reduce food imports though this gain would be small. It is high value investment goods imports that could increase imports significantly.
Summing up
The increasing trade deficit in the first quarter of this year is a serious problem for the balance of payments. Although the GSP plus concession in the EU would contribute towards an improvement in the trade balance it cannot be expected to make a significant impact this year. An increase in tea exports and an improvement in international tea prices can assist in increasing exports. The impact of the GSP plus is likely to be significant from next year provided we gear ourselves to produce more items demanded by the EU. Meanwhile it is important to contain imports so that the trade deficit is not too large. The euphoria generated by regaining of GSP plus in the European Union (EU) should not blind us to the severe imbalance in the country's trade.